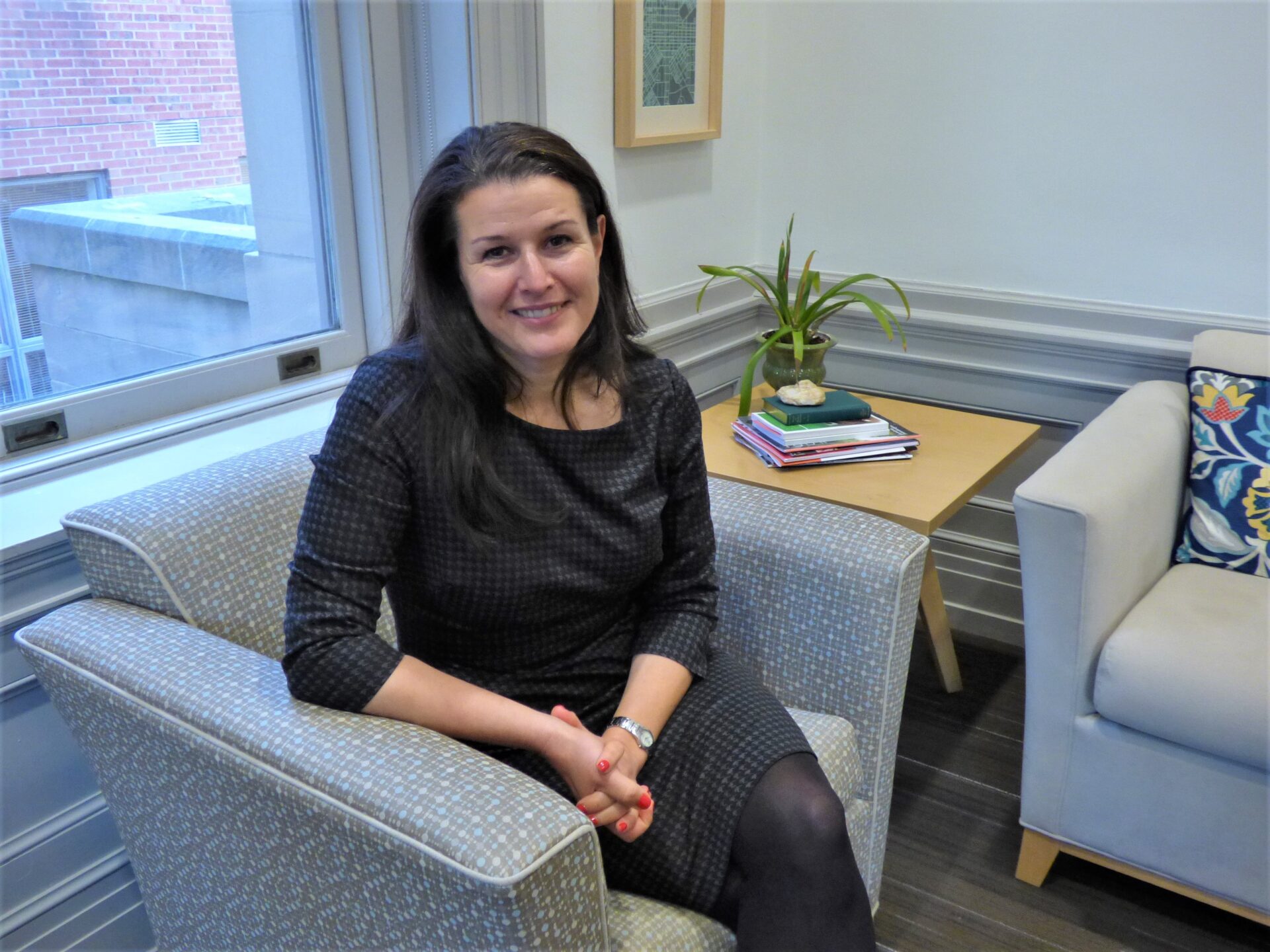 On Monday, Jan. 3, 2022, Danene Sorace will be sworn in for her second term as mayor of Lancaster city. She will then deliver her annual State of the City address. The event will take place at The Ware Center, 42 N. Prince St., and will be livestreamed.
Sorace took office in 2018, succeeding Mayor Rick Gray. Her administration pursued the four strategic priorities she emphasized in her campaign: Strong neighborhoods, safe streets, secure incomes and sound government.
She created the city's first Department of Neighborhood Engagement and reorganized what is now the Department of Community Planning & Economic Development. In 2019, the city secured the largest grant in its history for lead abatement; it is currently partnering with HDC MidAtlantic on a suite of projects at and around the former St. Joseph Hospital complex that are expected to yield Lancaster's largest increase in affordable housing inventory in half a century.
Meanwhile, the city navigated the coronavirus pandemic and the social unrest of 2020. In September of that year, protests erupted following a city officer's shooting of Ricardo Munoz, a 27-year-old man with mental health problems who charged the officer waving a knife. The protests led to clashes between police and protesters and multiple arrests. Subsequently, Sorace announced the departure of police Chief Jarrad Berkihiser, who was replaced by Chief John Bey.
The department has since re-established bicycle patrols, hired a second social worker, restructured its community engagement and brought in independent consultants to review policies and procedures.
In November, Sorace, a Democrat, handily won re-election against independent candidate Willie E. Shell Sr., taking 73% of the vote to Shell's 26%. (The remaining 1% went to write-ins.)
One United Lancaster recently spoke with Sorace about her first term and her priorities going forward. The following has been edited for clarity and space.
One United Lancaster: Let's start with the past four years.
Sorace: I think our focus on addressing lead poisoning in the city of Lancaster is seismic in terms of long-term gains. ... Our team is just incredible. The partnership with Penn Medicine LGH coming alongside that is also a significant investment.
[Another accomplishment is] the hiring of multiple social workers. We had a meeting just a couple of weeks ago, in which we had two police social workers, an intern that's working with them from Millersville University, our housing and health social worker, and the city is also funding an outreach specialist, Sarita [Rivera], for the first year. Having all of those people in a room talking about the work that they're doing is remarkable.
OUL: The VISTAs are another thing that's coming down the pike.
Sorace: I'm not sure the city has ever had VISTAs before. So, to go from two to 11 is a huge influx of resources. And that really takes us to the Office of Neighborhood Engagement and the work that we're doing around engagement. To have that work be nationally recognized is something that I'm very proud of.
I would also say that the work that we've done in policing has been very important. We're working with a firm called Transparency Matters to address our internal affairs processes. You'll see continued investment in body cameras and police social workers, policy review, recruiting and training, all of those things. They're really important in terms of building trust and legitimacy.
OUL: Tell me about the city's response to the pandemic.
Sorace: I am so proud of our team. We didn't miss a beat in terms of maintaining essential services. We have been able to maintain staffing levels all the way through the pandemic. We've had staff vacancies, but not to the extent that other municipalities or other government entities are seeing. It's taking us longer to fill key positions for sure. But we are, we have been able to maintain our level of service. ...
I'm also particularly proud of our efforts to begin contact tracing right away. I'm grateful for the partnership with Union Community Care and LGH Penn Medicine in in what we started to do and then what LGH was able to ramp up countywide.
OUL: Could you talk about the Ricardo Munoz shooting and its repercussions?
Sorace: I think it is very, very clear, and also clear in the comments that came back from Engage Lancaster about our budget expenditures, that we as a community are not serving the mental health needs of our community. The capacity does not exist to meet the needs.
That is an assumption that has been challenged. I think it was two days after I made my remarks, there was a headline in LNP about the mayor's comments being rebuked and then a fact check about what I said. Now I think that there's more of a shared understanding that, yeah, it's not so great, and significant efforts have been put into addressing some of these issues.
We are getting all of our officers trained in crisis intervention, we're also doing more trauma-informed approaches to how we can respond from city government's perspective. But we're never going to be a mental health provider in our community. That is not in our wheelhouse. ...
We are looking to create a secondary responder model. Which is, when police are on the scene and they need additional support, somebody can go to the scene and provide that additional support. It's different than a co-responder model, which has them going at the same time the police do.
OUL: Looking forward, what's top of mind entering 2022 and thereafter?
Sorace: Continuing with our comprehensive planning process; continuing with the ARPA planning process; affordable housing investments; our capital planning for the city of Lancaster, inclusive of our utilities.
Probably nearing the end of '22 or early '23, we're going to have our "rules of the road" from the EPA [for reducing sewage overflows into the Conestoga River under the city's consent decree].
There's a bunch of internal work that we're doing to support our staff. Externally, we're excited to be able to get back to the things that we want to be doing to support and improve our neighborhoods, around Vision Zero, around parks and park amenities and supporting our small businesses and business recovery. So, those are a few issues.
OUL: What direction do you see the comprehensive plan going?
Sorace: I really don't know. I'm encouraged by the amount of engagement, but I don't have a predestined sense of where that's going to land. I think there are going to be some refinements related to zoning. I think there's going to be a renewed commitment to the historical nature of our city.
OUL: You mentioned affordable housing. Again, where do you see that going in the next couple of years?
Sorace: During my tenure as mayor, we will see the largest investment of affordable housing in 50 years and city of Lancaster. It's already started, and now we have more fuel to really deliver on that. We're doing it creatively and in partnership with a lot of other entities.
OUL: City financial stability has been a perennial concern. A couple years ago, we were pushing for structural reform from Harrisburg.
Sorace: That's just when it started. ... I'm not giving up. I think that we are going to face a significant challenge in three years when ARPA dollars go away. So we're trying to plan for that, because we can't drive off the cliff.
OUL: We have a lot of political polarization in this country. You're a Democratic mayor in a pretty Democratic town, dealing with a Republican county, a Republican state legislature. How do you handle that?
Sorace: I continue to take the advice of my predecessor, which is: focus on the issues. I think that what has made that more challenging is that [previously,] as Tip O'Neill used to say, all government, all politics [were] local. Now, they're not anymore. All politics are national.
It's concerning to me to that an infrastructure bill has engendered so much outrage. The bipartisan aspect of this was limited to, what, 13 [votes]? If infrastructure doesn't pass the sniff test for common good, to the benefit of every person regardless of political affiliation, then what is our future?
Are there things in there that maybe if it were a Republican bill it wouldn't be in there? Probably. But is that the vast majority of it? Absolutely not. Water, sewers, highway, mass transit. These are bread and butter.
For me, that infrastructure bill is a game changer. The city of Lancaster is going to benefit from that. And every other community in this county is going to benefit from that investment. It is on par to keep or create 15 million jobs. How is that anything other than what we want to see in terms of recovering from a pandemic? How do you not support that?
OUL: I was at a neighborhood meeting where some of the folks were griping that the city isn't really focusing attention and resources on neighborhoods. From a resident point of view, what should people be able to notice in the next couple of years? To gauge if the city is doing what it said it was going to do?
Sorace: One of the things I've learned since being in this office is that everything takes longer than I thought it would. What will neighborhoods see? Well, at the most basic unit of housing, they're going to see houses that are safer for families to live in, and that have been improved through the lead program. They will see street paving, [although] definitely not everybody gets what they want all at one time.
We about to embark on a parks planning process. That's not going to happen overnight, but I do expect more investment in our public places.
They're going to continue to see their trash picked up. They're going to continue to have 911 service and firefighters and police at their door within minutes [of an emergency call]. They're going to continue to have their streets plowed.
In other communities around the country, they haven't been getting their trash picked up during the pandemic. They're seeing massive declines in staffing levels that are affecting [city services]. We're not experiencing any of that.
OUL: What are the city's plans for economic development over the next couple of years?
Sorace: First, it's to get us back to normal, whatever normal is, and supporting our small businesses across the city. A big part of that is a reboot of the Lancaster Office of Promotion, both in terms of our events and in terms of our outreach and support to small businesses.
A lot of the economic development efforts of the city are being shaped by housing development.
OUL: How so?
Sorace: In terms of new construction and people moving into the city and the economic impacts of that. Those are real economic impacts in terms of having hundreds of new people that are going to live downtown. If we're talking about 1,700 new units coming online, those are thousands of people. ...
When Mayor Gray came into office, we were trying to jumpstart economic development. That that is not where we are right now. People are not coming into this office and saying, "We're thinking about starting a business." They're just doing it.
OUL: Last question. How do you see nonprofits fitting in and helping nurture what the city is trying to do?
Sorace: They're essential. We benefit so much from our partnerships with our nonprofits in the city and our faith communities. We can't do this by ourselves.