Politicians in Washington, D.C., need to step up and invest in America's local communities and the nonprofits and social services that serve them, U.S. Sen. Bob Casey said Friday.
"The federal government's got to be in the game," Casey told the audience at United Way of Lancaster County's 211 Day Summit.
Making his second consecutive 211 Day appearance, Casey engaged in a half-hour dialog via Zoom with United Way President & CEO Kevin Ressler. Their conversation was the summit's keynote session.
The Pennsylvania Democrat is the author of three bills that make up his LEAD initiative — short for Law Enforcement Education & Accountability for People with Disabilities. The components are:
Safe Interactions Act: Provides grants for organizations to develop training programs promoting safe interaction between police and people with disabilities
HELP Act: The Human-services Emergency & Logistic Program Act would fund the expansion and enhancement of the 211 social service referral system and the 988 mental health crisis hotline. Calls not requiring a police, firefighter or emergency medical response would be diverted away from 911 and directed instead to human service and mental health agencies.
DIALED Act: The Data on Interactions and Accountability for Law Enforcement with Individuals with Disabilities Act would improve data collection on individuals between law enforcement and individuals with mental health problems or disabilities; and would create a national advisory commission to study the data and recommend best practices.
The goal, Casey said, is to free up the police to do what they're trained to do — fight crime and enforce the law — and let professionals with expertise in social work and mental health handle those areas.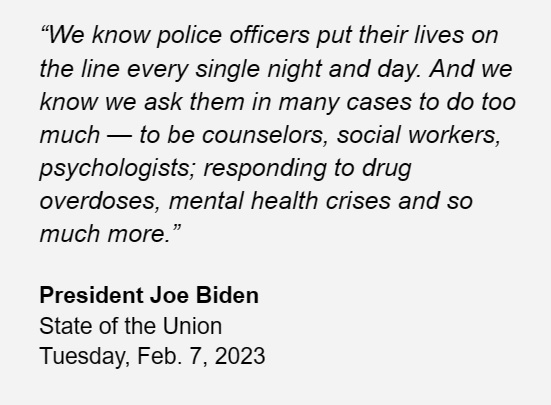 President Biden referred to the idea in his State of the Union address, Ressler said, quoting the passage. It isn't a matter of "defunding the police," he said, but rather, "re-funding the community."
Police recognize they're being called on to do too much, so they support the idea, Casey said. Advocates say it reduces the chance of interactions turning violent or fatal, as was the case in 2020 when a police officer responded to a mental health crisis involving Ricardo Munoz. When Munoz charged him with a knife, the officer shot and killed him.
Building out the necessary systems will require "planning and focus and funding," Casey said. States and municipalities are already struggling with tight budgets, so it's appropriate for the federal government to do its part.
Recently, Casey secured $670,000 to support the development and rollout of a technology platform designed to improve the social service referral process. It was part of nearly $1.9 million in earmarks for Lancaster County.
Earmarks are often denigrated as pork, and they were banned for a decade at the federal level before being reintroduced in 2021. Today, earmarks are rigorously vetted in a transparent process, Casey said. He said he's proud of the process, and recipients should be, too.
Casey encouraged the audience to advocate for his bills and other initiatives to support nonprofits and expressed moderate optimism that despite a sharply divided Congress, "we can get things done."
He praised the nonprofit sector for its mission-driven efforts to improve lives, citing a view expressed by Martin Luther King Jr.: "Everyone can be great, because everyone can serve."
"By that definition … you all in the nonprofit community are great," he said.