"We are just getting started," Michelle Batt said Saturday.
Batt was referring to the Lancaster Bail Fund, the nonprofit she founded a year ago. It operates a revolving fund that supplies bail pretrial detainees at Lancaster County Prison who can't afford it themselves; and advocates for dismantling the cash bail system.
So far, it has provided bail for 15 people and raised $25,000. On Saturday morning, it held its first promotional event: a hike past Lancaster County's "carceral sites."
The "Trail 2 End Bail" served several purposes: to increase awareness and educate participants about cash bail; to celebrate the Lancaster Bail Fund's first anniversary and to raise money for its work.
About 80 people participated, some hailing from as far away as Stroudsburg. Starting in Lancaster County Central Park, near the site the county bought earlier this year for its new prison, they strolled past placards with facts drawn from Prison Board reports and other sources.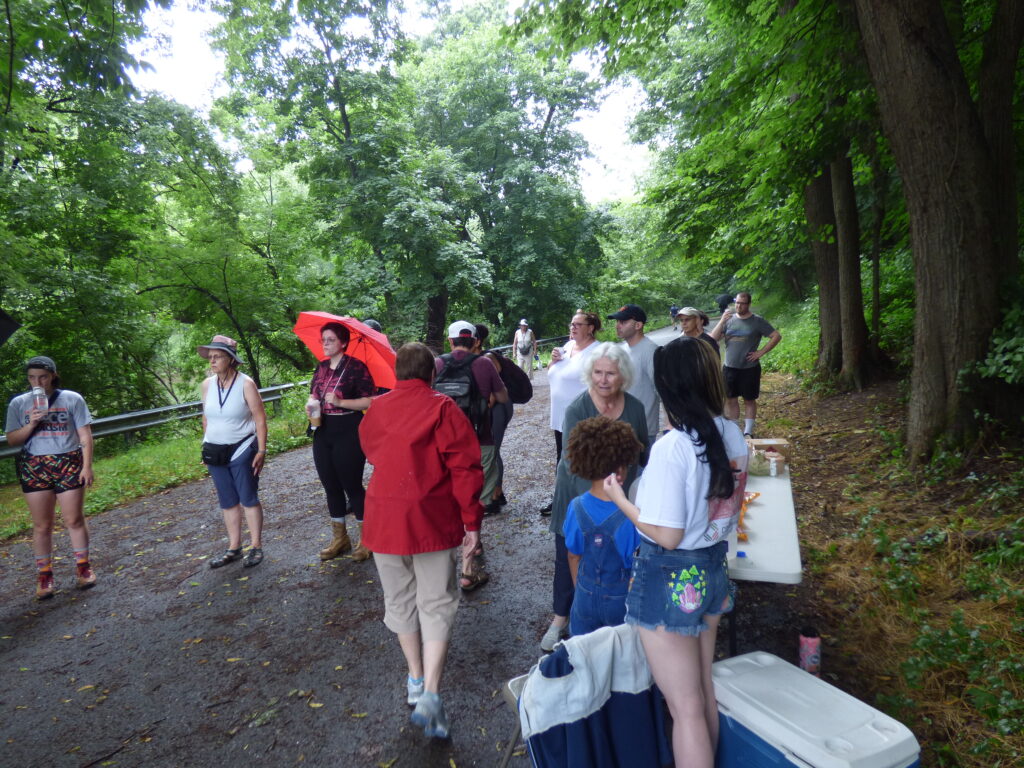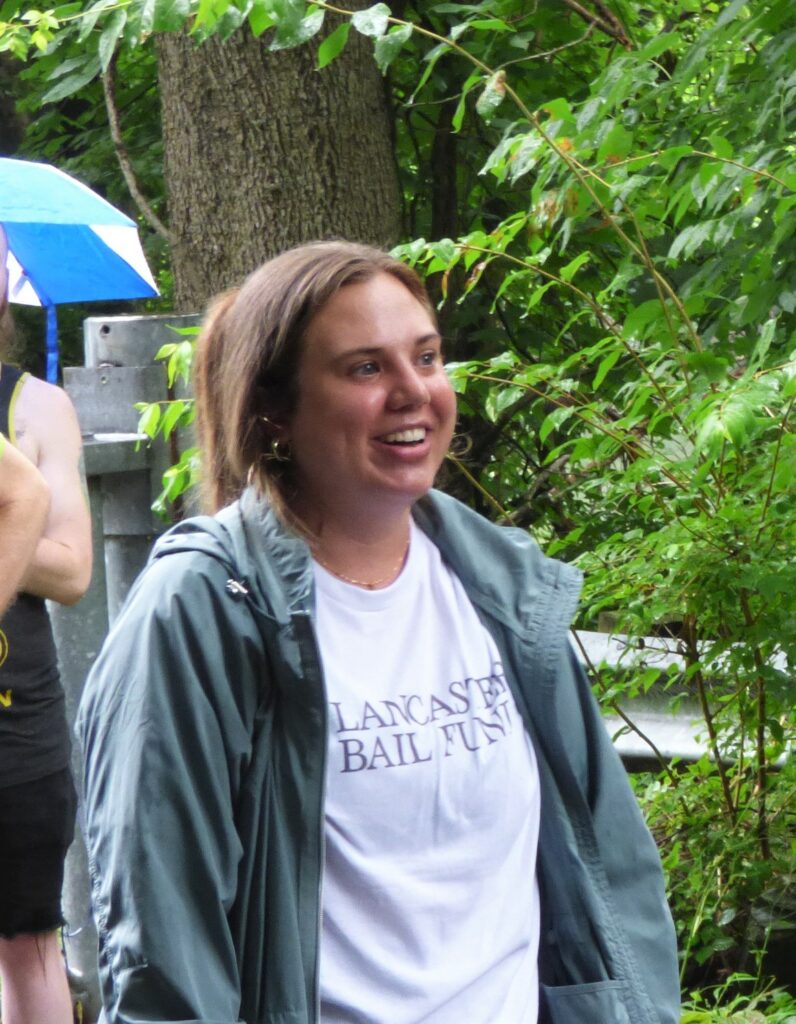 At a water station, Lancaster Bail Fund volunteer Theresa Hanley invited them to think about all the challenges they would face if they were detained without recourse: Paying rent, notifying an employer, arranging care for children and pets, staying on a medication schedule.
"You're essentially kidnapped from your life," she said.
After a stop at the entrance to the Youth Intervention Center — built on a secluded peninsula, away from casual public view, the same arrangement planned for the new prison — the trail concluded at the pavilion in Reservoir Park, across from the existing prison, with lunch, music and speeches from criminal justice reform advocates.
About cash bail
Advocates say the routine practice of imposing cash bail harms low-income people and exacerbates economic injustices. Studies indicate non-White defendants are more likely to be assigned bail and are charged higher amounts.
As of January, nearly 69% of the inmates at county prison were there pre-trial. As Lancaster County launches the planning process for its new jail, Batt and other advocates are urging it to think small, saying much less space will be needed if it reforms its bail and pretrial detention practices.
They're pushing several reforms they say can be implemented locally to pare back the use of bail. If a large jail is built, they say there will be pressure to keep it full.
County President Judge David Ashworth says he and his colleagues share advocates' interest in keeping people out of jail unless absolutely necessary. But bail policy is set at the state level and limits local discretion, he said.
A county survey of its prison population earlier this year found a total of nine pretrial detainees being held due to a first-time, nonviolent offense. The rest had criminal histories, were charged with violent offenses, or both.
The county commissioners say the jail is expected to serve for 50 years or more and needs to be large enough to accommodate projected county growth.
'The work continues'
Among Saturday's hikers was Carl Laws Landis, the former executive director of the Lancaster County Pretrial Justice Association, a precursor to the Lancaster Bail Fund formed in the 1970s. At the time, bail had to be secured by real property, so the association found people willing to volunteer their own land as collateral.
Forty-some years on, "It seems like we're back to step 1," which is disappointing, Laws Landis said, but "the work continues."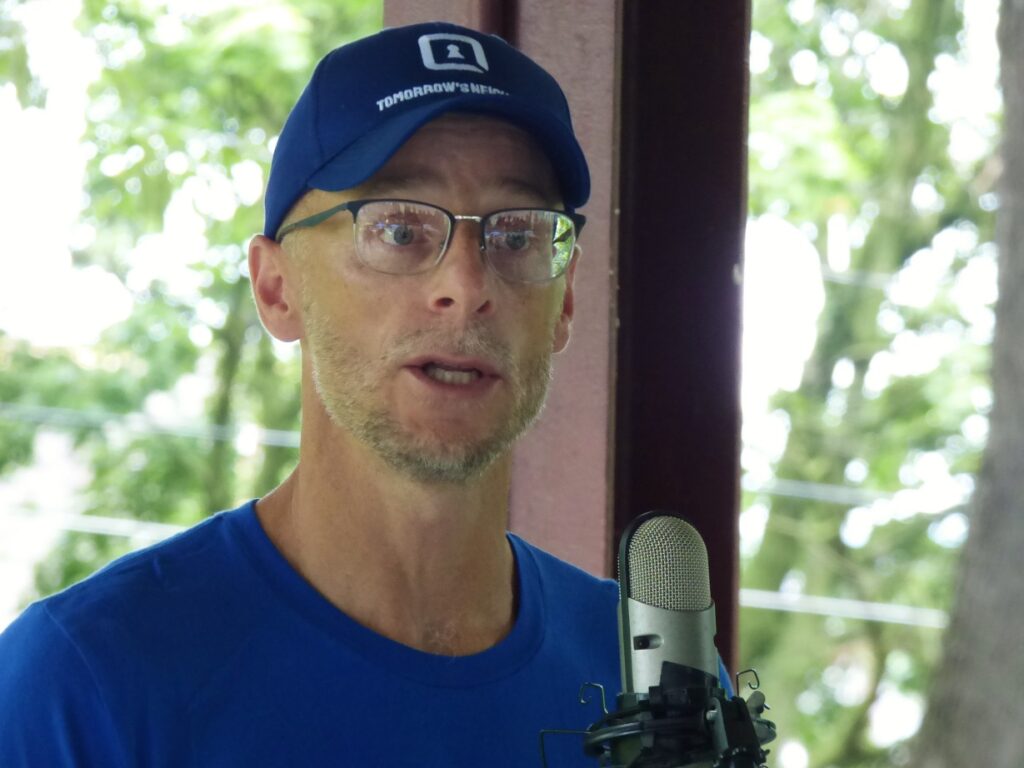 Kurt Danysh, of Cumberland County, is the founder of Tomorrow's Neighbors, a nonprofit that helps individuals reintegrate into society after release from prison. The only legitimate purpose of bail is to ensure defendants appear in court, he said, but it's often abused by magisterial district judges, who receive just a few weeks' training and need not have a law degree.
He advocates greater use of alternatives to bail such as electronic monitoring and "ROR," or releasing defendants on their own recognizance.
Danysh spent 24 years in jail for shooting and killing his father, an action he attributes to a psychotic episode that occurred after he was inappropriately prescribed Prozac. While incarcerated, he became a paralegal and helped several fellow inmates reverse their convictions. Had they been able to afford bail, they could have helped their overburdened public defenders locate the witnesses who proved their innocence, he said.
As Batt noted, the American Civil Liberties Union filed a lawsuit this spring accusing county MDJs of setting bail in ways that violate due process. More broadly, the ACLU released a report last year calling unaffordable bail "a statewide crisis."
She urged trail participants to attend Prison Board meetings and stay involved. The Bail Fund is considering making the Trail 2 End Bail an annual event, she said. In the meantime, it's organizing a town hall in early October on the new county prison.
Photos