An "action team" is being formed to begin addressing issues identified by the Lancaster County Racial Equity Profile, YWCA Lancaster CEO Stacie Blake said.
It is envisioned as a successor to the steering committee that commissioned the profile itself, Blake told community members during YWCA Lancaster's "Listen, Learn, Lead" forum on the profile last week.
The group is "in formation right now," she said. It will aim, she said, to engage in equity work and to promote work being done by other local organizations on issues such as incarceration practices and education funding.
Blake made her comments toward of the end of the Feb. 16 session, which offered community members an overview of the Racial Equity Profile and solicited their reactions.
The forum was led by Blake, Isabel Castillo, director of the YWCA's Center for Racial & Gender Equity, and Equity Training Coordinator Tess Feiler.
The profile is intended as a framework for building "shared understanding," Blake said. It aggregates data on dozens of social issues — facts about demographics, economics, health, education and law enforcement — as they pertain to Black, White, Latino and Asian racial and ethnic groups.
The idea developed in the wake of the protests that followed the death of George Floyd in 2020. As local protesters joined their compatriots in hundreds of cities nationwide, some members of the community felt their concerns were finally being heard and taken seriously, while others couldn't understand what all the anger and frustration was about. That gulf is what the profile is intended to bridge, Blake said.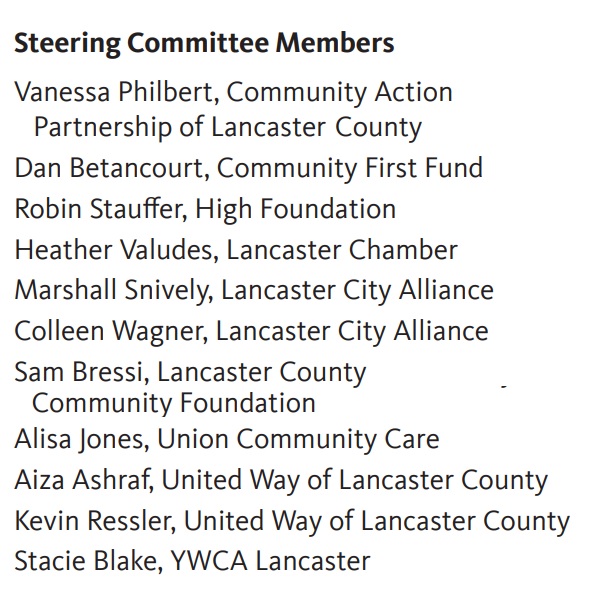 A local steering committee led by YWCA Lancaster contracted with consulting firm PolicyLink to do the research. (The committee included two representatives of United Way of Lancaster County, the sponsor of One United Lancaster.)
PolicyLab has conducted numerous equity profiles in partnership with the Equity Research Institute at the University of Southern California at Dornsife. Blake said she likes PolicyLink's approach because it looks at so many aspects of equity.
"Any one of us might be moved by one of these indicators," she said. "… I was hoping that this approach had enough doors that everyone could find their way in."
Using the online dashboard, which summarizes the full report, she highlighted several of the most notable findings, such as child poverty levels. For White children, it's 9%; for Black and Latino children, it's 33% and 34%, respectively.
"This is not a really sustainable model," she said, noting that the county's children are its future citizens and workforce. A 9% child poverty level is too high, let alone the 33% and 34% figures, she said: Reducing poverty would benefit everyone across the board.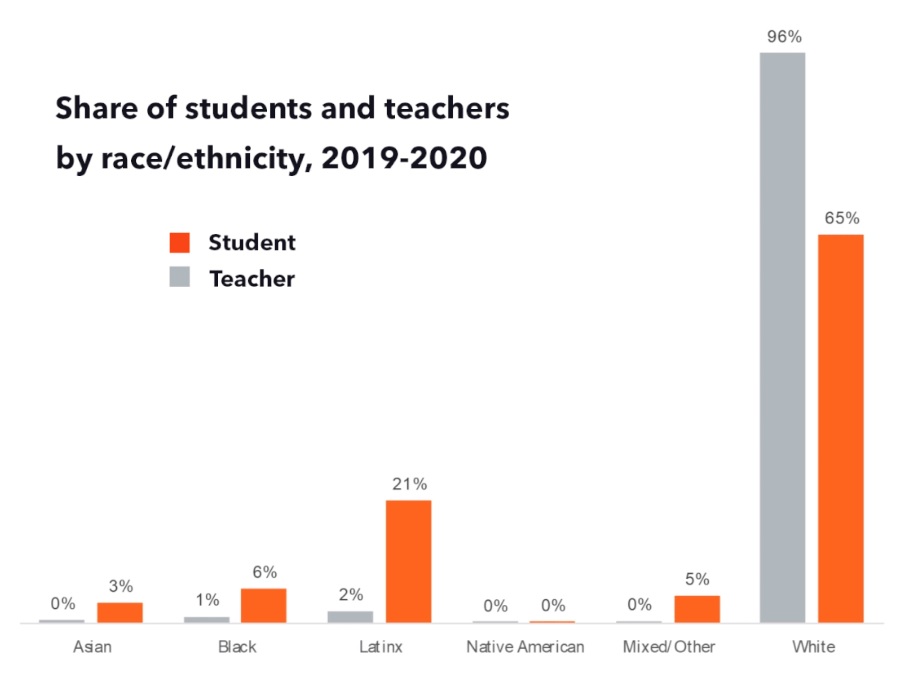 She noted the relative scarcity of non-White teachers in a county where the non-White student body is 35% and growing. A teacher is an authority figure and a role model, and it's important for all students to see non-White individuals in that capacity, she said.
Is there a shortage of qualified candidates? With two historically Black teachers' colleges nearby, Lincoln and Cheney universities, as well as Lancaster County's own Millersville University, that's just not plausible, Blake said.
"When the gap is that big, we cannot believe that this is a result of individual choices, that this is a result of people not trying hard enough," she said. "This is because of systems."
She said the same about the 5-year gap between local average Black life expectancy of 75 and White life expectancy of 80. That likely stems from social determinants of health, she said, adding that if Lancaster County had a health department, it could dig down into those factors.
County commissioners Ray D'Agostino and Josh Parsons have staunchly resisted calls to create a health department, contending it would not be worth the added cost and bureaucracy.
In 2021, the commissioners created a Health Advisory Council staffed by representatives of local health systems and other entities. It is a purely advisory body: It cannot set health policies or issue statements unless the commissioners approve them.
The "Listen, Learn, Lead" event was the most recent of several events held to publicize Lancaster County Racial Equity Report and its findings. United Way of Lancaster County held an online forum in January and an in-person workshop at its 211 Day Summit. Leadership Lancaster included a workshop on it at its Feb. 3 Leadership Advantage workshop.
Attendees at the YWCA's event agreed the profile is eye-opening and shows that change is needed, and indicated eagerness to get involved themselves.
"This data is for nothing if we do not take action on it to improve it," Feiler said.