A dozen Lancaster County nonprofits are receiving grants through a state program that gives businesses tax credits for eligible contributions to community projects.
The awards, totaling $1.83 million, are among 261 grants totaling $36 million made statewide through the Neighborhood Assistance Program, or NAP. Department of Community and Economic Development Secretary Rick Siger announced them on Monday.
In Lancaster County, the initiatives target affordable housing, workforce development and food security, among other things. In 2022, nonprofits here received just over $1 million from NAP.
Under state guidelines, programs must serve low-income individuals or economically distressed areas.
"The NAP helps our low-income areas in a way that very few state or federal programs do – by promoting and encouraging the public-private partnerships that put communities on the right track to fiscal health and long-term prosperity," Siger said in a statement.
The largest Lancaster County beneficiary is the Spanish American Civic Assocation, which is receiving two grants totaling $693,750. The funding will go primarily toward Tec Centro job training programs, SACA CEO Jose Lopez said.
"We have a high demand for the training that we provide but not enough funds to cover the cost," he said.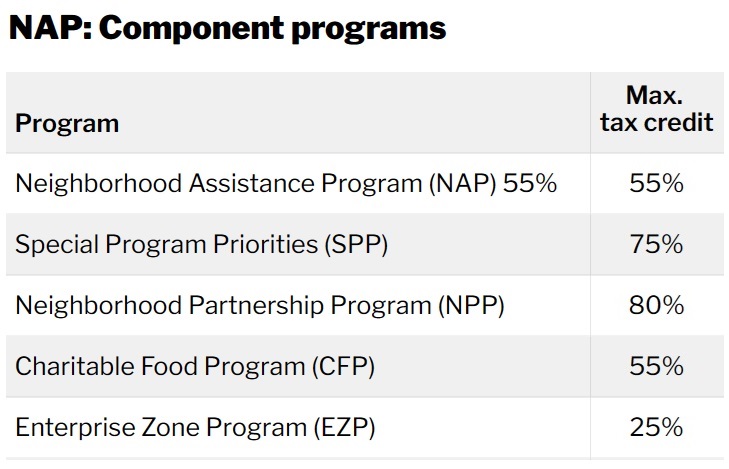 The Factory Ministries and Tenfold also received two awards apiece.
The Neighborhood Assistance Program has five components, each with somewhat different objectives and guidelines. Tax credits range from 25% to 80% depending on the program and how long a business participates.
The Lancaster County NAP grants, and the supporting businesses for each one, are as follows:
Assets $132,750: Business coaching and microloans focusing on women and minority entrepreneurs in Lancaster city, along with an expansion of outreach into new areas including Ephrata, Elizabethtown and Columbia. (Supporters: Ephrata National Bank, First National Bank, First Citizens Community Bank, Fulton Bank, Goodville Mutual Casualty Co., M&T Bank, Re-Bath & More, Univest Bank, Northwest Bank)
Bethel African Historical Services $37,500: Installation of an elevator to improve accessibility as part of the overall renovation of the Rev. Harvey H.B. & Kai Sparkman III Cultural Center. The organization is an affiliate of Lancaster's Bethel AME Church. (Supporters: Ephrata National Bank, Gibbel Kraybill & Hess, Hammel Associates Architects)
Bench Mark Program $11,250: Mentorship for youths aged 12-18 after their release from the Youth Intervention Center on gun-related charges. (Supporter: Fulton Bank)
Chestnut Housing Corp. $18,750: Milburn Apartments project. (Supporter: M&T Bank)
The Factory Ministries

$45,650: Hiring an additional full-time staff member and remodeling space for a clothing bank for the Adult Advocacy case management program. (Supporters: Bank of Bird-in-Hand, Baron Insurance Group, Fashion Cents Consignment, Hursh Painting Co., Kitchen Kettle Village, M&T Bank, Stolzfus Feed & Supply)
$13,200: Funding for the Factory Market food bank. (Supporters: Bank of Bird-in-Hand, Hursh Painting Co., M&T Bank)

HDC MidAtlantic $176,250: The Apartments at College Avenue project. (Supporters: First Citizens Community Bank, Peoples Security Bank, M&T Bank, First Commonwealth Bank)
Lancaster City Alliance $146,250: Facade improvement and renovation of unoccupied homes on and around Beaver Street. (Supporters: M&T Bank, Mid Penn Bank, Fulton Bank, Flyway Excavating, High Companies)
Spanish American Civic Association (SACA)

$453,750: Education and job training at Tec Centro. (Supporters: First National Bank, Northwest Bank, Mid Penn Bank, First Commonwealth Bank, S&T Bank, Capital Blue Cross, Peoples Bank, Comcast, United Concordia Dental)
$240,000: Employment services at Tec Centro; and the renovation of blighted properties for resale to low- and moderate-income first-time homebuyers. (Supporters: Fulton, PPL, Wells Fargo)

Tenfold

$161,250: Financial counseling and case management. (Supporters: Beyond the Numbers, Bank of Bird-in-Hand, Ephrata National Bank, Traditions Bank, Peoples Bank, Northwest Bank, DTCOD LLC)
$176,000: Support for the SoWe initiative, including home repair, financial counseling and rental assistance. (Supporters: Fulton Bank, M&T Bank, PPL)

United Churches of Elizabethtown Area $7,500: Development of the Community Food Ministry Teaching Kitchen, offering instruction in buying and preparing healthy, nutritious food on a budget. (Supporter: Goodville Mutual Casualty Co.)
Woodcrest Retreat $56,250: Renovation and expansion of the Outdoor Education Center, including hiring an instructor and installing a disc golf course, in-ground trampoline and accessibility features. (Supporters: Ephrata National Bank, First Citizens Community Bank, Weaver Markets)
YWCA Lancaster $153,750: YForward Kepler Hall expansion project. (Supporters: Mid Penn Bank, M&T Bank, Woodstream Corp., Truist, Northwest Bank, Fulton Bank)