Eight Lancaster County nonprofits are in line to receive a total of just over $1 million through Pennsylvania's Neighborhood Assistance Program.
The awards are as follows:
Assets ($90,000): To support entrepreneurship training, consulting and microloans.
Bench Mark Program ($11,250): To fund stipends for three student leaders as part of Bench Mark's expansion.
Factory Ministries ($29,700): To help fund the salary of an employee for the Paradise-area organization's Adult Advocacy project, which provides personalized case management services to clients.
HDC MidAtlantic ($172,000): For the Apartments of College Avenue.
Spanish American Civic Association (SACA) ($240,000): To fund renovation of blighted housing for low- and moderate-income homeowners; and to underwrite Tec Centro, SACA's bilingual job training center.
Tenfold ($356,000): Tenfold is receiving two allocations. $176,000 will go to support the ongoing SoWe neighborhood revitalization initiative; $180,000 will support Tenfold's Financial Empowerment Center.
Woodcrest Retreat ($37,500): For a public playground at the Christian camp east of Ephrata.
YWCA Lancaster ($138,750): For a new Americans With Disabilities Act-compliant elevator, part of the extensive renovation of its headquarters.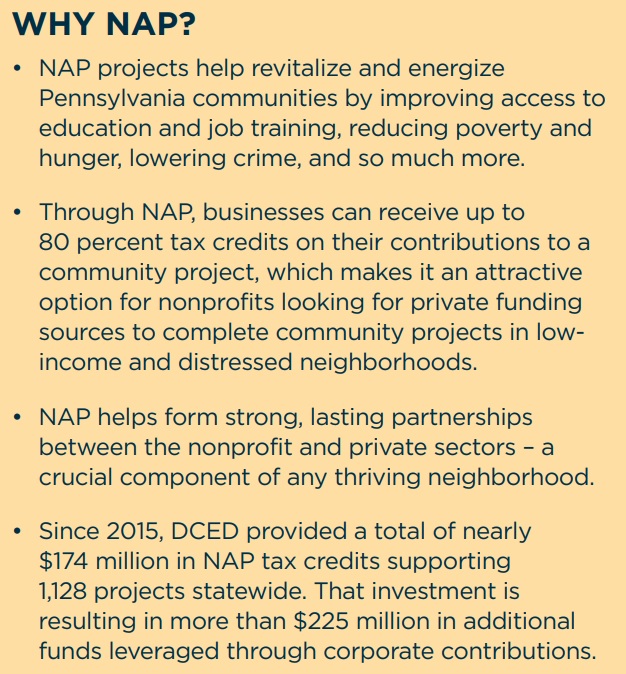 In addition, YMCA of the Roses, the organization formed by the merger of YMCA Lancaster and YMCA York, received $18,750 to support its New American Welcome Center, an initiative for immigrants and refugees; and Central Pennsylvania Food Bank is receiving $2.55 million to support its work in the 27 counties it serves, including Lancaster.
The Neighborhood Assistance Program allows businesses to receive tax credits for donations in support of eligible community projects.
Banks in particular often use the program. Banks supporting Lancaster County projects in this cycle include Bird-in-Hand, Centric, Ephrata National, First Citizens Community, FNB Corp., Fulton, M&T, Mid Penn, Northwest, PeoplesBank, Mid Penn, Truist, Traditions and Wells Fargo.
Statewide, this round of Neighborhood Assistance Program funding, announced last week, is making $36 million available to 213 community projects.
"The rewards we can provide through tax credits in this important program advance and improve communities," Gov. Tom Wolf said in a statement.