The officials drafting plans for Lancaster County's new prison heard loud and clear from members of the public Wednesday evening.
At the project's first "listening session," held at the Lancaster County Public Safety Training Center, a dozen people stepped to the podium, urging the project's planners to step up their community engagement efforts; to design a facility that promotes rehabilitation and accommodates a broad range of programs; and for bail reform and other policies to be adopted that keep the prison population to a minimum, allowing the new complex to be as small as possible.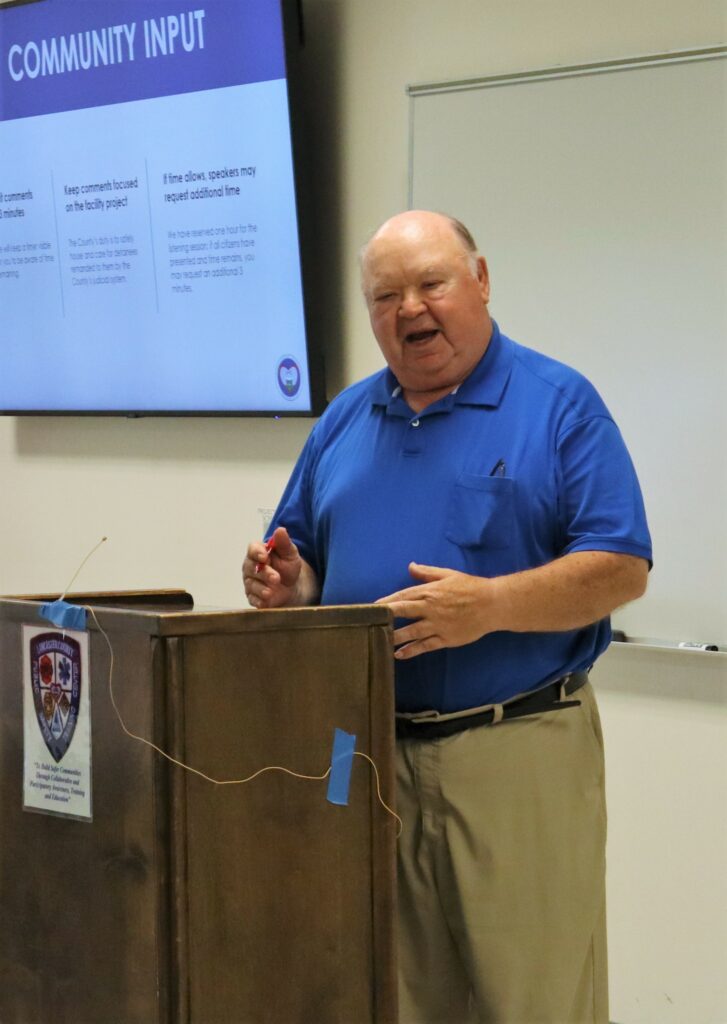 Many of the speakers represent local justice reform advocacy organizations, including Justice & Mercy, Have a Heart for Persons in the Criminal Justice System and the Lancaster Bail Fund.
The new prison will be built on undeveloped land in Lancaster Township adjacent to Lancaster County Central Park. A few weeks ago, the county's prison project advisory committee started work with consultant CGL on a needs assessment, collecting demographic data, crime data and interviewing law enforcement and criminal justice stakeholders to establish the number of beds the new facility will need.
CGL and Berks County recently completed a needs assessment for Berks' planned prison (available here); Lancaster County's assessment is being developed along much the same lines, CGL spokeswoman Babette Macy said.
Many of those present Wednesday fear the result will be an over-estimate. About two-thirds of County Prison inmates are being held pre-trial, but that is liable to change as states across the U.S., including Pennsylvania, reconsider their cash bail and other policies, said Greg Newswanger of the Lancaster Friends Meeting congregation.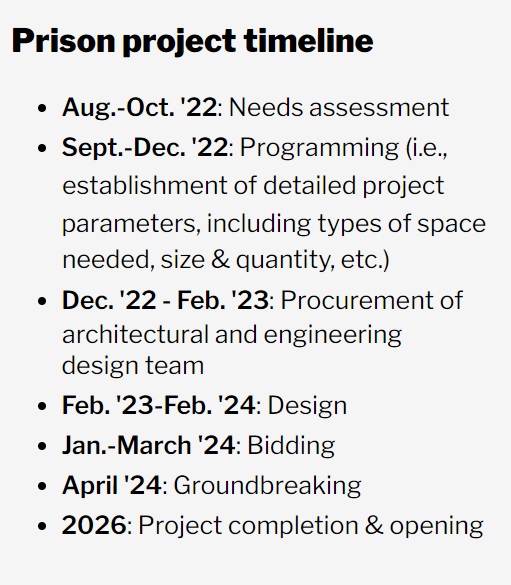 The county's Youth Intervention Center opened just as the emerging practices in juvenile justice were shifting away from incarceration, Newswanger said. Today, just a small fraction of its 96 beds are occupied.
"That history is instructive," he said. "… Let's build a right-sized jail."
Prison headcounts result from discretionary policy choices, said Michelle Batt, founder of the Lancaster Bail Fund: The county got creative and broke with past practice when it had a prison overcrowding problem in 2012, and it can do so again, she said.
Sentencing standards, bail policy and so on fall within the purview of state and county courts; but they are certainly part of the needs assessment process and will be factored into the eventual recommendation, Macy told One United Lancaster.
Two homeowners near the prison site, Michelle Stoner and Kirsten Krimmel, said they and their fellow neighbors are worried about the prison's impact on traffic and light pollution, and pleaded to be included fully in the planning process: "We feel we've been completely ignored," Krimmel said.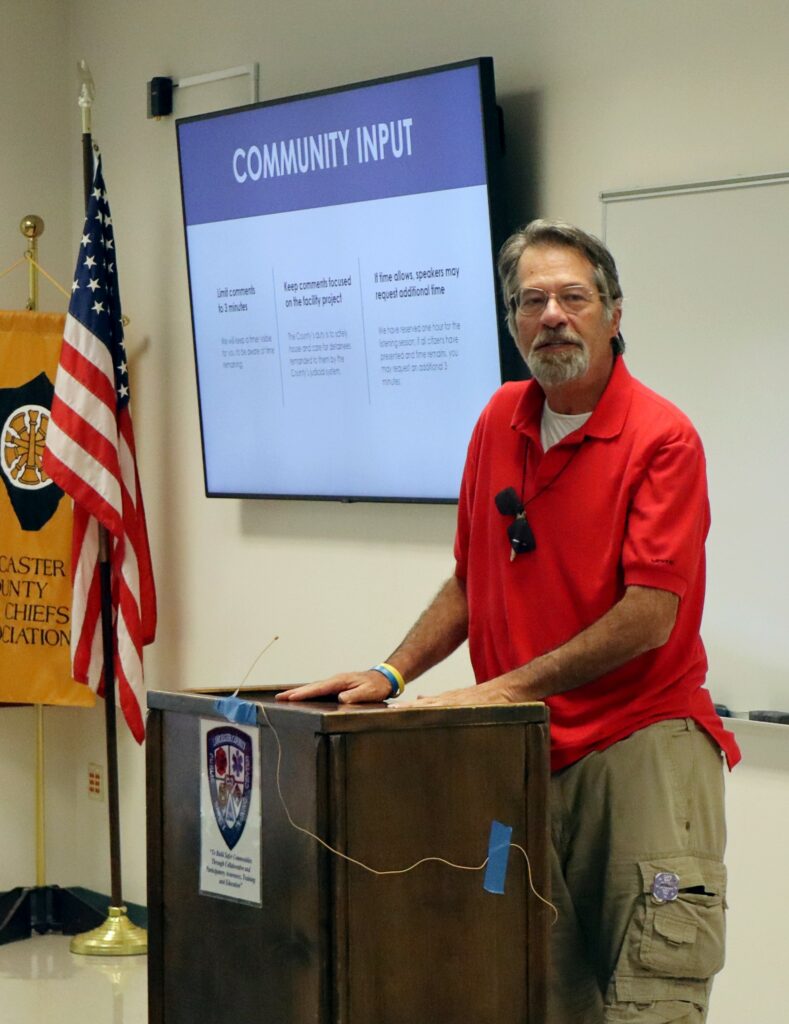 Jonathan Fox of Have a Heart complained that the advisory committee hasn't responded to Have a Heart's white paper on the prison project and questioned its commitment to public input. He called for widening the committee's community representation. Its two community members are project neighbor Austin Beiler and former Re-Entry Coalition coordinator Carrie Kurtz; the other members are county employees.
Noting the preponderance of White faces at the forum, versus the prison's largely non-White population, Laura Sabatini of YWCA Lancaster said it's incumbent on planners "to include voices that do not look like the people who are sitting in this room."
Sabatini was also among those making recommendations about the prison's layout. YWCA's Sexual Assault & Counseling Center staff work with inmates who are victims of sexual crime, and private, trauma-informed spaces are needed to ensure they receive the help they need to put their lives back on track, she said.
The Rev. Jason Perkowski of Power Interfaith made numerous suggestions about the facility's indoor and outdoor spaces, stressing that they should be designed to promote inmates' wellbeing. Millersville University professor Mary Glazier, representing Ambassadors for Hope, said designers should ensure there is plenty of room for parenting classes and for inmates who are parents to visit their children. Another speaker recommended building the new prison in stages, expanding only as need warrants.
For more information
Questions and comments about Lancaster County's new prison project can be emailed to NewPrison@co.lancaster.pa.us.
CGL is developing a website for the project; once it launches, which should happen soon, relevant information and updates will be posted there, county Purchasing Director Linda Schreiner said.
"We really appreciate people coming out," Commissioner John Trescot said afterward.
The committee is committed to hearing what the public has to say and incorporating it into its work, he said. The planning process has just begun, and there will be many more input sessions, including ones scheduled later in the evening and held in or near Lancaster and the project site. (Some attendees had criticized the choice of the Public Safety Training Center as a venue because of its distance from the city; Trescot said the rationale was its abundant parking.)
The committee is approaching the prison size question with a completely open mind, he said; and the option of building a small facility initially with the option to expand it will be looked at.
Regarding public participation, he said it probably doesn't make sense to enlarge the advisory committee further, but leaders are open to forming subcommittees and inviting participation so that all segments of the community are heard from.