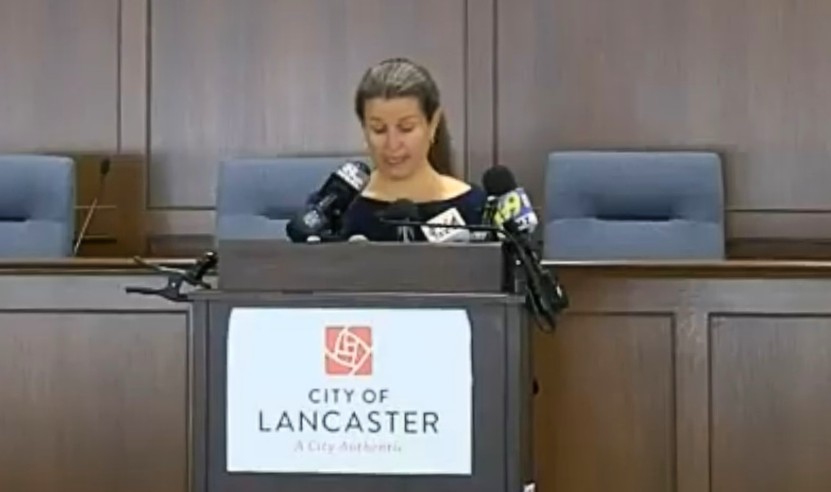 In dealing with a crisis, Lancaster Mayor Danene Sorace says she focuses on finding potential avenues for positive change.
"That is the way, quite honestly, I pick myself up," she said. It's by asking: "What is the opportunity here? How could we be doing this better, more, differently?"
The latest crisis — in a year that seems to be offering little else — occurred last week, when Lancaster was rocked by the police shooting death of a mentally ill man, and then by the unrest that followed.
On the afternoon of Sunday, Sept. 13, an officer responding to a 911 call on Laurel Street shot and killed Ricardo Munoz, 27, when Munoz burst out of the house waving a knife. Munoz' family said he suffered from schizophrenia and was off his medications.
Following a night of unrest that led to more than a dozen arrests, Sorace held a press conference. Speaking Monday in City Council chambers, she condemned the violence and called for local, county and state officials to commit to providing adequate health, housing and social services in needy communities.
That drew rebukes from Lancaster County's two Republican county commissioners, who accused the Democratic mayor of trying to "deflect blame."
Sorace's administration has launched multiple initiatives aimed at improving relations between city police and the citizens they serve. Last year, in the wake of a police stun-gun incident that drew national attention, the police department adopted a new use-of-force policy, and it is working with a Police Community Working Group on a strategic plan.
Provisions of the use-of-force policy are cited in the "commitments to racial equity" the city released this summer in response to protests stemming from the death of George Floyd in Minneapolis.
Late last week, OneUnitedLancaster spoke with Sorace via Zoom. What follows has been edited for length and clarity.
OneUnitedLancaster: Were you [directly] responsible for any of the decisions made Sunday, either by the police or the Community Police Working Group?
Mayor Danene Sorace: No, I was not. I was kept well informed of the changing dynamics. The thing I was most focused on was the misinformation [being spread by word of mouth and on social media]. Really communicating and trying to understand as much as I could as fast as I could, and then working to support the correct information being shared.
At the protest, I didn't see any sort of concerted effort by the Community Police Working Group to try to take control of the situation. Was that something they could have done?
Obviously, this was not planned, and so our ability to organize in the middle of a crisis was definitely a challenge. But a number of people from the Community Police Working Group were there.
The dynamics changed after midnight. There were clearly people there that were intent on doing things in a nonpeaceful way, which resulted in arson and property damage and all the rest of it. People had to take into consideration their personal safety. I don't begrudge anybody doing that.
Are there plans to go back and review the Laurel Street incident and the Sunday evening demonstrations and response?
We do that all the time. ... Yes, most definitely. We're not always going to get it right, but we do continue to try to learn and respond to the needs of the community.
I think there was fear in the community that Monday night [Sept. 14] was going to look a lot like Sunday night. What changed and why?
We did a tremendous amount of outreach. The Community Police Working Group met that evening. We had a town hall meeting with a variety of different stakeholders. We had a lot of people at the police station and the Art Park that Monday evening. ...
This is [a] tragedy, another moment of significant pain and anger and angst about the situation and how it got to this point in the first place. That is going to take all of us to heal.
Do you have any reaction to Commissioner Parsons' and Commissioner D'Agostino's comments?
I look forward to picking up the conversation with the county commissioners. I'm not going to comment; their remarks can stand on their own.
At the press conference, you were calling for additional resources around social services. We're actually pretty fragmented [in how we deliver services.] What are your ideas as to how we can bring in nonprofits in a different way, bring in government in a different way, to improve things?
I want to be able to say I have a specific answer, but I don't. What I do know is there are process pieces to this that I can mobilize and facilitate. ...
This community has come together to address the opioid crisis. We've come together to address homelessness. We continue to work to come together to address poverty. For me this is another opportunity for us to come together.
A lot of people have been asking me, "How much more money is this going to take, Mayor?" In some cases, it's not even about money, it's about the coordination and the linking together of services.
What would you like to say to the community? What should residents' takeaway be?
My message is for our city to continue to take heart. We are a strong and resilient community and we are engaged in having these really difficult conversations. Continue to do that. Continue to show up. Continue to have hard conversations. Continue to ask questions.