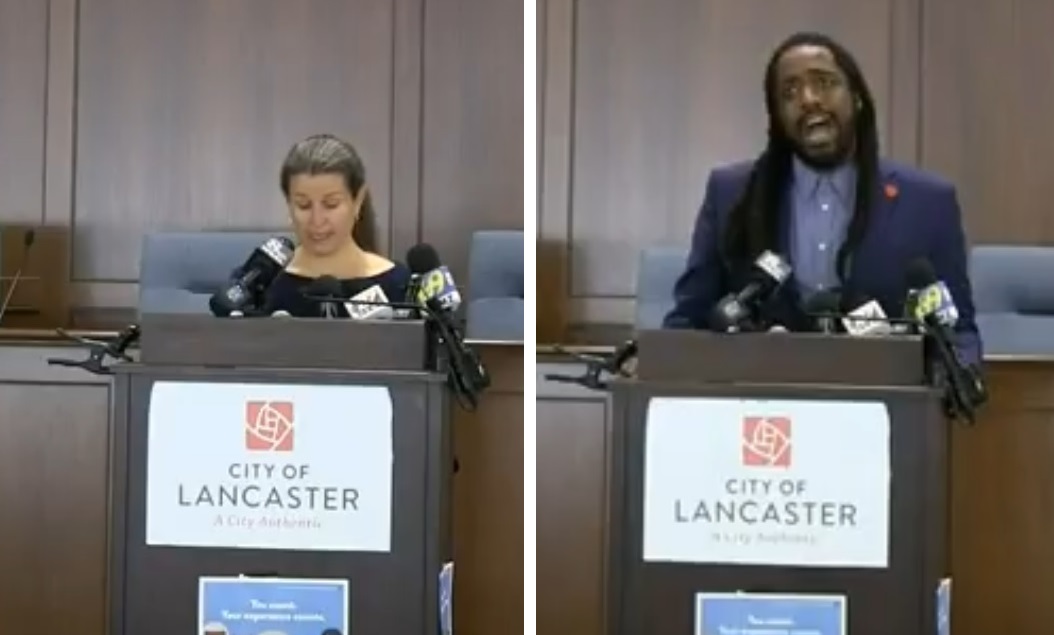 Her voice quavering at times, Lancaster Mayor Danene Sorace on Monday sought to place the death of a 27-year-old city man at the hands of police in the broader context of a community harmed by disinvestment and starved for the resources needed to help its poorest and most vulnerable thrive.
"The need is clear," the mayor said at a noon press conference in City Council chambers. She called for municipal, county and state officials to join together to create a statewide "human-centered solution" that addresses housing, social services and mental health services.
Speaking after Sorace, City Council President Ismail Smith-Wade-El drew an even closer connection between the erosion of public services and the death of Ricardo Munoz on Sunday afternoon.
A city police officer shot Munoz four times in the chest around 4:25 p.m. after Munoz charged out of a house in the 300 block of Laurel Street, waving a knife. The officer has been placed on leave; the investigation has been referred to the district attorney's office. City police released video of the incident.
Munoz reportedly had mental health issues, and had received treatment, since discontinued. Had Munoz gotten "all the help he needed ... could we possibly be in a different place?" Smith-Wade-El.
Munoz ran afoul of the law in May last year, when he was charged with four counts of aggregated assault in connection with multiple stabbings in the 500 block of North Queen Street that sent four people to the hospital.
In that incident, police said they found Munoz holding a knife to his own throat. They used a stun gun on him and took him into custody. Munoz was free on bail and his trial was pending when Sunday's incident occurred
'We need help'
In her remarks, Sorace said she fervently hoped the violence that accompanied Sunday's demonstrations following the shooting would not be repeated, saying, "There is no place for this in our community. ... Peaceful protest must prevail."
Delia Sanchez, a member of the City Police Community Working Group, pinned the violence on "infiltrators" from municipalities outside Lancaster, such as Harrisburg.
Police said they made eight arrests stemming from unrest at the protest. Four of those taken into custody had Lancaster County addresses; three were from York and one was from Mercersberg.
In a statement, District Attorney Heather Adams condemned the violence and praised the police response, which she said prevented property damage and further injuries or deaths.
"This office fully supports the right to gather and peacefully protest," Adams said, but added, "the riotous behavior exhibited last night is completely unacceptable and will not be tolerated.
"Such lawless conduct only takes away from those working with the community to address issues worthy of discussion. Make no mistake, those who cannot peacefully protest and instead resort to violence will be prosecuted and held fully accountable."
The mayor's focus remained on the bigger picture. Draconian cuts to social services enacted in the 2008 Great Recession haven't been reversed, she said, and with the coronavirus pandemic having left Pennsylvania in a $5 billion budget hole, further cuts appear likely.
"We need help," the mayor said. At the local level, she said, "we lack the tools, the resources, the expertise and the capacity to do this on our own."
Editor's note: This story has been updated to add District Attorney Adams' comments and details about Monday morning's arrests.