Following a little over 30 minutes of debate Tuesday evening, Lancaster City Council chose Katie Walsh to be its newest member.
Walsh, a consultant to the nonprofit sector, was chosen by a 5-1 vote to serve the remaining two years of the term of Xavier Garcia-Molina, who stepped down at the beginning of January.
She was one of 18 initial applicants, of whom two dropped out before their interviews. (Read about the interviews here and here.)
During the period 2015-19, Walsh was the Lancaster County Redevelopment Authority's manager of resources and community development, overseeing infrastructure projects and interacting with the U.S. Department of Housing & Urban Development; council members pointed to her background with affordable housing as a key reason for her selection.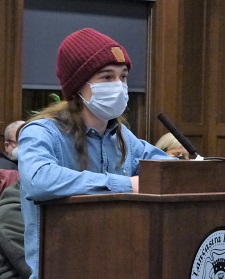 The audience in council chambers was strongly in favor of another candidate: Joey Dastra. Numerous individuals spoke in support of his candidacy, citing his passion for the city, his grassroots connection to the community and his committed work ethic.
Sean Domencic said he and his housemates were "incredibly impressed" with Dastra when he spoke to them during his independent run for City Council last year, and that he would be "an excellent pick." Jessica Lopez said Garcia-Molina's successor should be comparably progressive and that council needs third-party voices and "real community members."
Dastra's partner, Keyshleen Rivera-Placido, is recovering from a vehicle accident and spoke from a wheelchair. She said she has watched him strive: "You will not find someone more passionate with as much love for Lancaster. ... He'll do the work that needs to get done for the city."
Dastra took to the podium to thank his supporters and noted that others who couldn't attend were watching council's livestream. Regardless of the evening's outcome, he said, in future there should be a process for letting viewers at home "participate at the same level as everyone else."
Councilwoman Janet Diaz cast the dissenting vote. During the preceding discussion, she made a motion to table Walsh's nomination, but it failed for lack of a second.
Diaz said council had two candidates to consider who not only have qualifying backgrounds and education but would bring diversity "that we have not had on City Council." While casting her vote, she named them: Ole Hongvanthong, an Asian-American small business owner; and Charlotte Katzenmoyer, an engineer and the city's former director of public works.
Hongvanthong spoke on his own behalf, saying he has a track record of advocating for affordable housing and of providing affordable rentals as a landlord.
"If you're asking for that experience, I have that experience," he said, saying that as a City Council member he would be able to network with the city's landlords and promote dialog.
Diaz asked if any of her colleagues had prepped Walsh, providing her their planned interview questions. They all said they had fielded multiple candidates' inquiries about council's role but had not disclosed interview questions or other material.
Garcia-Molina, the former councilman, spoke in favor of Walsh, saying she doesn't merely have technical knowledge around affordable housing but "is committed to the work" and to the community.
Another applicant for the seat, Pamela Craddock, told council she thinks Walsh is the most qualified candidate.
Walsh said she was honored to be selected and that she welcomed the level of community interest and engagement and hopes it continues. She is scheduled to be sworn in Thursday afternoon, beating by a few hours council's deadline for replacing Garcia-Molina under state law.
Dastra said seeking the seat has been mentally and emotionally taxing, but he's glad he ran. At the end of the day, he said, "I'm not concerned about being the face up there. It's the ideas."
Affordable housing has long been a stated priority of the city but is receiving fresh attention due to increasing scarcity and sharply increasing prices, coupled with the availability of millions of federal dollars through the American Rescue Plan Act.
City Council has made support for affordable housing a priority. It's important that Garcia-Molina's replacement share that view, Council President Ismail Smith-Wade-El told LNP newspaper before council's candidate interviews.
(Editor's Note: This article has been updated to incorporate council's discussion on whether Walsh had been given interview questions in advance.)