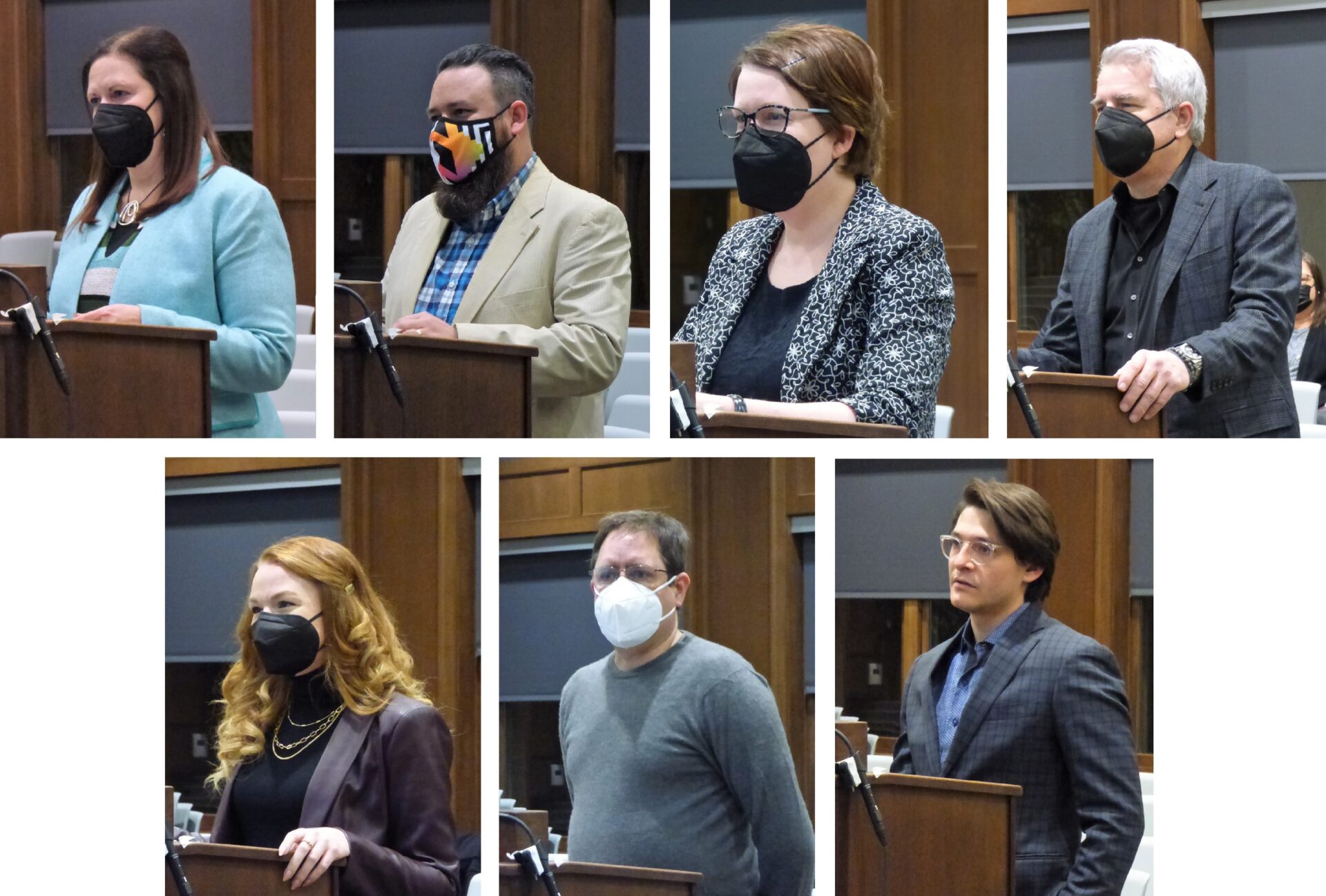 Lancaster City Council on Tuesday evening interviewed seven more individuals seeking to claim its open seat.
They join nine people interviewed last week to compose a field of 16, from which council plans to pick the successor for former Councilman Xavier Garcia-Molina.
It plans to do so at its regular meeting at 6:30 p.m. Tuesday, Feb. 8, at City Hall, 120 N. Duke St.
"We have our work cut out for us," Council President Ismail Smith-Wade-El said after Tuesday's meeting.
With so many highly qualified candidates with widely different backgrounds, "It will be an extremely difficult choice," he said.
Initially, 18 candidates had submitted resumes. Elizabeth Figueroa dropped out last week and Ali Marquart did the same before Tuesday's meeting.
Candidates made opening statements, fielded questions from council members, then were offered the chance to make closing remarks.
Council mostly stuck with the same questions each time, asking candidates to comment on the city's main challenges and how they would meet them; their familiarity with public works (the subject of the council committee they will be tasked with leading); their opinion on diversity and what they love most about Lancaster.
Here are brief summaries of Tuesday's interviews.
Charlotte Katzenmoyer
Katzenmoyer said she would bring her perspective as a woman engineer, her training and her 23-plus years of experience running public works departments and water utilities in Reading, Lancaster and Harrisburg to her role on council. Having overseen public works budgets, negotiated onsent decrees and dealt with politicians, labor unions and the general public, she understands local governance and the importance of maintaining core services and is eager to join council in tackling issues such as homelessness, affordable housing and the city's quality of life.
She said she would be available to Public Works Director Stephen Campbell at his request to "brainstorm on the challenges" facing his department. She praised the city's history and culture and the warmth of its residents, and strongly endorsed diversity, noting she has children who were raised as Muslims and that as CEO of Capital Area Water to bolster contracting with MWDBEs -- Minority, Women and Disadvantaged Business Enterprises.
Seth Mariscal
"I'm a doer, I'm a fixer and I'm extremely curious," Mariscal said, characterizing himself as a detail-oriented person who reads policy papers for fun. He said he grew up in multiple cities and countries — his background is Mexican and his wife is Guatemalan — but that Lancaster has always been home.
He acknowledged not having a background in public works, but said he has experience in business-to-business operations and knows how to learn. He is concerned about homelessness, and advocates treating the "core issues" by broadening access to affordable housing, mental health support and employment assistance. He said City Council has the ability to respond to residents' needs with tangible solutions, and that he sees "amazing things" happening here and would seek to keep that momentum going.
Carol Ann Parrish
Parrish, who served as Neighborhood Revitalization Administrator in the mid-2000s under mayors Charlie Smithgall and Rick Gray, said that experience led to her decision to seek the open seat. The city is thriving, she said, but gentrification is forcing out many of the people who contributed to its revitalization, including longtime residents, senior citizens, artists, and small business owners. She herself faced a crisis five years ago when she was in medical debt and unemployed.
She said she supports "housing first" models to address homelessness, and rent control, inclusionary zoning and similar measures to promote affordable housing. She said she wants to preserve the ingredients that make Lancaster unique, and that she is approachable, a good listener and her personal and professional background make her right for the job. She closed by quoting Jane Jacobs: "Cities have the capability of providing something for everybody ... when they are created by everybody."
Dale Shenk
Shenk said he would bring to council his broad expertise in budgeting, teamwork and project management and a track record of building consensus, the fruits of his more than four-decade career in construction. He said he moved to the city from the suburbs 2 1/2 years ago, loves his neighborhood, and wants to help council continue nurturing what Lancaster is becoming.
He said he understands the challenges of expanding affordable housing, and that he's seen some homes "no one should live in." He expressed confidence in his ability to chair the public works committee, describing public works as akin to "a giant construction project." He sees mental health at the root of homelessness and said City Council can help coordinate and facilitate the services provided by local organizations.
Katie Walsh
Walsh said she has deep roots here: Her parents, grandparents and great-grandparents are Lancastrians and she was born and raised on College Avenue. Her consulting business focuses on financial and strategic planning for nonprofits, and her career has centered on community and economic development and lately on affordable housing.
She said her background and familiarity with the public, private and nonprofit sectors would be an asset, given the city's current challenges, and that she is well versed in public works, thanks to three years overseeing the county Redevelopment Authority's portfolio of infrastructure improvement projects. Diversity, she said is "invaluable" — a community is only as strong as the perspectives it brings to the table. Lancaster is the home of the family and friends she loves, she said: "I really do care about this city."
John Shuba
After 25 years owning and running local punk store Angry Young & Poor, Shuba sold his interest to his partner and is now a self-employed artist, with enough free time to make City Council a priority. He said he had been daunted at the thought of running for City Council but couldn't pass up the opportunity to be appointed.
He called Lancaster "a slice of what America should be," saying he loves its arts scene, its independent small businesses and how walkable and bikeable it is. He said he is a quick learner, would bring his perspective as a former business owner to bear, and sees himself as a "utility infielder," able to adapt to whatever role City Council might need him to fill.
Alex Thompson
Between December and January, Thompson transitioned from a career at Ernst & Young, one of the "Big 4" global consulting firms, to a project manager role at UGI. Given his background leading large-scale change, he said he would have no difficulty getting up to speed quickly on public works issues and would be a "great fit" for City Council. Change is difficult, he said, but it's necessary for progress, and can be beneficial to all stakeholders if done right.
He said his priorities include fostering small-business entrepreneurship; and taking action to help individuals break the cycle of homelessness. He said he has seen development pushing out renters and strongly endorsed the need for affordable housing. At age 28, he comes from the same age cohort as Garcia-Molina and said that like him he would be a voice for their generation.
Thompson was the sole candidate to speak without a mask. That has been allowed throughout the pandemic, Smith-Wade-El said, and Thompson donned one promptly when he was done.