Earlier this week, tradesmen were still hard at work at the former Treasures Markets building at 515 N. Franklin St. in Lancaster.
Meanwhile, Plain Sect women and girls were industriously unpacking boxes and stacking shelves with condiments, canned goods, bulk foods, paper products and more.
Blessings of Hope CEO David Lapp was confident everything would be ready by Friday morning, one way or another.
"We've been known to work all night if we need to," he said, chuckling.
From Treasures to Blessings
Indeed, at 8 a.m. Friday, the doors opened on schedule, welcoming the first representatives of Blessings of Hopes's many partner churches and charities to its new Ministry Service Center.
In the parking lot, a greeter directed partners and volunteers to their appropriate spots. Inside, receptionists checked them in. Just a few minutes after opening, the aisles were already thronged.
Blessings of Hope has grown by leaps and bounds since its founding in 2006 by a group of ex-Amish brothers. Operating out of a 44,000 square foot complex on Becker Road in Warwick Township, the faith-based nonprofit collects and distributes tens of millions of pounds of food a year — the equivalent of 50,000 meals a day on average.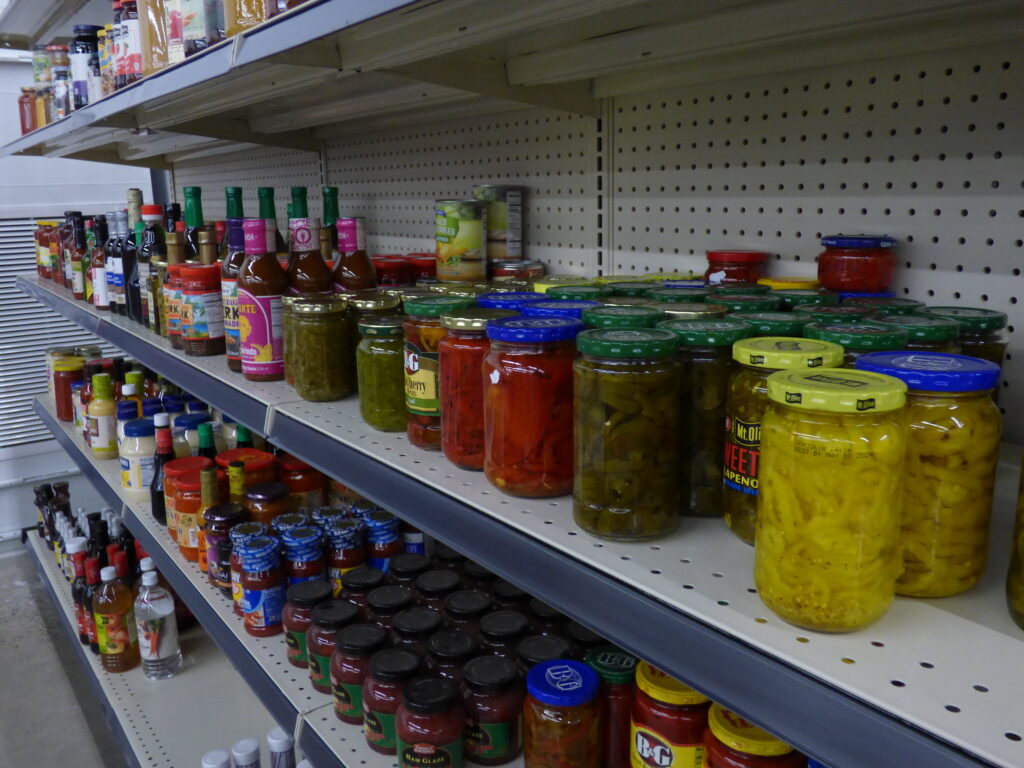 Much of it goes to a network of some 700 organizations on the East Coast, mostly in the mid-Atlantic region; a portion goes to a satellite Blessings of Hope operation in Kentucky.
Blessings of Hope packs and delivers about one-third of the food it distributes. The remaining two-thirds are handled through self-service: The food charities themselves come in and choose what they need.
Until Friday, they came to Becker Road, where the Ministry Selection Center was about 9,000 square feet. Now they will come 515 N. Franklin St., which at 29,000 square feet provides more than three times the room.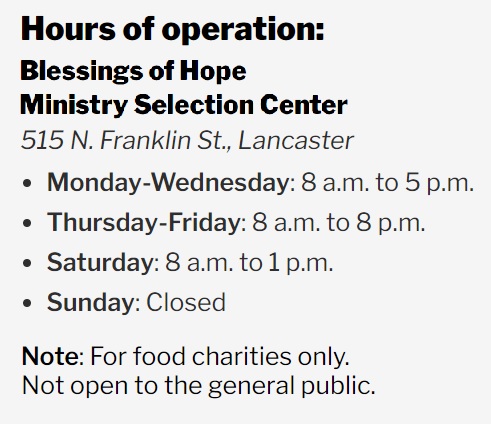 The former Treasures site is Blessing of Hope's first freestanding selection center — that is, the first time it has been off-site from the flagship Becker Road site — and the first example of a model that Blessings of Hope envisions rolling out regionally and nationwide.
Food charities interested in making use of the Ministry Service Center can register online through Blessings of Hope's website. At their first visit, they receive two access cards, Lapp said.
At checkout, they pay a flat service fee of 22 cents per pound, which covers Blessings of Hope's costs.
Explosive growth during pandemic
Food insecurity skyrocketed during the pandemic and so did Blessings of Hope's throughput, which grew fivefold to 65.5 million pounds in 2020.
Lapp said he and his brothers figured the level of need would revert to pre-pandemic levels, but it never has, though it has ebbed somewhat.
Most of the food that Blessings of Hope handles would otherwise end up in landfills, he said. That's because most food charities are too small to absorb the kind of volume that commercial food distributors need to unload.
Estimates suggest about 40% of U.S. food production is wasted, most of it perfectly edible. In an online video, Blessings of Hope co-founder Aaron Fisher describes a conversation he had with a food outreach administrator who had to let a full tractor-trailer of yogurt be discarded because he only had capacity for a few pallets.
Today, Blessings of Hope has capacity for that whole tractor-trailer, and more. It then breaks down those large volumes into portions that small-scale food banks can readily handle.
It's a win-win, Lapp said: Food is kept out of landfills, easing the pressure on them, and put in hungry bellies, where it belongs.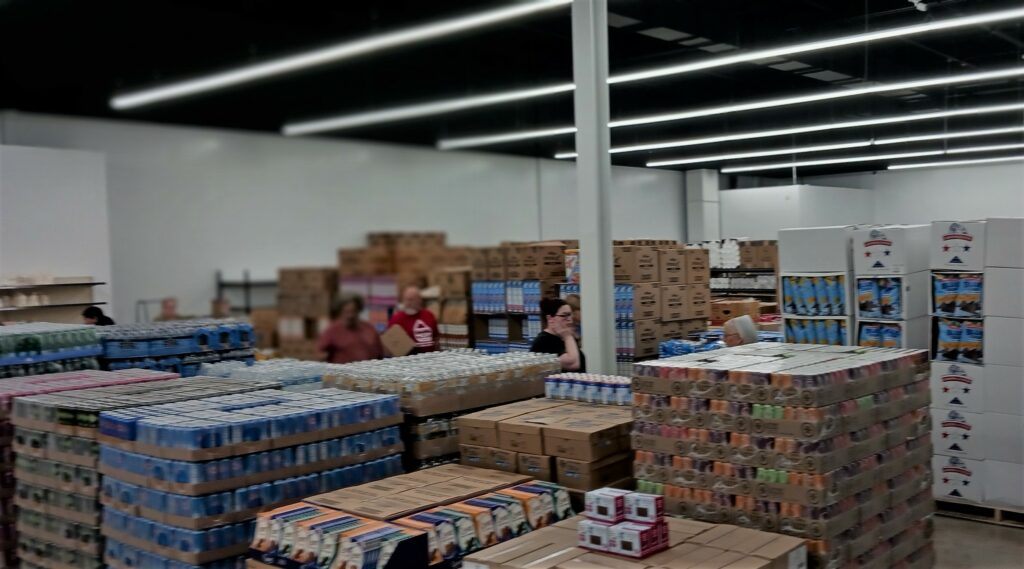 Repurposing the building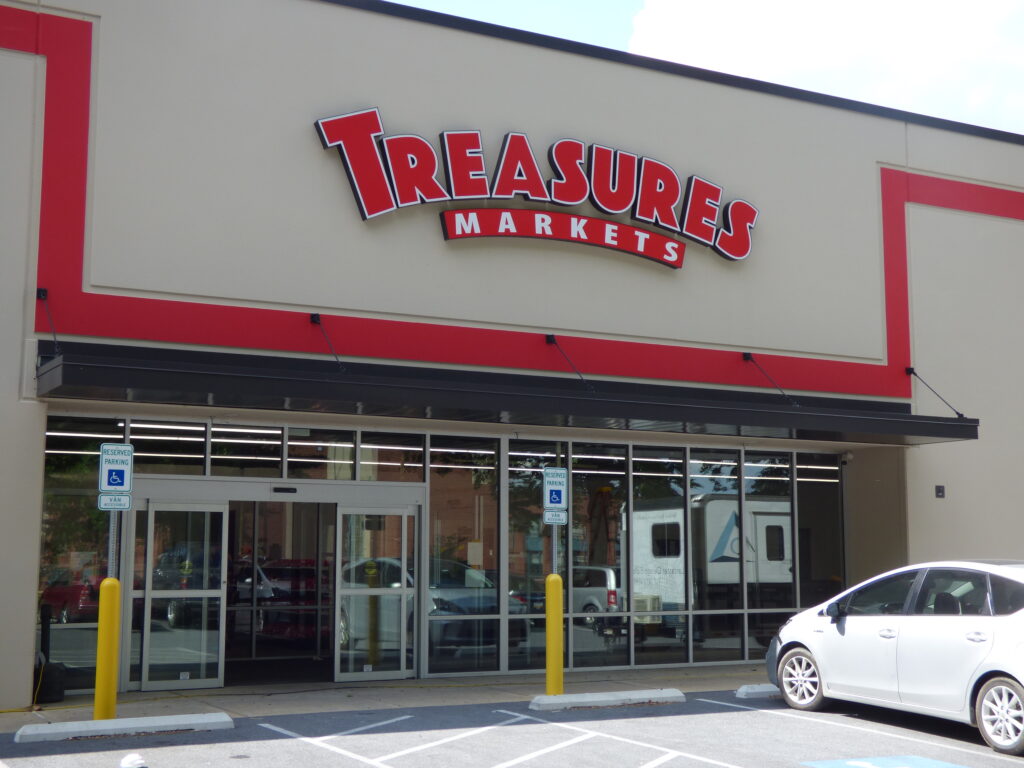 The 515 N. Franklin St. property had been the first location for Treasures Markets, a social enterprise that aimed to use proceeds from discount food, clothing and housewares sales to support job training and other initiatives. It foundered in the pandemic, and early this year Treasures Markets announced it was shutting down and selling the building to Blessings of Hope.
Over the ensuing months, Blessings of Hope renovated the building, spending about $500,000, Lapp said.
Dry goods — essentially, anything that doesn't need to be refrigerated or frozen — take up roughly the western half of the former store.
On the east side, Blessings of Hope has built a 6,000 square foot walk-in cooler — essentially, an enormous room chilled by massive air conditioners to a temperature of 42 degrees. Commercial refrigerators left over from Treasures Markets keep their contents even colder, at 36 degrees; Treasures' "coffin freezers" accommodate frozen goods.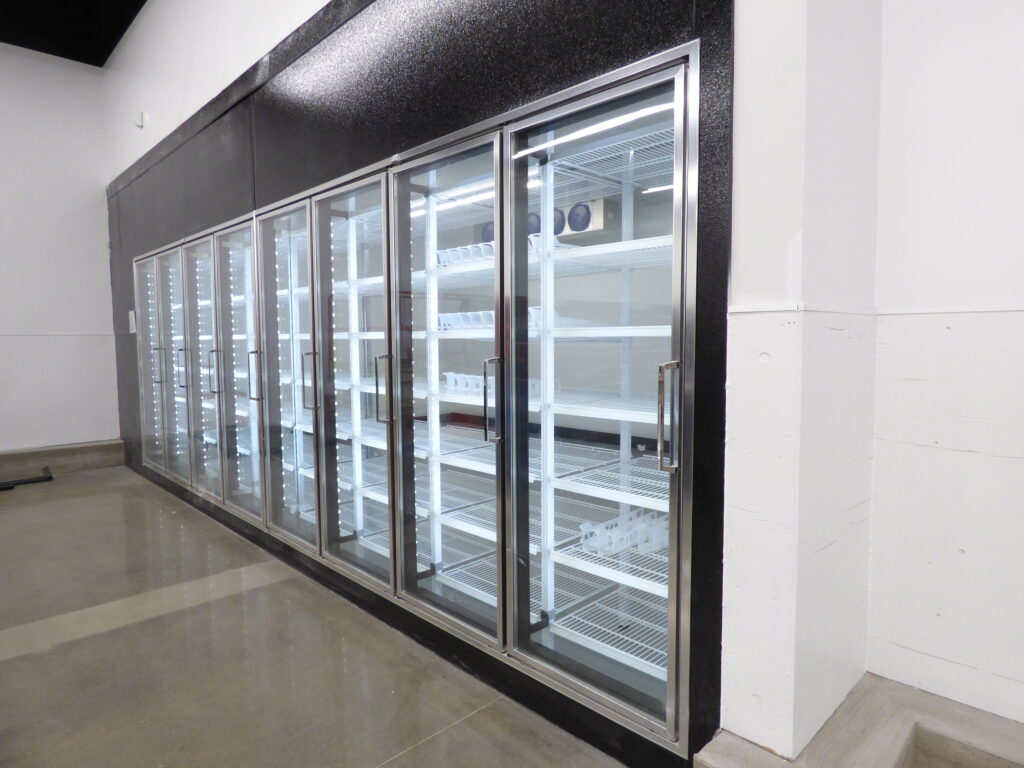 All of Treasures Markets' refrigerators and freezers were retained and repurposed, Lapp said.
At the entrance, Treasures' checkout lines have been replaced with cart corrals and weighing stations with large scales flush with the floor. To either side are remodeled offices and conference space.
Lapp estimated the Ministry Selection Center will initially have a throughput of around three tractor-trailer loads a day. It will be staffed daily by about 20 Blessings of Hope employees, plus another 10 to 20 volunteers.
People interested in volunteering can sign up through Blessings of Hope's website, but Lapp cautioned that shifts are already filled for the next five months or so. In return for their work, volunteers are allowed to take food home for them — like food banks, they pay a service fee.
Big plans
The 515 N. Franklin St. site is just the beginning, Lapp said. Blessings of Hope envisions opening other Ministry Service Centers in places like Harrisburg, Philadelphia, Allentown and Baltimore, creating a "hub and spoke" model around a large central distribution and food processing facility.
That large hub has yet to be built. Blessings of Hope had hoped to site it on a 38-acre property in West Earl Township, but in November the township's planning commission voted against the rezoning that would be needed. Blessings of Hope is continuing to weigh its options, Lapp said.
Overall, operating costs are running about $6 million a year, he said. Around two-thirds of that amount is covered by service fees; the remaining $2 million must be covered with fundraising.
Ultimately, Blessings of Hope aims to be a national organization. What form that will take remains to be seen — Blessings of Hope could build out the infrastructure itself, or partner with other organizations — but hunger and food waste are both nationwide problems, Lapp said.
"There's a lot of challenges, but there's a lot of fun," he said. "We love what we do. It's fulfilling work."