It will be Lancaster-Lebanon Habitat for Humanity, not HDC MidAtlantic, that will lead development of affordable housing at 913 Wheatland Ave. on Lancaster's west side, the two nonprofits announced today.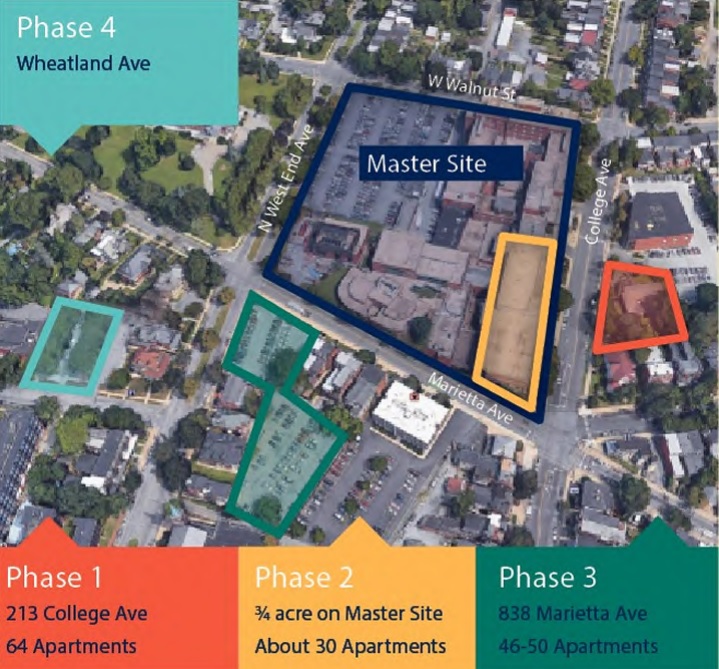 HDC is engaged in a multi-phase affordable housing project in and around the former St. Joseph hospital campus. The 913 Wheatland Ave. property, which previously served as a parking lot for the hospital's most recent owner, UPMC Pinnacle Health, has been billed up to now as the fourth and final phase.
The decision to involve Habitat for Humanity stemmed from discussions with neighbors around the property, who expressed a strong interest in an owner-occupied development, the two nonprofits said. Habitat for Humanity specializes in developing projects for low- and middle-income home ownership, while HDC develops and manages affordable rentals.
"We believe in collaborating with community partners … [and] we are excited about Habitat for Humanity's potential development on this site," HDC President & CEO Dana Hanchin said.
HDC has an agreement with UPMC Pinnacle Health for 913 Wheatland Ave. The arrangement had been for no money to change hands, HDC spokeswoman Kate Hartman said. The organizations' legal teams are now looking at how best to handle a transfer to Habitat for Humanity, either at no cost or for a nominal fee.
It's too early to discuss the scale or timeline for a potential project, Habitat President & CEO Andrew Szalay said. The first step will be to have meetings with neighbors and other stakeholders: Those will be scheduled in coming weeks, Habitat said.
The remaining three phases of HDC's development in connection with the St. Joseph campus are projected to result in at least 140 apartments.
The first phase, The Apartments at College Avenue, has received city approvals. But costs have risen above HDC's budget of $16.4 million, obliging the nonprofit to delay the start of construction and secure additional funding. HDC also is contending with legal action from neighbors who contend the project was improperly granted zoning variances.
The majority of the hospital campus is being redeveloped by a private firm, Washington Place Equities. Its plans call for converting the main hospital building into a 169-unit market-rate apartment complex and building 53 townhouses on the property's west side.