State officials and local nonprofit leaders gathered at in southern Lancaster County on Tuesday morning to celebrate the largest-ever round of conservation and recreation grants in Pennsylvania, and to promote a one-time follow-up round of grants this fall.
The grants announced this week were processed and approved in record time, said Cindy Adams Dunn, secretary of the Department of Conservation & Natural Resources.
Statewide, more than 330 projects were approved for grants totaling $90 million. The previous record was $70 million, Dunn said, calling the new round "historic."
It "will leverage more than $100 million in local, county and private investments, giving every state dollar more power for the public good," she said.
DCNR's funding for the grants comes from multiple sources: the Keystone Fund, which is supported by the realty transfer tax; the Environmental Stewardship Fund; ATV and snowmobile license fees; and federal funds.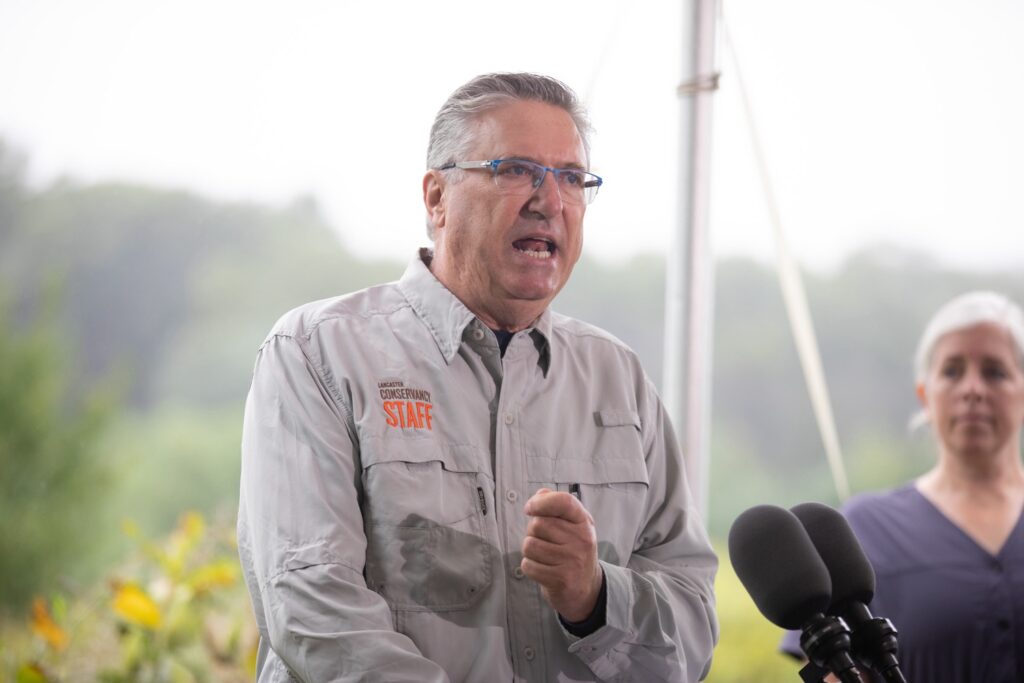 Dunn joined state Sen. Scott Martin, Lancaster Conservancy CEO Phil Wenger and other officials Tuesday at the conservancy's Clark Nature Preserve in Pequea Township. One of the newly announced grants, for $318,000, will be put to use there, helping to build a one-mile handicap-accessible loop trail and other enhancements.
The conservancy's Welsh Mountain Nature Preserve has a half-mile accessible trail; the one at Clark Nature Preserve will be its second. Clark Associates founder Lloyd Clark, for whom the preserve is named, was a strong advocate of creating hunting opportunities for disabled veterans, so the conservancy is hoping eventually to install hunters' blinds along the trail, Wenger said.
In all, 10 Lancaster County projects received DCNR grants totaling nearly $2.8 million. An 11th grant, of $300,000 will fund the Lancaster Conservancy's Susquehanna Riverlands conservation initiative, which encompasses natural lands bordering the Susquehanna River in southern Lancaster and York counties.
This fall, DCNR will offer a special supplementary grant round, made possible thanks to additional environmental and outdoor-recreation funding in the 2022-23 state budget.
To make the grants more accessible for communities with limited funds, DCNR is lowering the match requirement to 20% for municipalities with populations under 5,000.
Priorities for the fall round include helping underserved communities; completing trails and closing trail gaps; supporting outdoor recreation; and promoting tree planting in neighborhoods and along streams. The application deadline is Oct. 27.
2022 DCNR Community Conservation Partnerships Program grants
Lancaster County
Adamstown ($100,000): Rehabilitation and further development of Adamstown Community Park.
Denver ($32,500): Prepare a trail study for the development of approximately 8.0 miles of the Warwick-to-Ephrata Rail-Trail.
East Hempfield Township ($280,200): Development of Noel Dorwart Park.
Elizabethtown ($30,000): Prepare a master plan for a 23-acre community park.
James Hale Steinman Conestoga House Foundation ($293,000): Development of the Little Conestoga Blue-Green Corridor Trail in East Hempfield Township.
Janson Foundation ($116,500): Rehabilitation of Janson Park in Columbia.
Lancaster County Conservancy ($318,637): Development of the Lloyd Clark Universal Access Trail at the Clark Nature Preserve.
Lancaster County Conservancy ($838,000): Payment toward the acquisition of about 90 acres in Elizabeth Township near Speedwell Forge County Park.
Mount Joy Borough ($37,500): Prepare a master plan for Little Chiques Park.
Sadsbury Township ($735,000): Development of 3.13 miles of the Enola Low Grade Trail from Quaker Church Road to the Chester County line.
Lancaster and York counties
Lancaster County Conservancy ($300,000): Coordinate and fund activities of the Susquehanna Riverlands Conservation Landscape, including preservation and environmental education.