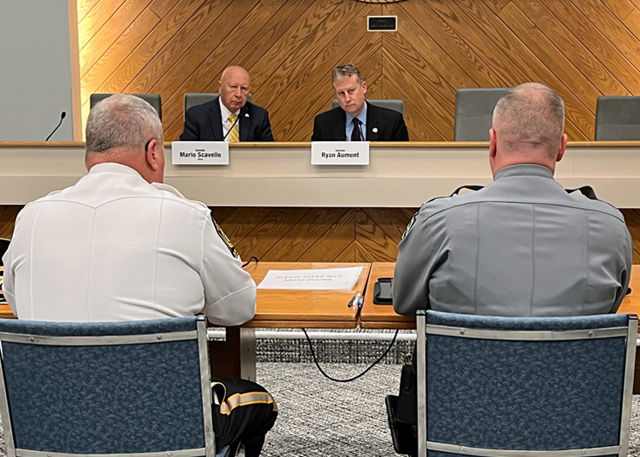 Police departments and prosecutors are battling a major staffing crisis, even as increases in violent crime, the mental health crisis and the opioid crisis are putting ever-greater strains on their resources, Lancaster County law enforcement leaders told state lawmakers at a hearing Monday.
The hearing, held at the East Hempfield Township Building, was the second in a series on crime and public safety convened by the Senate Majority Policy Committee in response to an increase in crime rates.
Violent crime in Pennsylvania climbed 27.1% from 2019 to 2020, the largest increase in the U.S., the committee said, citing FBI data.
On Monday, Republican Sens. Mario Scavello of Monroe County and Ryan Aument of Lancaster County asked a trio of police chiefs to name the biggest problems they face and what lawmakers can do to help.
Also testifying were District Attorney Heather Adams and an East Lampeter Township Police detective; as well as leaders from two local nonprofits, Blueprints for Addiction Recovery and North Star Initiative, who described their collaboration with law enforcement to divert individuals into addiction treatment and help survivors of sex trafficking.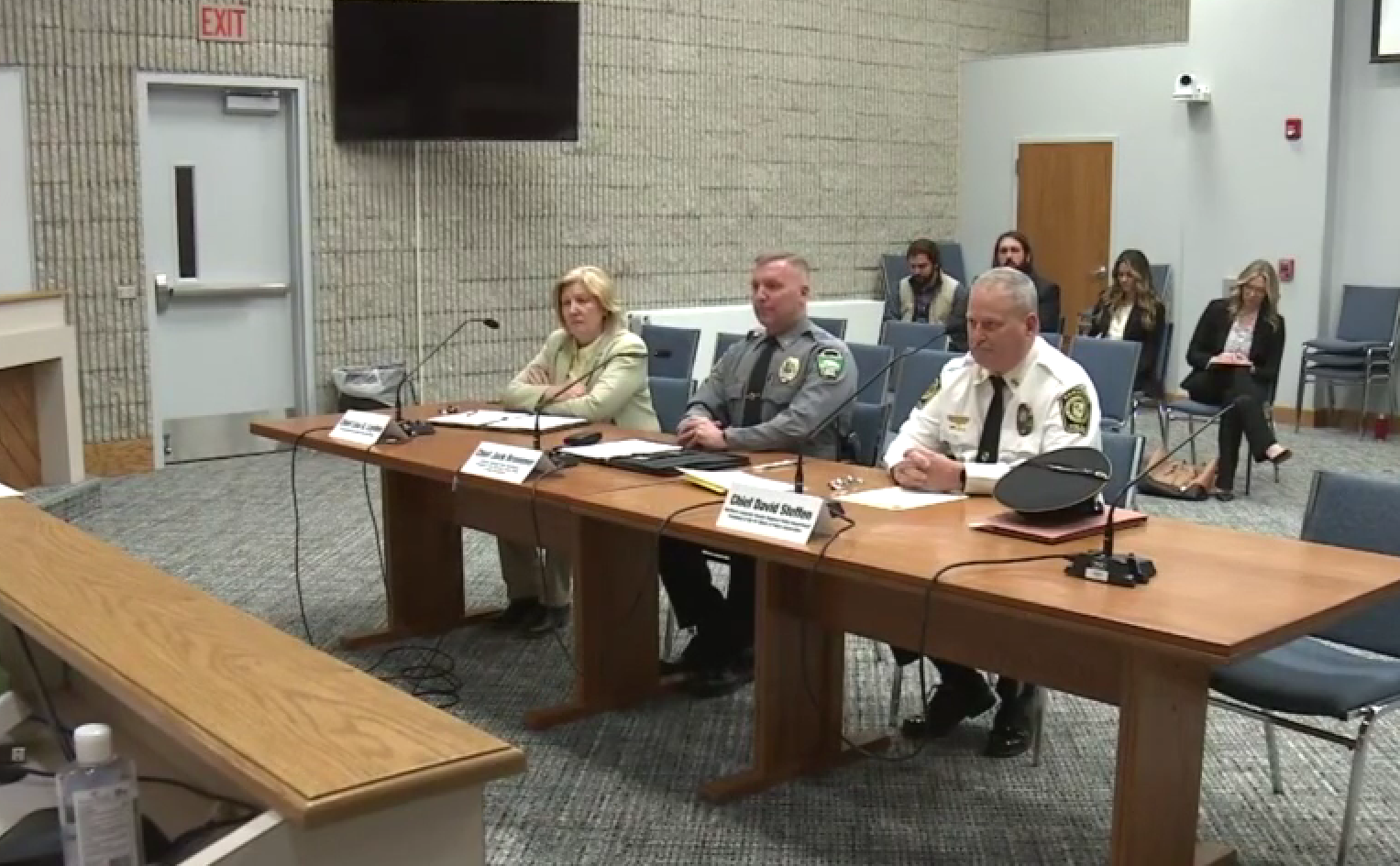 Officer recruitment and retention is becoming an acute problem, said police chiefs David Steffen of Northern Lancaster Regional, Jack Brommer of Columbia and Lisa Layden of West Hempfield Township. Layden said she's seeing 80% to 90% fewer candidates turn out to apply for police positions than she did two or three decades ago.
Negative public perception of law enforcement is part of the problem, the chiefs said. It can take 18 months to recruit, train and deploy a new officer, Steffen said, but officers increasingly jump from department to department or exit law enforcement altogether. Intensive recruiting efforts need to begin as early as middle school, he said.
Brommer said his department is contending with an increase in juvenile crime, including three shootings in three days recently. The trend predated Covid-19 but the pandemic didn't help, he said.
Regulation is hampering police in multiple ways, Steffen said. When it comes to recruiting, he said, "everyone has a different set of rules." The same is true when police try to collaborate with education and mental health providers to reduce recidivism, he said: Everyone has a different set of confidentiality requirements.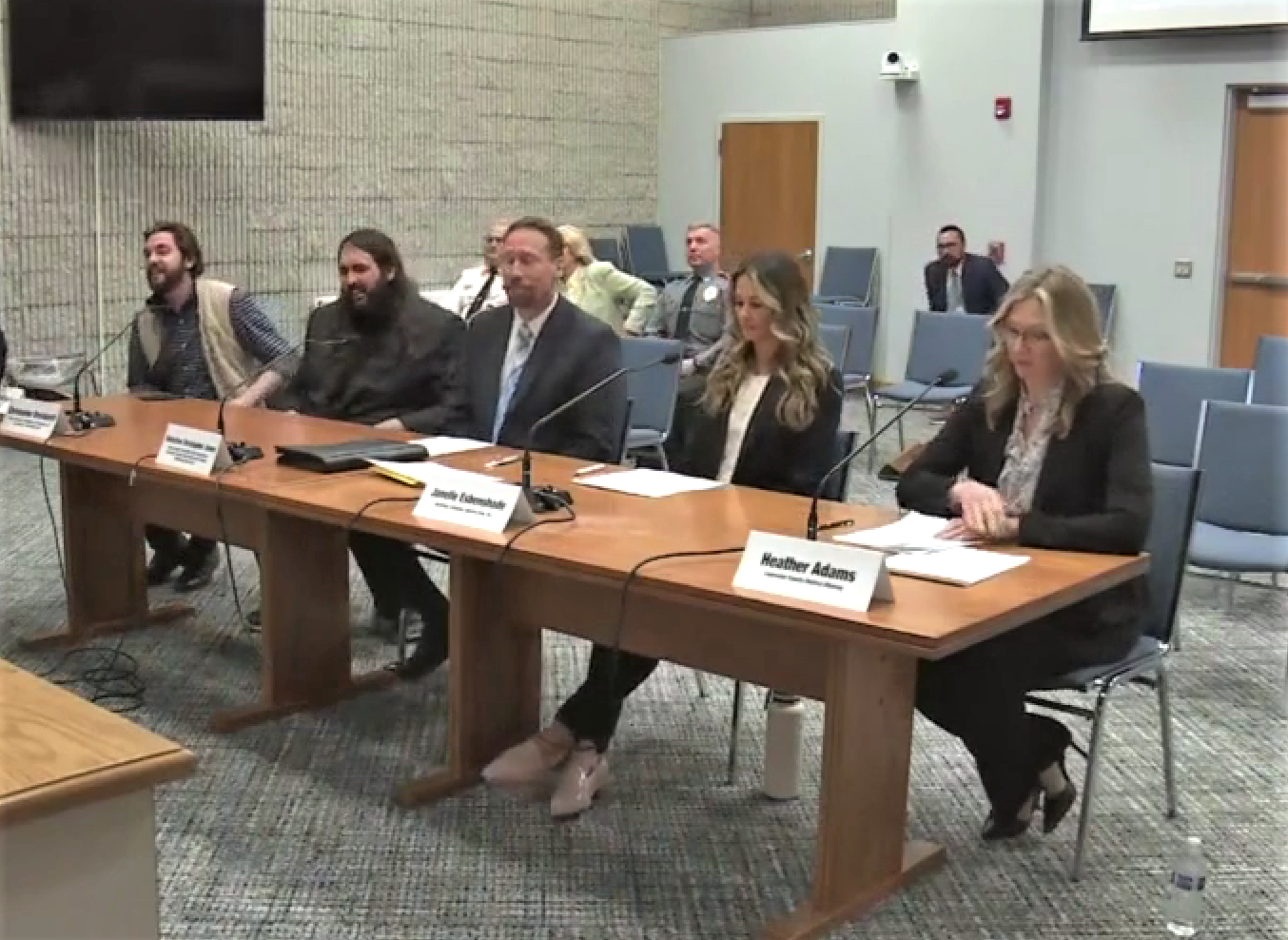 To break the cycle of addiction and crime, Steffen said, departments need to be able to effectuate "warm handoffs" of individuals to treatment service providers.
One way that happens in Lancaster County is through Second Chance PA, a program of Blueprints for Addiction Recovery. It makes certified recovery specialists available to police departments to counsel eligible offenders and divert them into recovery programs. A sister program addresses mental health.
Out of 26 police departments countywide, 24 partner with Second Chance PA. More than 75% of the individuals who enter the program remain on track at the six-month mark, Blueprints CEO Chris Dreisbach said.
The specialists are in recovery themselves and that gives them credibility with those they counsel, Blueprints' executive vice president Benjamin McCoy said.
"That's really the piece that opens the door," he said.
District Attorney Adams and Detective Christopher Jones of the East Lampeter Township police briefed the committee on the county's new Human Trafficking Task Force, formed in response to persistent prostitution at hotels along Route 30. It recently made its first arrest, of a man charged with trafficking a woman in Lancaster, Delaware and Dauphin counties.
Nonprofit NorthStar Initiative is part of the task force. About 60% of trafficked women are from out of state and nearly 50% are trafficked by a family member, interim Executive Director Janelle Esbenshade said. Their average age is 15.
Human trafficking didn't let up during the pandemic, she said; thanks to recruiting on social media, it increased. NorthStar works intensively with survivors, providing psychological counseling, job coaching and life-skills training.
Adams said she plans to implement the Second Chance PA program at the county's magisterial district judges' offices, where it will succeed a previous program that was yielding diminishing returns. Second Chance PA can save lives, she said, as well as reduce crime by addressing the root cause of individuals' lawbreaking.
District attorneys need to strike a balance, she said, prosecuting crime while providing offenders with diversionary avenues for treatment when appropriate.
"Here in Lancaster County, I think we strike that balance well," she said.
The Majority Policy Committee plans further hearings on crime and public safety, with times and locations to be announced.