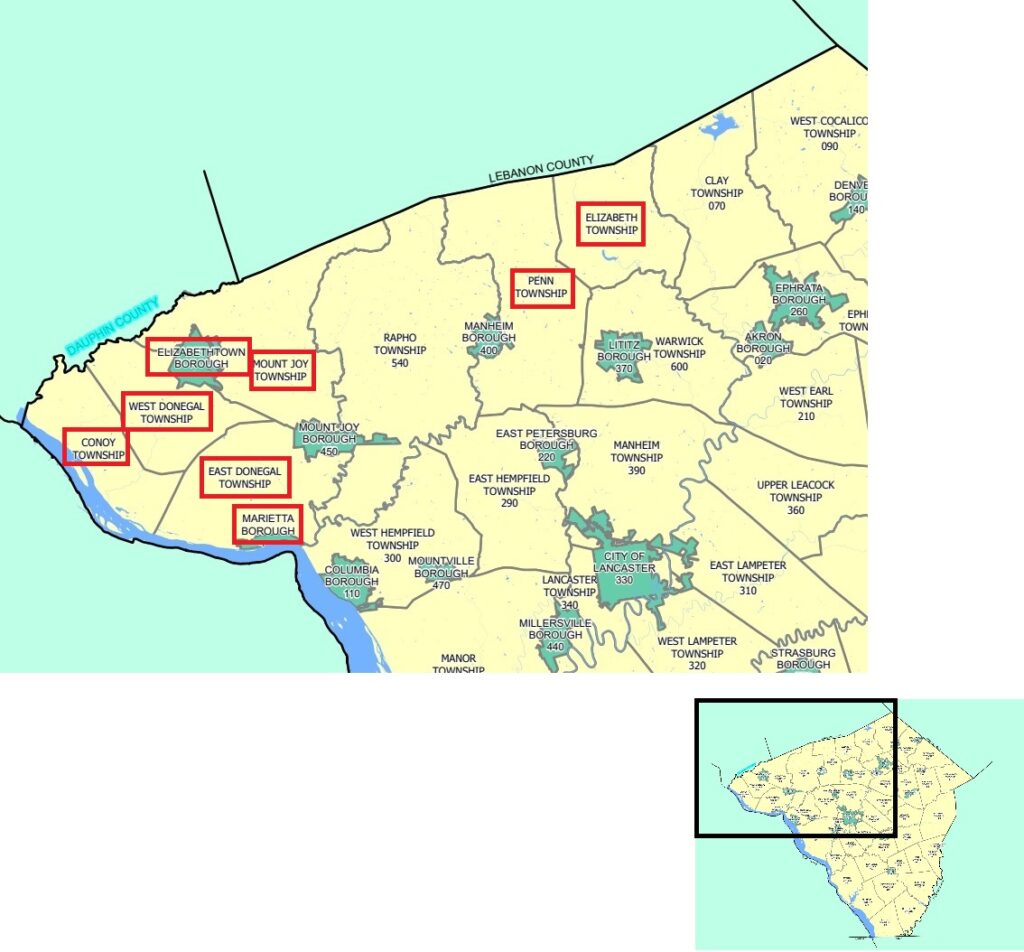 The push to create a regional emergency services authority in northwest Lancaster County is now a done deal.
Organizers announced Wednesday that the Municipal Emergency Services Authority of Lancaster County has been incorporated. It will cover eight municipalities: Conoy Township, East Donegal Township, Elizabethtown Borough, Elizabeth Township, Marietta Borough, Mount Joy Township, Penn Township and West Donegal Township.
The authority is meant to help in dealing with the revenue limitations and rising costs that organizers say has been pushing the existing ambulance service in the area, Northwest EMS, toward insolvency.
A sizable share of the new entity's revenue will come from a "uniform annual fee" that will be imposed on property owners. It will be the first rate-setting emergency authority in Pennsylvania.
The fee will encompass nonprofit property owners as well as residential and commercial ones.
Upcoming board meetings
The newly formed Municipal Emergency Services Authority of Lancaster County has scheduled its board meetings on the first and third Wednesdays of each month, beginning in March, as follows:
Wednesday, March 1
Wednesday, March 15
Wednesday, April 5
Wednesday, April 19
Wednesday, May 3
Wednesday, May 17
All meetings begin at 7 p.m. at the Elizabethtown Borough building, 600 S. Hanover St., Elizabethtown.
The authority has been a long time in the making. More than a year ago, locals started to put their heads together to address shortfalls in the Northwest EMS budget.
Some of the problems include reimbursement rates from government payers and insurers, population growth, and the increasing costs of maintaining a department. Regionalization is becoming a way for communities to address such issues.
Northwest EMS offers annual subscriptions to supplement its fee-for-service billings, but fewer than half of the residents in its service area take part. The gap between billings and insurance payments was exceeding $4 million a year, said Marc Hershey, Elizabethtown Council president and chair of the authority's organizing committee.
Meanwhile, increasing costs "were taking a heavy toll," he said. "In short, municipalities in our region needed a bold solution to continue to meet their statutory obligation to ensure EMS readiness."
In public hearings last year, critics expressed reservations about the need for the authority and suggested organizers were moving too quickly. Four municipalities involved in the discussions decided against joining the initial cohort of members: Clay Township, Rapho Township, Manheim Borough and Dauphin County's Conewago Township.
The new authority's board will be composed of one representative from each of the partnering municipalities, with the following initial roster:
Conoy Township – Justin Risser
East Donegal Township – Jeff Butler
Elizabeth Borough – Rodney May
Elizabethtown Township – Marc Hershey
Marietta Borough – Jeff Hudson
Mount Joy Township – Deb Dupler
Penn Township – Ben Bruckhart
West Donegal Township – Roger Snyder
The board will begin holding meetings next month. It expects to hold a public hearing in late summer on its services and fee structure, and to be operational by early 2024.
"This initiative demonstrates how municipal cooperation can solve regional problems," said Rob Brady of ROBB Consulting, who served as a consultant on the project.
"It is our hope that the Municipal Emergency Services Authority of Lancaster County will serve as a model for other municipalities in Pennsylvania facing an EMS crisis," Hershey said.