(Update: The commissioners approved the allocations on Aug. 24.)
Previously reported:
Lancaster County's commissioners appear ready to allocate a little over $2.8 million in pandemic relief funds to help two nonprofits preserve local farm and forest land.
"Lancaster's landscape is changing right before our eyes," Phil Wenger, CEO of the Lancaster Conservancy, told the commissioners at their Tuesday work session.
He and Jeff Swinehart, CEO of the Lancaster Farmland Trust, were there to make their case for receiving a portion of the county's $106 million in funding from the federal American Rescue Plan Act, or ARPA.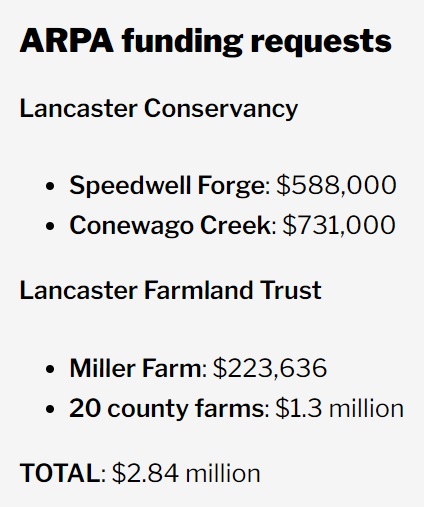 The two organizations are working more closely with each other than ever before to protect "what makes this county so special," Wenger said.
The conservancy is seeking $1.32 million to help it complete two land acquisitions: $588,000 for its $1.7 million purchase near Speedwell Forge (90 acres) and $731,000 for its $2.1 million purchase of 155 acres around Conewago Creek.
The purchases will protect natural areas next to, respectively, a county park and a county trail. They will contribute to stream restoration and water quality improvements in the Chesapeake Bay watershed as well as expand outdoor recreation opportunities, the conservancy said in its application.
Last month, the commissioners provided $400,000 in ARPA funding toward a $3.4 million stream restoration project at the Conewago Creek property that the Conservancy is acquiring. The allocation was part of $3.46 million provided to Lancaster Clean Water Partners for 11 projects around the county.
Separately, the Lancaster Farmland Trust is seeking just over $1.5 million. Of that, $223,636 would go toward preserving a 59-acre family dairy farm in Sadsbury Township and implementing "best management practices" there to protect Buck Run, part of the Octorara Creek watershed. A tributary of Buck Run flows through the property.
The remaining $1.3 million would go toward preserving another 20 farms totaling 1,743 acres creating conservation plans for them. The farms have been "in the queue" on the Trust's waiting list, Swinehart said.
Implementing the conservation plans would require additional funding, about $100,000 to $200,000 per farm, but Swinehart said he's confident it can be obtained.
He said the ARPA dollars would leverage another $4.5 million: $1.4 million in matching funds and $3.1 million in donated easement value — that is, money the farmers are giving up by agreeing to keep their land out of development.
Farmland and forest land preservation as such are not eligible uses of ARPA funds, but projects that reduce water pollution are. The commissioners agreed that the Trust's and Conservancy's proposals likely qualify as clean-water projects, but they elected to defer action in order to give county staff more time to evaluate the applications, make sure all the proposed uses of the funding meet U.S. Treasury guidelines and craft a resolution that clearly spells out ARPA's authorization for making the grants.
The last thing the county wants is the Treasury clawing back an allocation, Commissioner Josh Parsons said.
Swinehart assured the commissioners that the Trust's easements go far beyond routine farmland preservation and indeed incorporate water quality goals that are monitored and enforced. The Conservancy likewise develops and implements rigorous management and restoration plans for its properties.
The commissioners tentatively expect to have a resolution to act on next Wednesday.
The county maintains a spreadsheet detailing its ARPA allocations here. As of this week, it had allocated $21.8 million, leaving $84.2 million available.