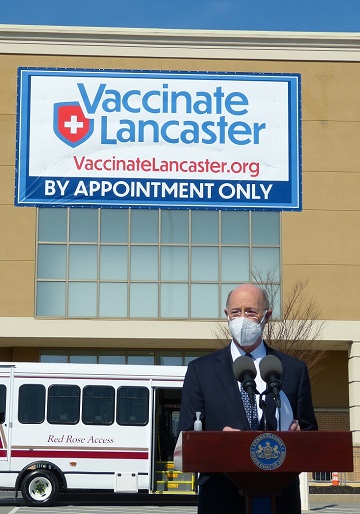 The Vaccinate Lancaster Coalition's Covid-19 community vaccination center will have enough doses this week to ramp up to 50% capacity.
The center is expecting delivery of 21,000 doses, or 3,000 a day for seven days, spokesman Brett Marcy said Monday.
The center was designed as a Type 1 Federal Emergency Management Agency vaccine center, with a capacity of 6,000 doses per day. State and local officials have said the principal impediment to operating at full speed is the limited federal vaccine supply.
Dr. Michael Ripchinski, chief clinical officer for Penn Medicine Lancaster General Health, Vaccinate Lancaster's principal healthcare partner, indicated Friday that the center was expecting to reach the 3,000-dose benchmark.
Administratively, the center is attempting to cope with a large number of non-responses to its invitations to schedule appointments. It has asked those who no longer need appointments to cancel their registrations.
Gov. Tom Wolf and Acting Health Secretary Alison Beam have both praised the coalition for setting up a capacious, convenient vaccine operation with high throughput and a regional reach. On Monday, Beam called the center "an ideal illustration" of a partnership between local government and private health care providers.
The coalition's members include county government, the county's four health systems and the Lancaster City & County Medical Society.
Vaccinate Lancaster: Registration
To register online for an appointment at Lancaster County's community vaccination center at Park City Center mall, visit VaccinateLancaster.org
To register by phone:

First dose: Call (717) 588-1020
For a second dose: Call (717) 588-1026
Call center hours are 7 a.m. to 5 p.m., M-F; and 8:30 a.m. to 12:30 p.m. Saturdays beginning March 27