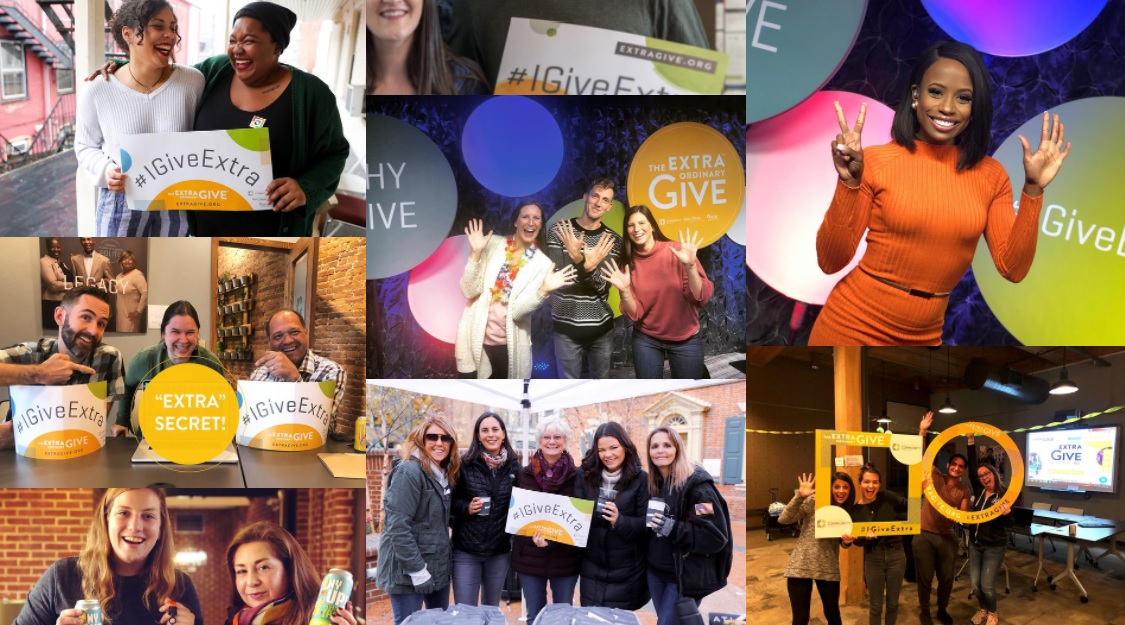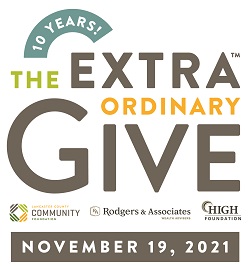 On Friday, Nov. 19, the Lancaster County community will celebrate generosity with its 10th Extraordinary Give.
The 24-hour Extraordinary Give or "Extra Give" encourages thousands of people throughout the county and beyond to give to the nonprofits of their choice. On a per capita basis, it is the most successful one-day fundraising event in the U.S.
Over the past nine years, the Extra Give has raised more than $66 million. Last year, despite the challenges of the Covid-19 pandemic, donations totaled a record $13.4 million, more than 20% above 2019's $10.9 million.
The Extra Give is organized by the Lancaster County Community Foundation, with support from its two presenting sponsors, the High Foundation and Rodgers & Associates, and nearly 30 other sponsors.
Here are five things to know about the 2021 Extra Give:
1. It's the 2nd largest one to date.
Last year, around 520 nonprofits participated in the Extra Give. Organizers had hoped this year's would be even bigger, foundation spokesman Aaron Spangler said, but the final total is just a hair lower, at 516.
2. It will be a hybrid of online and in-person events.
Last year's Extra Give took place almost entirely online because of the pandemic. With vaccination now widely available, this year marks a cautious return to in-person festivities. So far, more than three dozen events are planned, including concerts, receptions and open houses. For a full listing, visit the Extra Give Events page.
Online, the ExtraGive Cast will offer a mix of live and pre-recorded content throughout the day.
The Extraordinary Give will culminate with Extra Give Fest. Previously held at the Lancaster County Convention Center, this year's version has been moved outdoors, to minimize the risk of Covid.
"We want to make sure everybody feels safe," Spangler said.
East King Street will be closed from 6 p.m. to midnight between Penn Square and Duke Street. There will be live music, food stands and a beer garden. Unvaccinated attendees are encouraged to wear masks.
Extra Give Fest: Entertainment Schedule
6 p.m. DJ Salinger
7 p.m. Dominique Jordan, The Prolific One
8 p.m. Adrian Garcia Band
10 p.m. Mama Tried
3. There is more emphasis on inclusion.
The events of 2020 brought renewed attention to the need for organizations to embrace diversity, equity and inclusion. Many nonprofits took the opportunity to rethink how they could incorporate those values into their mission and operations.
Criteria for organizations to participate in Extra Give remain unchanged: They must be registered with the Pennsylvania Bureau of Corporations and Charitable Organizations; serve the residents of Lancaster County and have an up-to-date independent financial review. There are no further evaluations, and qualification to participate does not mean the foundation endorses a given organization's programs or practices.
However, to give donors more information about nonprofits' policies, the foundation is encouraging them to post their non-discrimination policies on their Extra Give profiles.
Meanwhile, the Steinman Foundation is offering 10 $5,000 "Pursuit of Equity" prizes. Extra Give participants were invited to apply by last Friday, Nov. 12. To be eligible, organizations must demonstrate they are "programatically and operationally" moving toward equity. Winners will be drawn from the pool of qualified applicants and announced Friday.
At the Lancaster County Community Foundation, "We believe a truly extraordinary community is one in which every person — no matter their race, faith, sex, gender, social status, sexual orientation and many other unique characteristics — is valued for who they are and appreciated for what they can contribute in their own way to our community," foundation President and CEO Sam Bressi wrote in an Oct. 31 LNP op-ed.
4. There is a plethora of prizes.
As in previous years, a "Stretch Pool" of more than $500,000 will be awarded, with organizations receiving it in proportion to the amount they were able to raise. In addition, there are well over a dozen special prizes and promotions awarded at various times, from "Midnight Madness" when Extra Give begins at 12 a.m. to "Last Call," offered in the 24th and final hour.
5. Business Beacons are new this year.
The foundation is trying out "Business Beacons," a way for local companies to take part more fully in the Extra Give by setting up a profile on the Extra Give website. They are encouraged to set a company goal for donations, encourage giving through social media, and consider matching employee or customer gifts.
(Editor's Note: This post has been edited to reflect that this year's Extra Give is the 2nd largest, not the largest.)