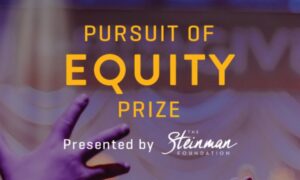 With Lancaster County's 10th annual Extraordinary Give just one week away, today is the deadline for nonprofits to apply for a new prize associated with the event.
The Steinman Foundation is offering 10 "Pursuit of Equity" prizes, each worth $5,000. To be eligible, organizations must demonstrate that they are "programatically and operationally" moving toward equity.
Prizewinners will be selected at random from the pool of qualified applicants, and will be announced during the Extra Give event this coming Friday, Nov. 19.
The online application is here. The application asks organizations to certify that all individuals they deal with "are celebrated and welcomed with appreciation for their race, color, gender, gender identity or expression, sexual orientation, immigration status, refugee status, national origin, disability, age, employment or education status, socioeconomic status, marital or family status, veteran status, religion or absence of religion, and lived experiences."
It asks similar questions about employment and volunteer policies, and whether organizations have uploaded their nondiscrimination policies to their Extra Give profile pages.
The Lancaster County Community Foundation, the Extra Give's organizer, has been working hard to promote diversity, equity and inclusion, spokesman Aaron Spangler, offering training and resources to help organizations evaluate their policies and adopt best practices.
More than 500 organizations have registered to take part in this year's Extra Give. Over the past nine years, the Extra Give has raised more than $66 million, making it the most successful one-day fundraiser in the U.S. on a per-capita basis.