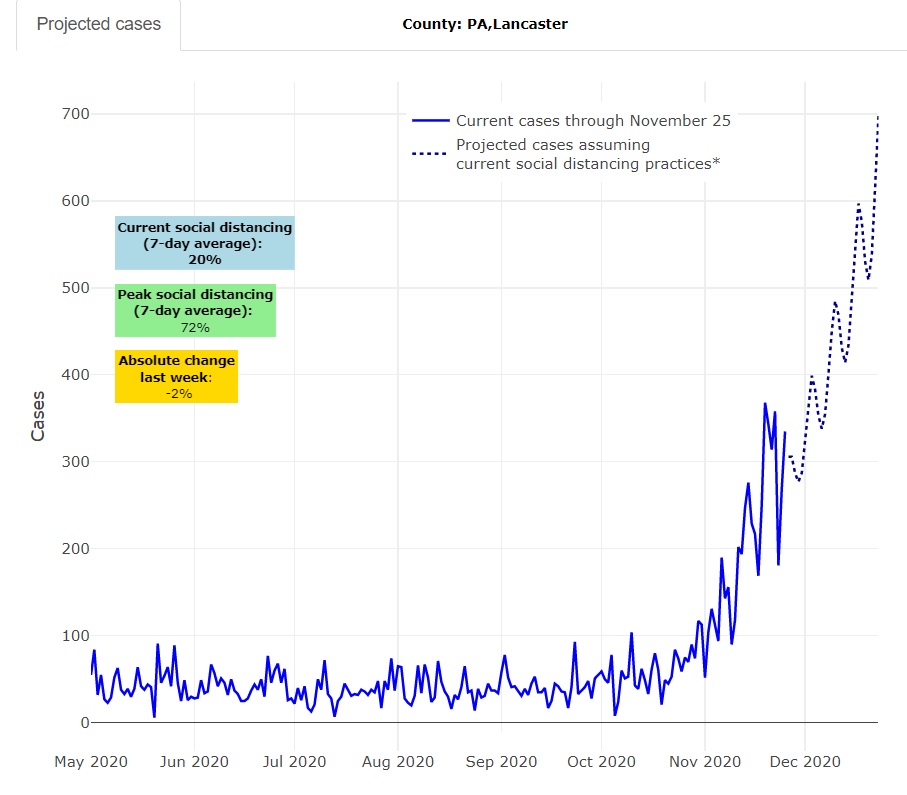 Lancaster County smashed its previous record for new Covid-19 cases Friday, reporting 720 infections since Thursday.
Related: Lancaster County Covid-19 cases, deaths escalated sharply in November
That's two-thirds higher than the previous record of 482, recorded exactly a week ago on Friday, Nov. 27.
Pennsylvania, too, had its largest one-day jump in cases on Friday, 11,763, exceeding a record set just the day before.
The state and the county both recorded record numbers of hospitalizations -- all signs that the coronavirus continues to spiral out of control.
The death toll is rising as well. Lancaster County's coroner recorded 29 deaths over the seven days ending Thursday, the worst such stretch since May.
Health experts expect the numbers to keep climbing. The Institute for Health Metrics & Evaluation projects that Pennsylvania will run out of ICU beds in December.
"It doesn't have to be this way," Gov. Tom Wolf said in a tweet Friday, referencing a prediction by Centers for Disease Control and Prevention Director Dr. Robert Redfield that Covid-19 could claim 200,000 American lives this winter.
"Wearing a mask works," Wolf said. "Avoiding gatherings works. Staying home works. But it will take each one of us doing our part to stop the spread."
On Thursday, nearly half of hospitals in southcentral Pennsylvania were reporting imminent staffing shortages, and just 16.6% of their beds were available. As of Friday afternoon, though, the situation had improved: 39.1% of facilities were expecting shortages and bed availability had increased to just over 20%.
All hospitals in the region must cut back their elective surgery schedules by half if two of three criteria are met: 33% of hospitals expect staff shortages; bed availability drops below 10%; or there is a 50% or greater increase in Covid-19 admissions over 48 hours.
Pennsylvania is under a stay-at-home advisory, but so officials have not indicated any plans to return to the lockdown implemented this spring.
By the numbers: Covid-19
New cases: Friday, Dec. 4
Lancaster County: 720 (Total: 18,478)
Pennsylvania: 11,763 (Total: 398,600)
Hospitalizations
Lancaster General: 97
WellSpan Ephrata: 30
Statewide: 5,071
Sources: Pa. Dept. of Health, Hospital dashboards