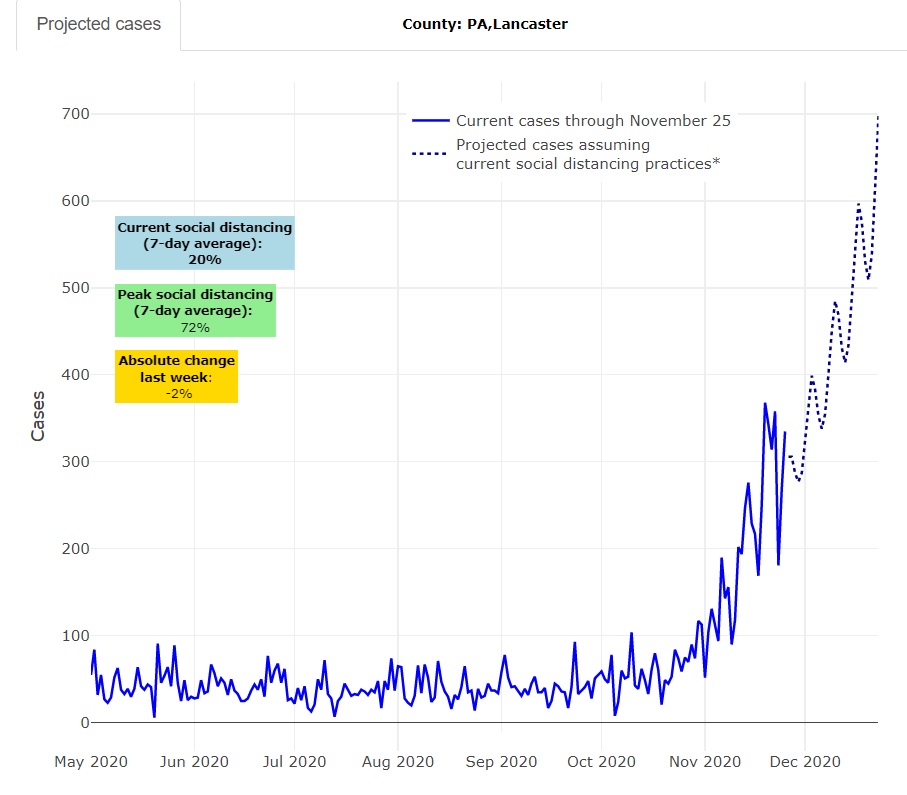 The Covid-19 case load in Southcentral Pennsylvania could be approaching a crisis point, according to the latest state data.
Lancaster County is one of 16 counties in the Keystone Health Care Coalition region, one of seven state-designated regions within which health systems are to collaborate and share resources to optimize care during the pandemic.
The Keystone region is one of two facing a staffing "crisis," according to the Pennsylvania Department of Health.
The label indicates that at least 33% of hospitals anticipate staffing shortages within the next week.
The Keystone region is well past that, with nearly half its hospitals anticipating shortfalls.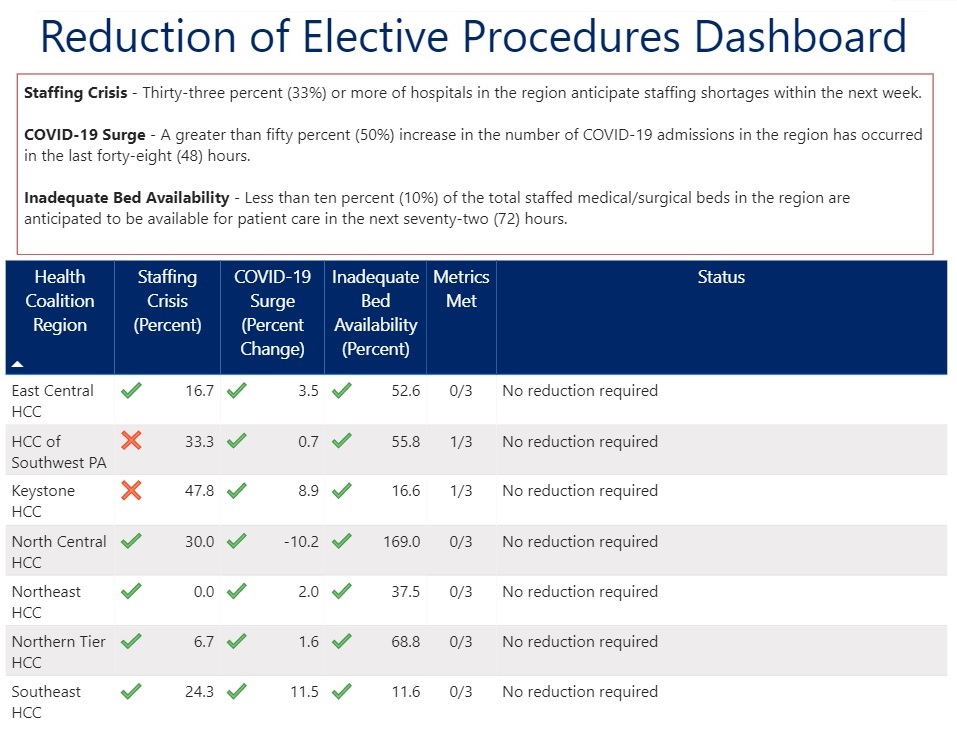 The other crisis is in the Southwest region, where 33.3% of hospitals expect shortages -- just a hair above the threshold.
The metric is one of three the state weighs in determining whether hospitals must postpone elective procedures. The other two are bed availability and whether or not there has been a recent Covid-19 surge. Regions that meet two of the three criteria must reduce elective procedures by 50% for a week.
The Keystone region is close to meeting the cutoff for a bed availability crisis: 16.6% of its beds are available for care. Were it to fall below 10%, and its staffing crisis remained, that would trigger the elective-procedure reduction.
Lancaster General Hospital is caring for the majority of Lancaster County's Covid-19 inpatients: It had 103 as of Thursday, while WellSpan Ephrata Hospital had another 26.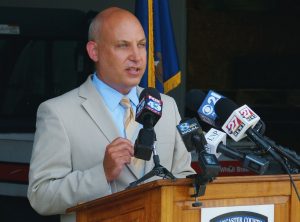 LGH has already begun selectively postponing elective surgeries on its own, LG Health chief clinical officer Dr. Michael Ripchinski told the Lancaster County commissioners this week.
"We follow a detailed process to evaluate patients scheduled for surgeries and procedures, and plan how to balance staffing and bed resources in advance," Penn Medicine Lancaster General Health spokesman John Lines said in an email. "Any procedures that are deferred will be rescheduled as quickly as possible to ensure continuity of care."
Lines said LGH is "strengthening staffing" by reallocating employees among departments. He did not say if LGH is one of the hospitals reporting an anticipated staffing shortage to the state.
Elective surgeries, despite the name, can be medically required, even critical to patient health: The term can refer to most if not all non-emergency procedures.
In the spring, when the state suspended elective surgeries, there were adverse impacts on patient health, Ripchinski said.
Pennsylvania Health Secretary Dr. Rachel Levine said Thursday that health system staffing shortages stem from a mix of factors, including the increased Covid-19 caseload and health care workers themselves getting sick or having to quarantine due to a Covid-19 exposure.
Levine said projections of the pandemic over the next several weeks are "very concerning." Asked if Pennsylvania could indeed run out of ICU beds in December, as one model predicts, she called the possibility "a significant concern that we must work to avoid."
Levine called on Pennsylvanians to follow the state's public health guidance and stay-at-home advisory: Wear masks, social distance, wash your hands and avoid gatherings as much as possible.
"We all have a role to play in what is happening in the hospitals right now. ... We all have a collective responsibility to each other," Levine said.