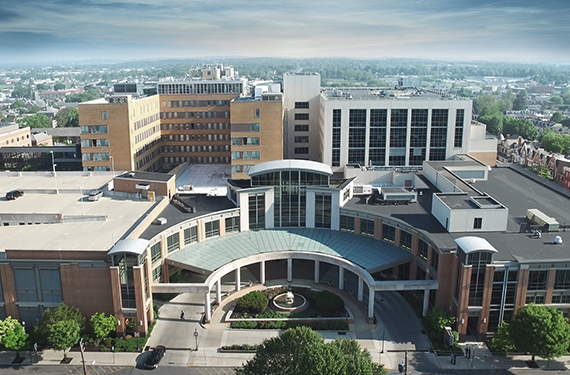 As Lancaster County gears up to launch a community mass vaccination site, questions about the local and state supplies of Covid-19 vaccine doses remain.
As of Friday, Penn Medicine Lancaster General Health said on its website that it currently "has no first doses doses available from the state." LG Health chief clinical officer Dr. Michael Ripchinski said earlier this week that a shipment of doses had been delayed in Kentucky due to bad weather.
LG Health said it has canceled more than 1,500 vaccine appointments from Thursday through this coming Monday due to a mix of severe weather, shipping delays and supply shortages and is unsure of its future vaccine supply.
"As vaccine arrives, we will take an intentional approach to our scheduling, and will prioritize those who had their recent appointments canceled," spokesman John Lines said in an email.
UPMC, which operates UPMC Pinnacle Lititz hospital, said it, too, has had vaccine shipments delayed by the weather.
"We are adjusting our vaccination appointments accordingly and alerting those affected," spokeswoman Kendall Marcocci said in an email.
Federal officials said Friday that winter storms this week delayed vaccine deliveries totaling 6 million doses nationwide. Thousands of those doses were meant for Pennsylvania, state officials confirmed.
Penn State Hershey said earlier this week that it would be out of vaccine by this coming Tuesday if more shipments did not arrive. The WellSpan health system, which operates the hospital in Ephrata, said it didn't receive one scheduled shipment this week, and is factoring that in to scheduling decisions.
Meanwhile, Pennsylvania's Department of Health has disclosed that thousands of doses could end up being delayed due to a mix-up that led to second doses of the Moderna vaccine being administered as first doses.
WellSpan said it may divert some patients scheduled for a Moderna first dose and give them a Pfizer first dose instead. It does not anticipate any other repercussions from the first-dose/second-dose issue, spokesman Ryan Coyle said. Marcocci said UPMC has not given any second doses as first doses.
As of Friday, there were 32,800 partial vaccinations and 18,929 complete vaccinations in Lancaster County, according to state data. More than 200,000 county residents are currently eligible under Pennsylvania's "Phase 1A" guidelines.
In all, more than 400,000 residents over age 16 will be eligible in coming months. (Authorization of Covid-19 vaccination for children is awaiting the completion of clinical trials.)
Lancaster County's mass vaccination center is to open in March at the vacant Bon-Ton site at Park City Center, where it will operate through the end of June. Organizers hope to vaccinate up to 6,000 people per day, a volume that is contingent on adequate supplies of doses.
(Editor's note: This story was updated Saturday to add comment from LG Health's John Lines.)