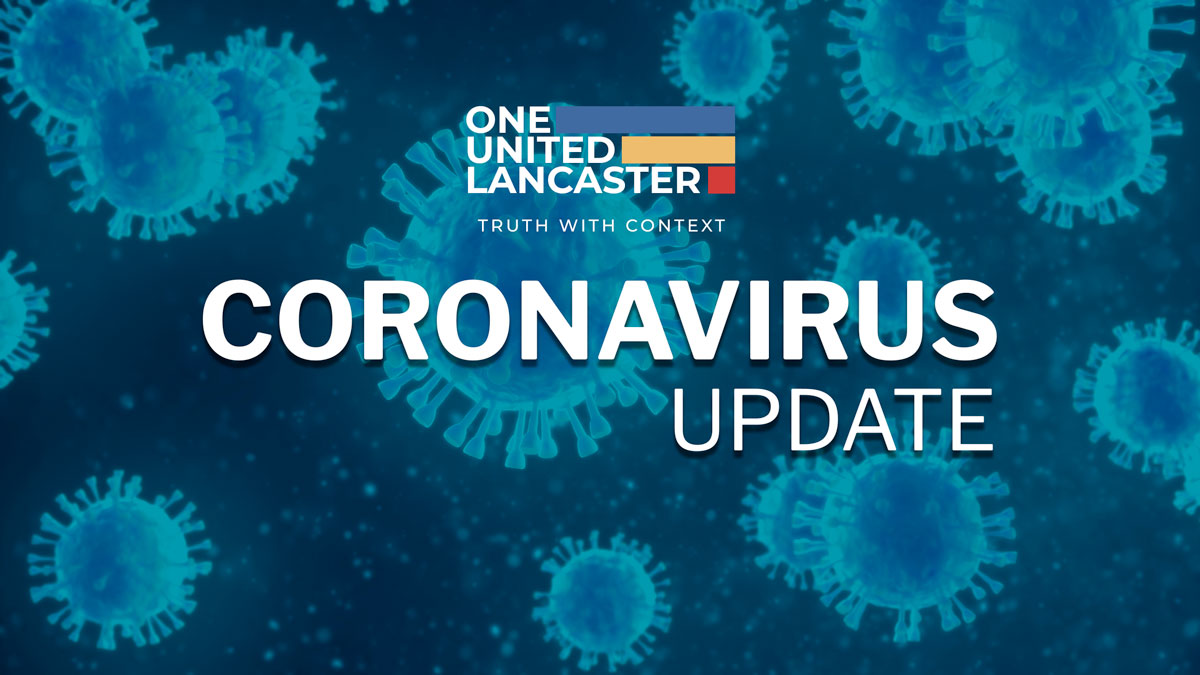 Lancaster County's coronavirus numbers are trending in the right direction, albeit slowly, according to the latest state data.
Pennsylvania's Early Warning Monitoring System Dashboard, updated today, shows Lancaster County with a Covid-19 case incidence rate of 306.9 per 100,000 last week, versus 314.1 per 100,000 the week before.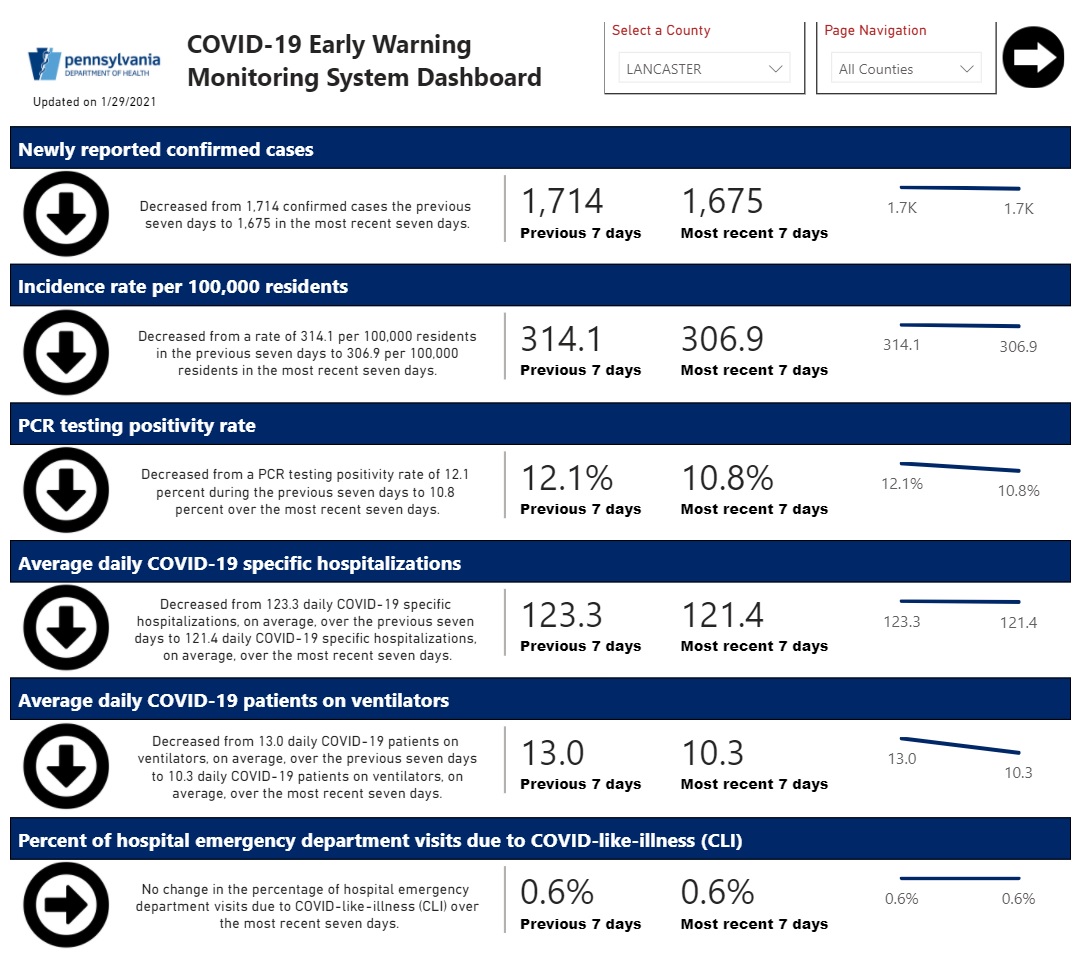 The county's test positivity rate showed a larger drop, to 10.8% from 12.1%. The numbers for Covid-19 inpatients and those on ventilators, are down, too.
Another encouraging sign is the latest forecast from PolicyLab, the Children's Hospital of Philadelphia research center.
It predicts cases will decline in Lancaster County this month, dropping to around 150 cases per 100,000 or less. This is the first decline that PolicyLab has predicted since the fall.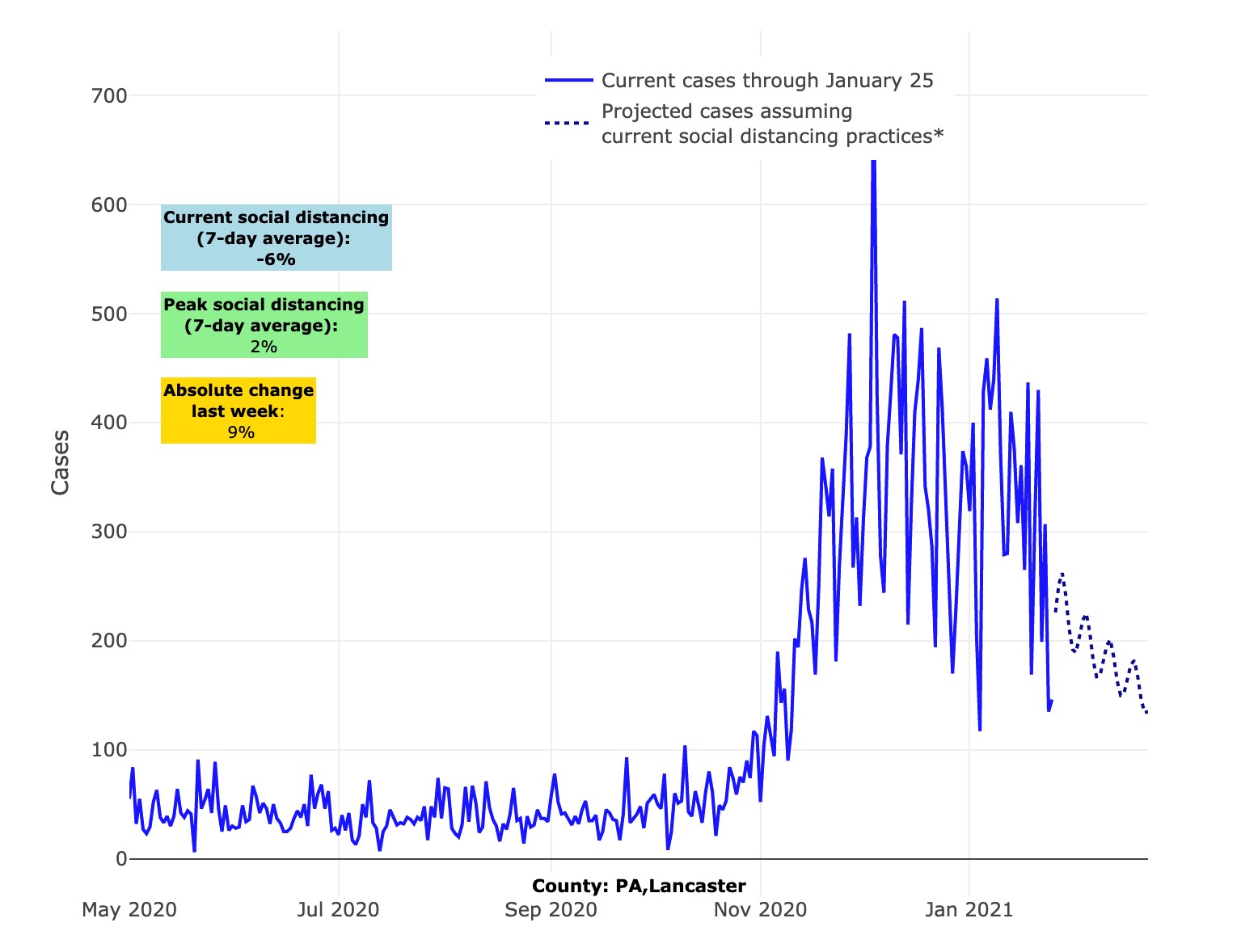 Lancaster County reported 175 new Covid-19 cases today, the lowest number since Jan. 4, also a Monday. (Monday Covid-19 numbers are often somewhat lower, particularly at the state level, due to weekend slowdowns or reporting lags.) Since late November, there have been only four days with fewer than 200 new cases.
Trendlines are also heading down statewide, with test positivity reaching 9.3%, down from 10.5%. Last week, Cameron County moved from the substantial to the low level of Covid-19 community transmission; this week, Clarion, Indiana and Tioga counties were declared to be in the "moderate" stage. That leaves 63 counties with substantial levels, including Lancaster County.
"We continue to see a positive pattern of decreased case numbers, statewide positivity and decrease in counties with substantial transmission," Gov. Tom Wolf said. Still, he said, the threat remains, and "we need to stay the course."