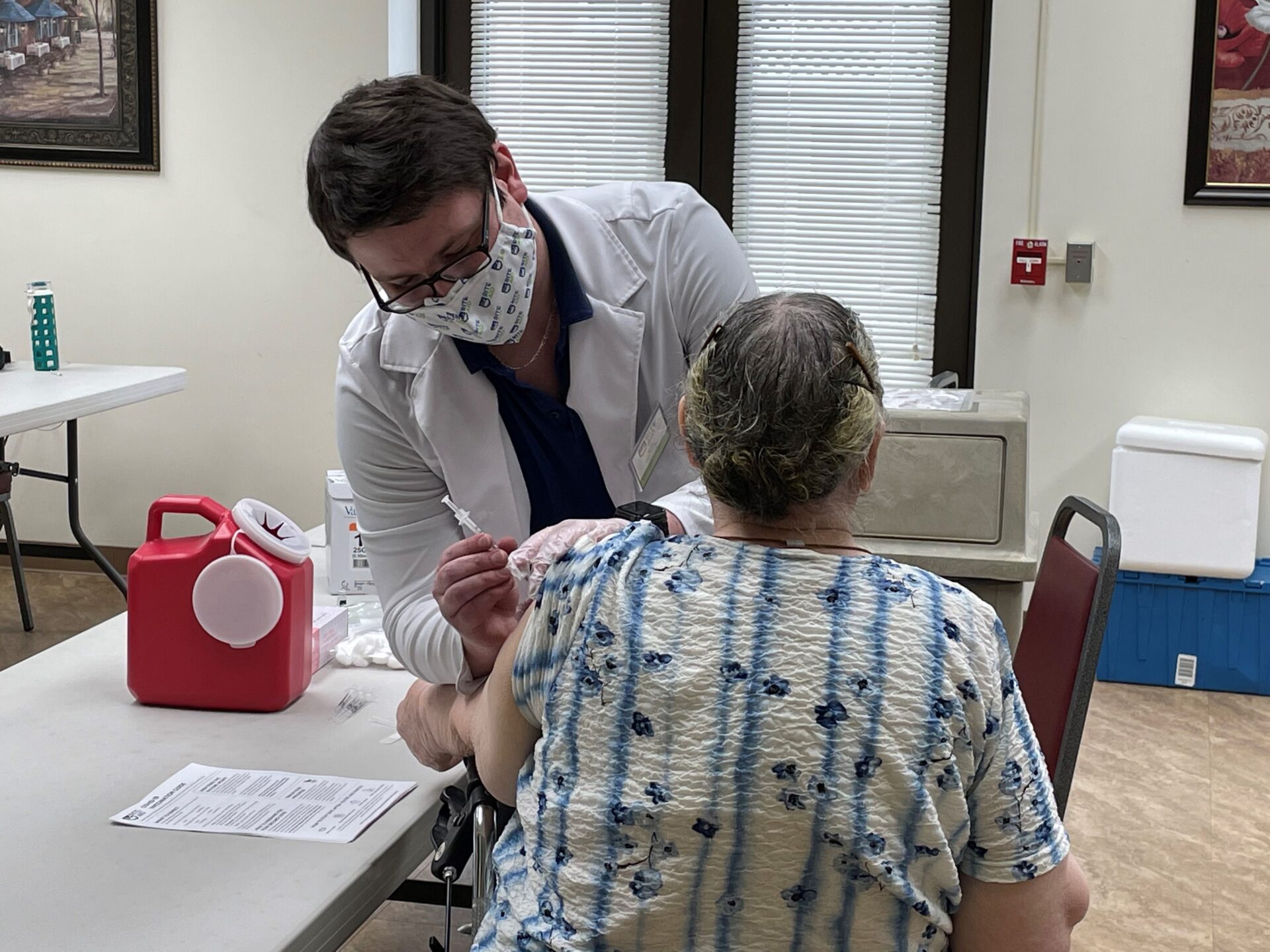 Covid-19 is never going away.
That is the consensus among public health experts, who now say herd immunity in the U.S. — creating enough protection against the disease that it disappears altogether — is almost certainly unachievable.
Still, the danger Covid-19 presents this fall and winter and in years to come can be influenced profoundly by the actions people take now: in particular, whether they choose to be vaccinated in large enough numbers to hem in the virus and limit its ability to rebound.
That includes people who contracted the disease: While having had it provides some level of natural immunity, the protection provided by vaccination is significantly more robust, researchers say.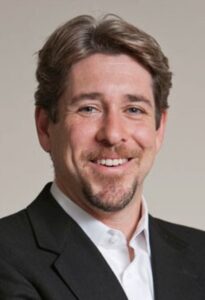 Even if you can't eliminate Covid-19, "you can still move to conditions that are safe for most Americans," said Dr. David Rubin, director of PolicyLab, told One United Lancaster.
From pandemic to endemic
PolicyLab is a public health research organization at the Children's Hospital of Philadelphia. It has been tracking the coronavirus pandemic county by county across the United States and projecting its future course.
It's likely on its way to becoming an endemic disease, Rubin said; that is, a disease that remains consistently present, year after year.
"Endemic is not a scary word," he said. The common cold, for example, is an endemic coronavirus, but it's a nuisance rather than a mortal threat for all but the most vulnerable individuals.
The flu is more dangerous, killing more than 50,000 Americans a year, but it doesn't bring the country to a halt. Covid-19 could end up looking like that, he said.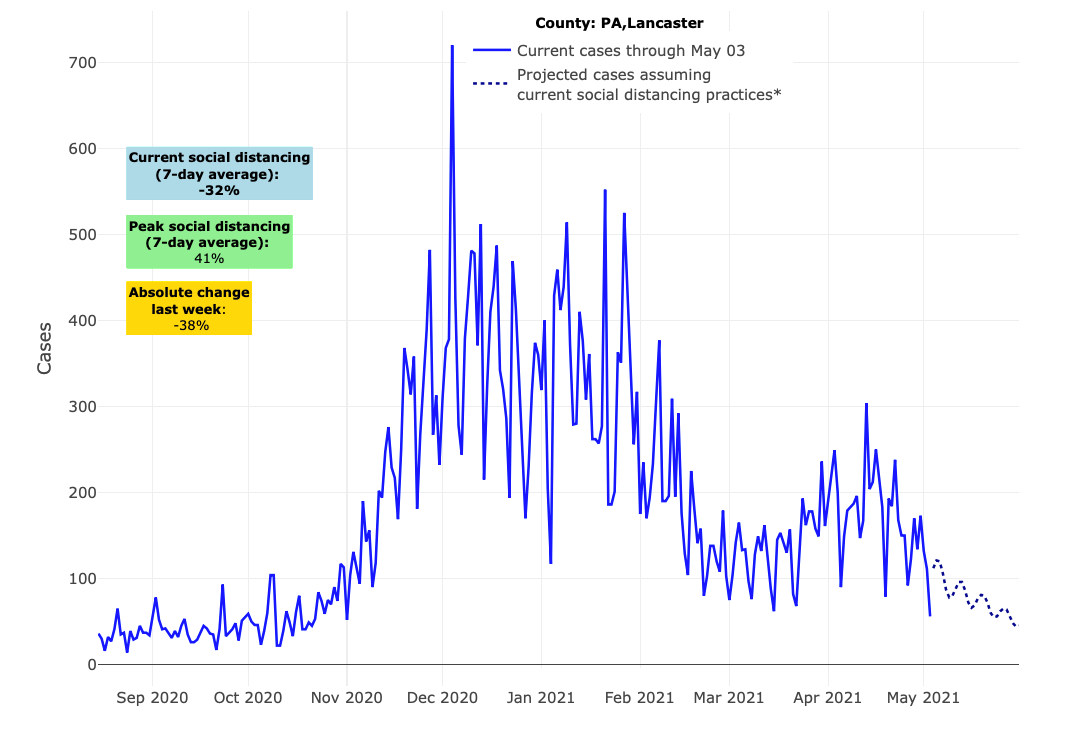 Backing off herd immunity
As pharmaceutical companies raced to create vaccines last year, experts debated the prospects for achieving herd immunity, with many offering 70% vaccination as a back-of-the-envelope estimate of the prevalence needed.
But circumstances have changed, as the New York Times reported this week. New variants are more transmissible, which pushes the threshold for herd immunity to 80% or more; meanwhile, polls show about 30% of Americans are resistant to being vaccinated.
Rates of vaccination have slowed, locally and across the country. In Lancaster County, first-dose rates dropped by more than half over the two weeks from mid-April to the end of the month.
Acknowledging the trend, the Vaccinate Lancaster community vaccination center at Park City is discontinuing Sunday hours after this Sunday, May 9.
Officials have said all along that the site, tailored to vaccinating large numbers of people quickly, would not meet everyone's needs. Beginning next week, Penn Medicine Lancaster General Health, the center's lead medical partner, is planning pop-up vaccine clinics in eastern and northern Lancaster County and on Lancaster city's south side.
"These clinics are part of LG Health's ongoing efforts to provide the Covid-19 vaccine to individuals who might be experiencing barriers to accessing (it)," said Alice Yoder, executive director of LG Health's community health program.
The shift away from targeting herd immunity worries public health authorities, the New York Times said, because it reduces motivation to be vaccinated. But it absolutely shouldn't, Rubin said.
For starters, the disease remains dangerous. The Pfizer, Moderna and Johnson & Johnson vaccines are "amazingly effective" against it, he said.
Moreover, the higher an area's vaccination rate, the harder it will be for variant Covid-19 strains to propagate. That raises the probability that outbreaks will be small, localized, and easier to contain.
"That's very important," he said.
Some experts say a vaccination rate of about 50% would be enough to reach a "tipping point" against Covid-19.
"Half the people who are being potentially exposed to the virus no longer can get it. That's a very big deal," said Dr. Robert Wachter, chair of the Department of Medicine at the University of California, San Francisco, told USA Today.
In Lancaster County, a little over 40% of the total population and a little over 50% of the population over age 16 has received at least one vaccine dose. Children under 16 aren't eligible for vaccination, although that is likely to change soon.
The path forward
Summer is likely to be a low ebb for Covid-19, as it was last year. The real test will come in the fall, when it rebounds, Rubin said.
"The question is, at what amplitude," he said.
Vaccination rates are one of several factors that public health officials will be watching. Others include the transmissibility of Covid-19 variants, the level and duration of immunity to Covid-19 provided by vaccination or previous infection; and the severity of the disease in people who were immunized or previously infected.
Rubin said he's optimistic that making the vaccine available through family doctors will improve acceptance. He also thinks the experience of seeing vaccinated family and friends "liberated" from the fear of infection will help.
The bottom line for him: Get vaccinated, and encourage those you know to do the same.
"It's the quickest way to get us back to normal," he said.