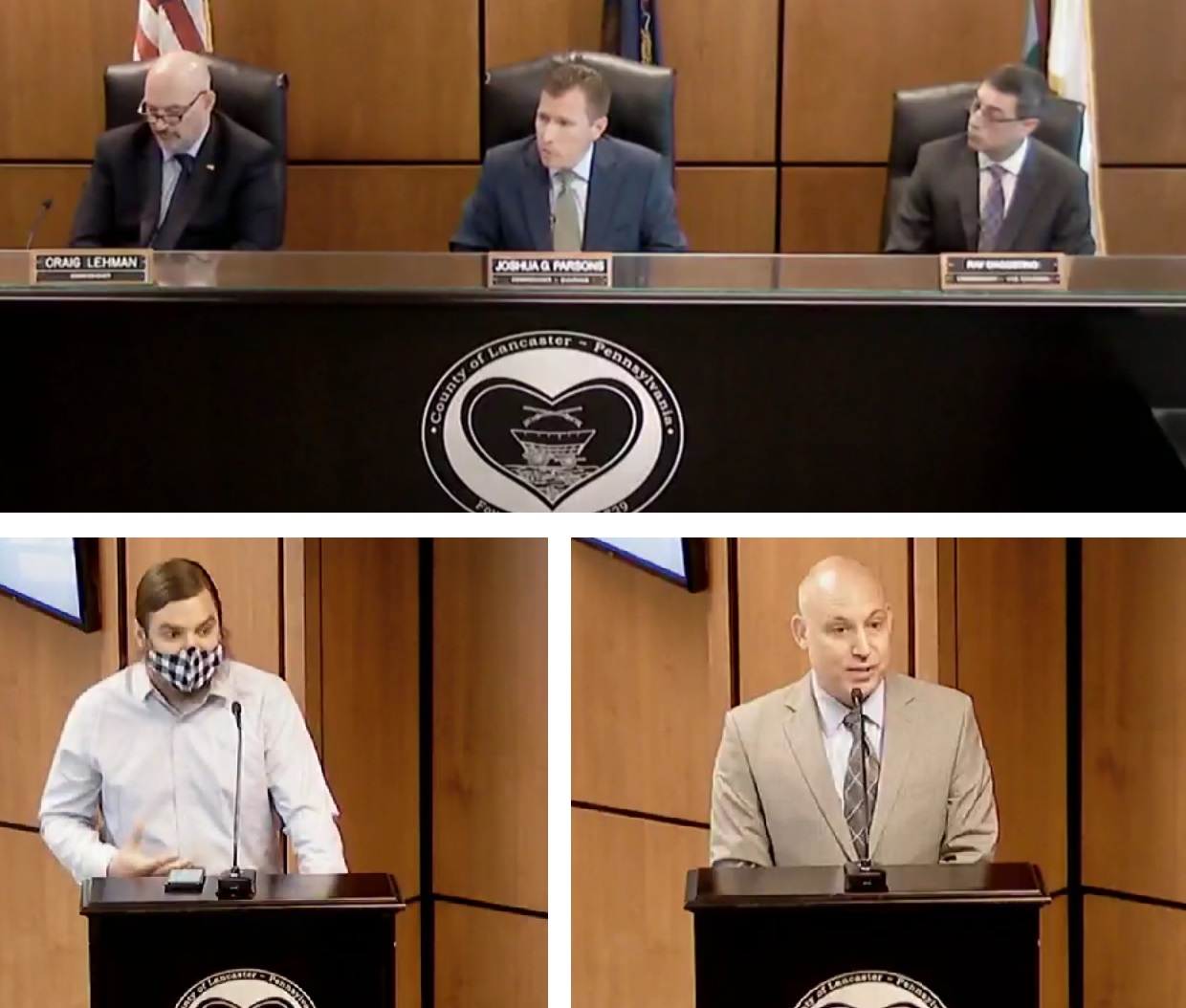 Lancaster County's two Republican commissioners took a few minutes early in their Wednesday meeting to criticize Penn Medicine Lancaster General Health's Covid-19 vaccine policy.
LG Health is implementing mandatory vaccination for staff, a requirement being imposed throughout the Penn Medicine system.
Covid-19 health decisions are a matter of personal choice, the commissioners said — a notion that came in for sharp criticism from a constituent shortly before the meeting's end.
LG Health announced the policy to employees last week. It stipulates that existing staff must be vaccinated by Sept. 1, while those hired in July or thereafter must provide proof of vaccination two weeks prior to starting work. Exemptions are allowed on a case-by-case business on medical or religious grounds.
The health system was on the commissioners' Wednesday agenda for a separate issue: It needed county approval to seek funding from the Federal Emergency Management Agency to expand its pop-up Covid-19 vaccination clinics.
Before the vote, however, Commissioners Josh Parsons and Ray D'Agostino urged LG Health to rethink its vaccine stance.
A 'bright line'
D'Agostino said many employees have reached out with concerns. He called LG Heath's approach "extreme" and suggested it had other options for safeguarding health.
"People should not be forced to accept medical treatment ... in order to maintain their livelihood," he said, "particularly a new vaccine still under Emergency Use Authorization."
Parsons said for him, there is a "bright line" between informed choice and a mandate. The latter, he said, "is not in accordance with values held by most people in Lancaster County," calling the right to individual choice in medical matters "a foundational principle of personal freedom."
The commissioners said they were encouraged after meeting on Monday with LG Health CEO John Herman and chief clinical officer Dr. Michael Ripchinski, and hearing LG Health intends to be at least somewhat flexible.
Ripchinski pointed out that LG Health, like other health systems, requires other vaccinations for employees, such as annual flu shots.
LG Health: Required immunizations
Penn Medicine Lancaster General Health requires proof of the following inoculations for incoming employees:
2 MMRs or titers for rubella, rubeola, and mumps;
2 varicella vaccinations or varicella titer;
Influenza vaccination;
Hepatitis B vaccination and titer;
Hepatitis C antibody test;
Chest X-ray if history of tuberculosis, and no documentation of X-ray within the past year.
Source: Penn Medicine Lancaster General Health
Spokesman John Lines said LG Health looks forward to "continued dialogue" with the commissioners on this health issues and others.
"We recognize that some employees have questions and concerns about the vaccination requirement, and will offer education sessions to provide detailed information on all aspects of the policy and its implementation, as well as large- and small-group forums to discuss the vaccine's clinical safety and efficacy," he said.
Ripchinski said more than 100 people attended LG Health's first town hall on the policy.
The county's Democratic commissioner, Craig Lehman, said the mandate appears to be consistent with LG Health's existing vaccine requirements. He said he has confidence in LG Health's judgment on medical matters, and that as an elected official, he doesn't think it's appropriate to second-guess it.
Full normal, pre-pandemic status'
On social media, Parsons has consistently accused state and national officials and their pandemic policies of infringing on individual freedoms. Late in Wednesday's meeting, city resident Ben Cattell Noll pleaded with the commissioner to change his tune.
Cattell Noll cited a May 14 Facebook post in which Parsons said it would be "obviously improper" to ask unmasked people about their vaccination status, and said the country should return to "full normal, pre-pandemic status."
But what about the risk to all the children under 12, who can't yet be vaccinated, Cattell Noll said, noting their ranks include his own 2-year-old daughter. He said he can no longer risk taking her to their neighborhood donut shop, because he can no longer be confident in universal masking.
Among unvaccinated people, rates of infection, hospitalization and death remain high, he said. He urged Parsons to stop his "harmful rhetoric," or at least not to undermine Centers for Disease Control & Prevention guidance, which says people should continue wearing masks until fully vaccinated.
He also suggested, in light of Parsons' skepticism regarding a county health department, that D'Agostino and Lehman band together to authorize establishing one.
Parsons conceded his rhetoric on social media have been "sharp" and potentially divisive, blaming his frustration with state and national Covid policy. But America is about checks and balances, he said; and more restrictive states have not fared notably better than ones that opened up earlier.
"You have the freedom to protect your family as you see fit," he told Cattell Noll, including the option to continue masking. "Other people have different views on that."
Jonathan Paul Fox, an activist at the meeting, suggested Parsons confine his opinions to his personal Facebook page, rather than his official one.
"I'm not going to give up my right to express my opinion on matters that impact Lancaster County on my official page," Parsons said.