Researcher and professor Jennifer Meyer explained  the methodology behind a recent survey on a public health department during an online forum on Wednesday.
Related: Forum makes case for increasing local public health capacity
The survey of Lancaster County residents found "fairly universal and pretty high demand" for such a department, as Meyer reported to her fellow panelists and the forum audience.
Meyer is assistant professor of government & public at Franklin & Marshall College, and an economist by training. She and other F&M professors designed the survey, which was performed by F&M's Center for Opinion Research.
It was underwritten by the United Way of Lancaster County, the entity that sponsors One United Lancaster.
Last week, in an interview with LNP newspaper, Lancaster County Commissioner Josh Parsons dismissed the survey as a "push poll" —  a set of questions skewed to obtain the desired response. His criticism was echoed by his colleague, Commissioner Ray D'Agostino.
Parsons has consistently expressed skepticism about the need for a county health department, saying the benefits might well be outweighed by added costs and bureaucracy.
In a subsequent Facebook post, Parsons criticized the poll for including "made-up figures" — for example, that a health department could cut Covid-19 cases or children with unhealthy lead levels in their blood by 25%.
"The underlying assertion in these questions and attached note appears to be that you can have a huge increase in public health with little or no cost," Parsons said. "Who would not enthusiastically vote yes on this — even though it may have no basis in reality?"
He said Meyer's public advocacy for a health department raises doubts about her role in designing the survey and characterizing it as objective.
On Wednesday, Meyer said the aim of the questions was the converse of what Parsons alleges — it was to make the responses more conservative and objective, not less so. Respondents, she said, tend to overstate their support for particular initiatives unless they're given specific examples of cost and benefits.
In this case, she said, the two benefits offered for consideration — the declines in Covid-19 cases or lead poisoning — were selected as "reasonable" hypotheticals based on consultation with local medical professionals.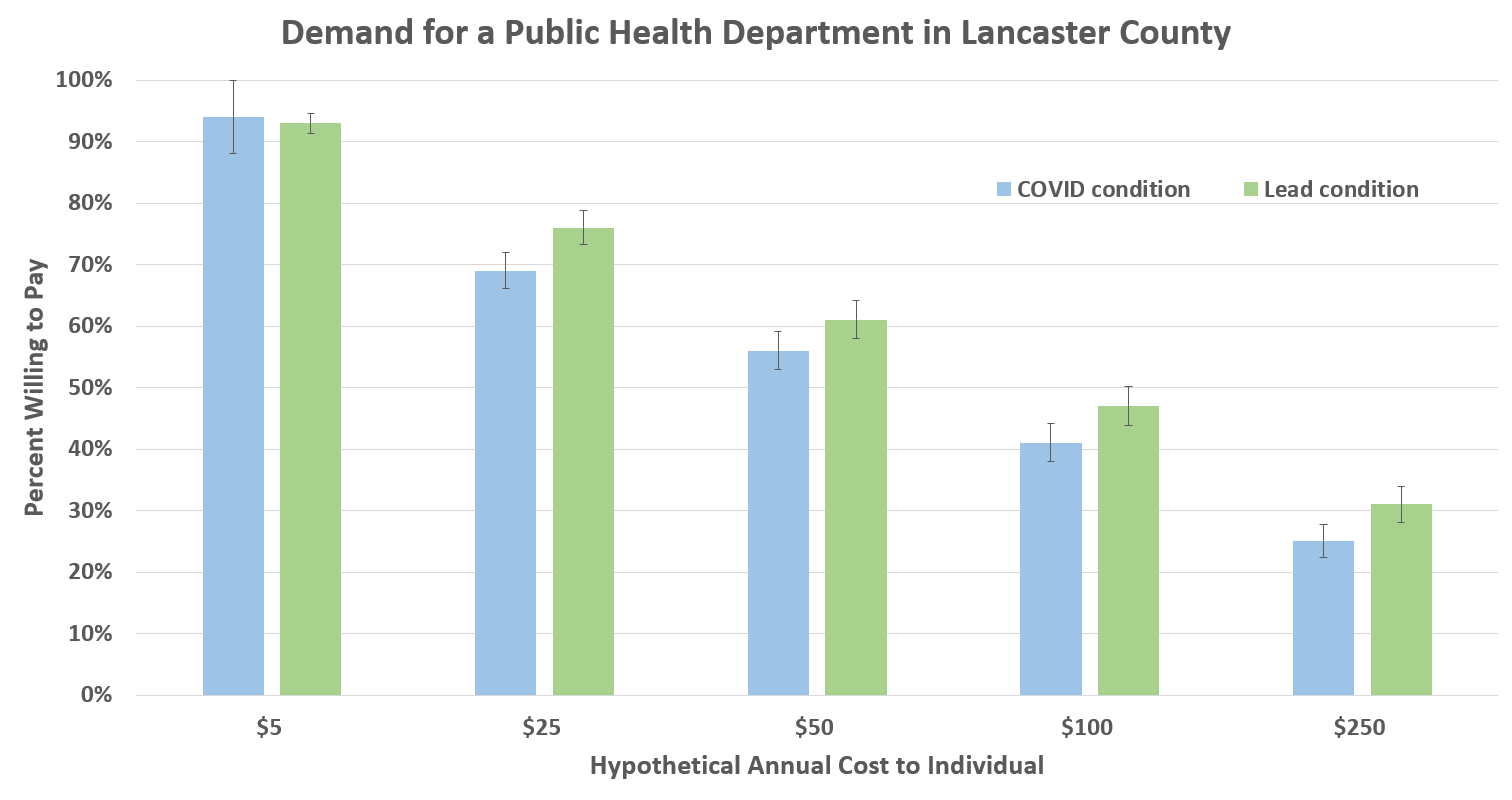 Respondents were asked to weigh them against a possible cost in higher taxes they would have to pay, ranging from $5 to $50 to as high as $250. Their answers indicated the strength of their support, she said — a given person might think the benefit was worth $25, but not $50.
Support was above 90% at the $5 cost, and above 50% at the $50 cost. Based on budgets in Chester County and elsewhere, it's likely the actual cost of a local health department would be less than $10 per county taxpayer per year, Meyer said.
The idea behind asking some respondents about Covid-19 and others about lead poisoning was to determine if the desire for a health department was being driven all or mostly by the pandemic, she said. Both options yielded high levels of interest, indicating that's not the case, she said.