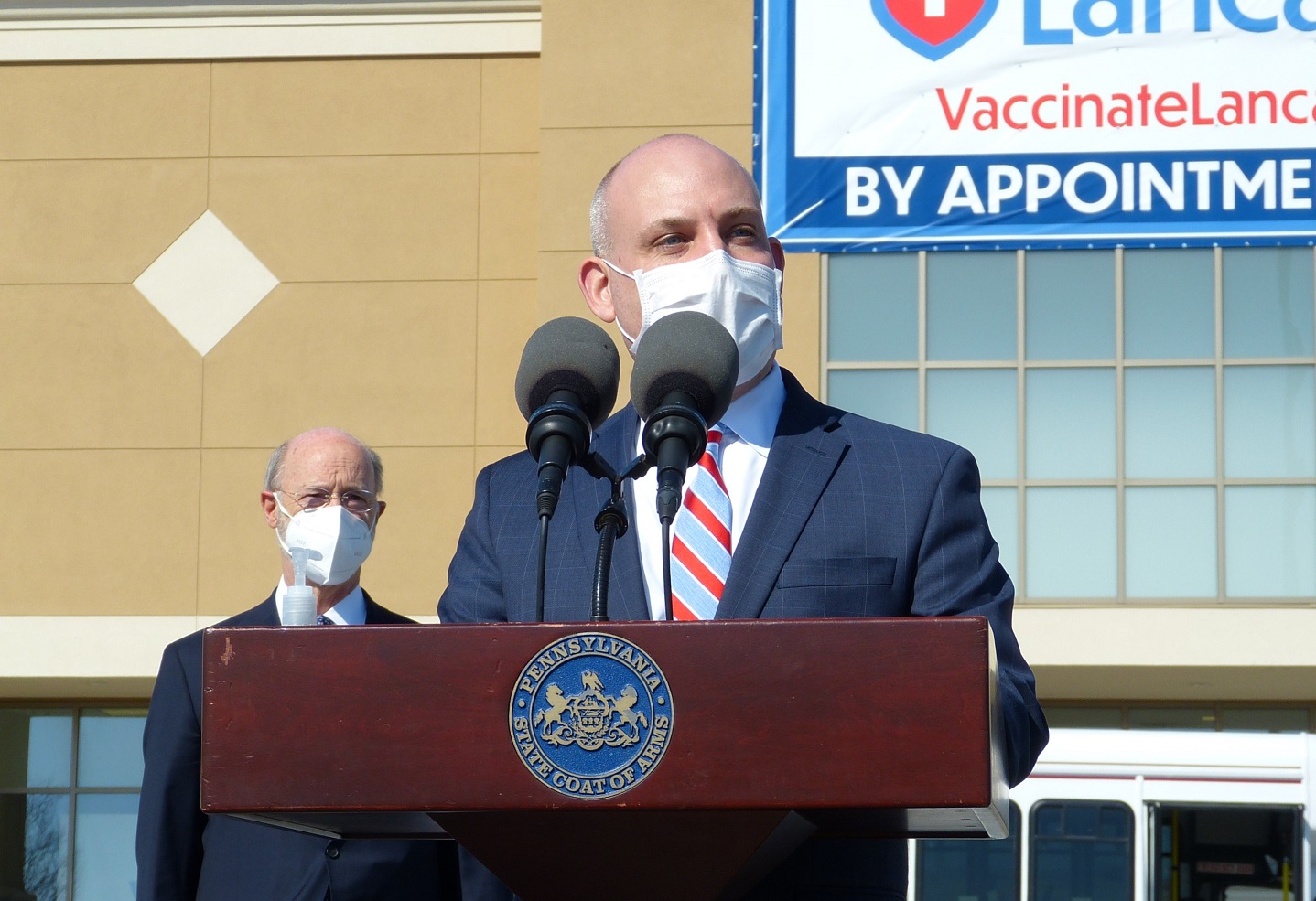 As the Vaccinate Lancaster community vaccination center at Park City enters what is expected to be its final month of operation, the organization behind it is planning to intensify its community outreach.
In particular, it's time to expand the number of pop-up Covid-19 vaccination clinics, Dr. Michael Ripchinski told the Lancaster County commissioners at their Tuesday morning work session.
Ripchinski is chief clinical officer of Penn Medicine Lancaster General Health, the lead medical partner in the Vaccinate Lancaster Coalition, the public-private partnership that set up the Park City site and manages it.
The operation at the former Bon-Ton store has administered more than 213,000 Covid-19 vaccine doses since it opened March 10. It and the coalition have been "an incredible success," Ripchinski said.
However, traffic at the center is slowing, an indication that most of the people eager to get a vaccine have done so. That means it's time to increase efforts to reach populations who are hesitant about vaccination or for whom the center's hours and location aren't convenient, the coalition says.
To date, LG Health has hosted 11 pop-up vaccination clinics, serving 1,160 people, Ripchinski said. Some have taken place on Lancaster's south side, and others in rural parts of the county, including Fulton and Paradise townships.
Data indicates the clinics are helping to reduce vaccination disparities, the coalition said. At one clinic, a third of those vaccinated were Hispanic, while at another one-third were Black. At the Park City site, just 8.8% of patients have been Hispanic and 3.6% have been Black.
By the numbers: The Vaccinate Lancaster community vaccination center
Doses to date: 213,000
1st doses administered to ages 12-15: 4,000+
Daily 1st-dose average, May 17-22: 880
Available appointments this week: 2,800
Source: Vaccinate Lancaster Coalition
LG Health is looking to continue and expand the clinics. To that end, it is seeking funding from the Federal Emergency Management Agency, a step that requires the county's endorsement.
The necessary resolution is on the commissioners' agenda for Wednesday morning. On Tuesday, all three commissioners expressed support.
"This is the logical next step," Commissioner Ray D'Agostino said.
(Update, May 26: On Wednesday, the resolution passed unanimously.)
After school walk-ins
Meanwhile, vaccination at the Park City site continues. Ripchinski said it is averaging 500 to 900 first doses a day, of which 200 to 300 are walk-ins.
With the Pfizer vaccine now authorized for ages 12-15, the site is seeing an influx of parents bringing their children after school. Often, the parents get vaccinated as well, Ripchinski said.
The coalition expects to keep the community vaccination center open through the end of June.
It will be closed for Memorial Day this coming Monday; apart from that, it is open from 8 a.m. to 6:30 p.m. Monday through Saturday. For an appointment, visit VaccinateLancaster.org.