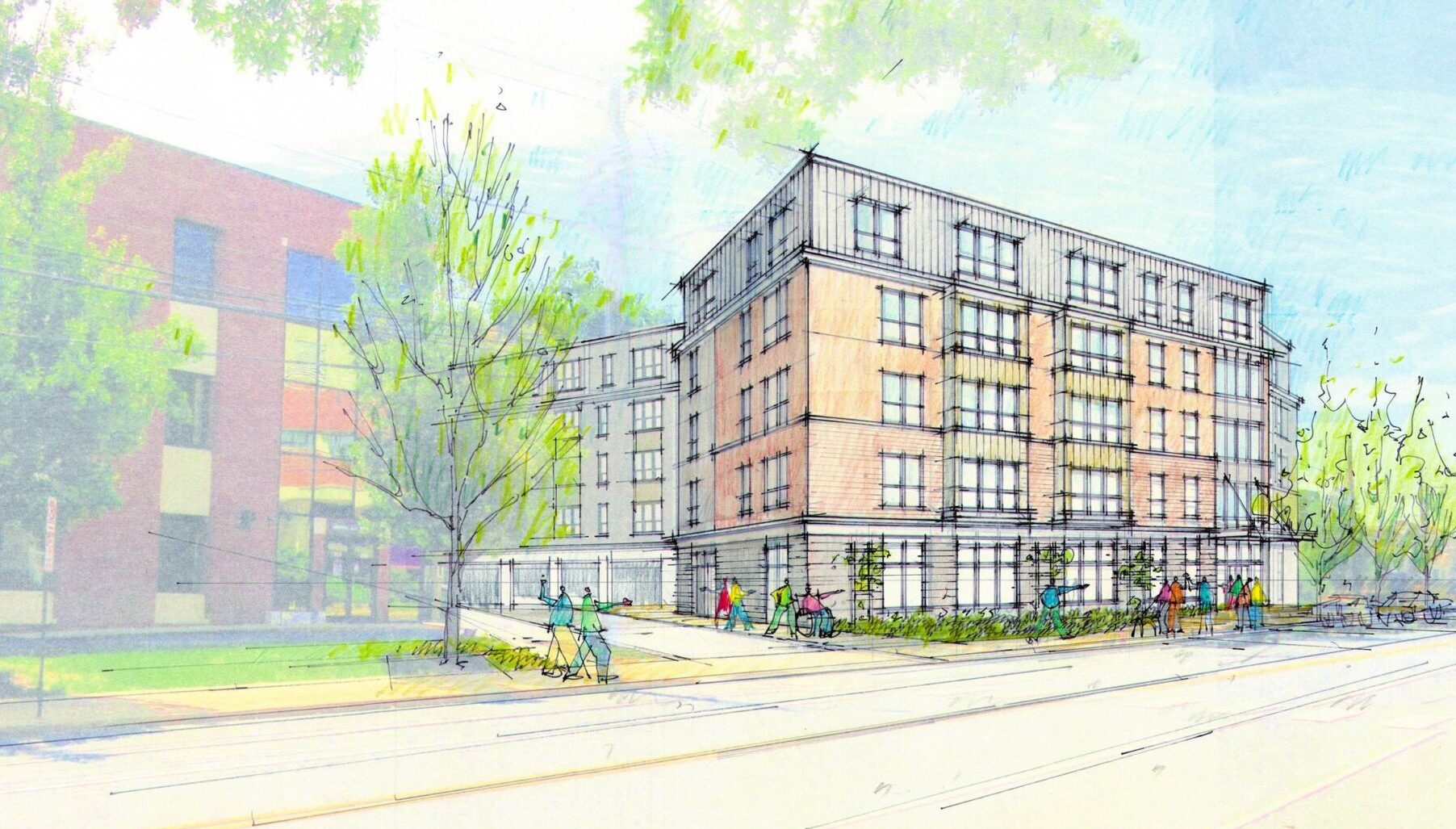 The Lancaster city Historical Commission seemed disinclined Tuesday evening to find fault with a proposed affordable housing project on College Avenue, despite vehement protests from nearby residents that its size would dramatically impair the character of the neighborhood.
HDC Mid-Atlantic, a nonprofit that develops and manages subsidized affordable housing properties, is hoping to break ground by summer on The Apartments at College Avenue, a five-story $15.4 million building with 64 units for low- to middle-income renters. The project is the first component of a multi-phase affordable housing initiative being undertaken with city government backing.
The College Avenue structure would extend east above an existing parking deck, with its east facade facing Elm Street. Its south facade would overlook the backyards of a stretch of historic residences along the 600 block of West Chestnut Street attributed to renowned architects C. Emlen Urban and Frederick Dinkelberg.
Multiple residents said they support affordable housing in principle and would not object to a smaller project. But they urged the commission to reject the proposal as out of scale with its surroundings. College Avenue resident Bill Hannegan likened it to "a towering file cabinet."
Thanks to a zoning variance granted last month, allowing building's south facade to be 6 1/2 feet from the property line, the homes with backyards facing it "are going to lose all privacy," Elm Street resident Suzan Matos said.
"It's huge, it's imposing, it's out of keeping," she said. "It's bad planning."
The commission's review on Wednesday was a preliminary, "conceptual" one. Once HDC's project team formally submits its proposal, the commission will have an opportunity to recommend for or against it. Its recommendation goes to City Council, which has final say.
Several residents cited commission members' reactions to two projects presented earlier Tuesday evening: A mixed-use complex with 200+ residential units at the former Stockyard Inn site; and a five-unit apartment building proposed at 623 E. Fulton St.
In both cases, the commission told the project teams their proposals' scale and massing were problematic, and instructed them to revise and resubmit them.
"How is this project any different?" asked Michelle Lagrassa, a West Chestnut Street homeowner.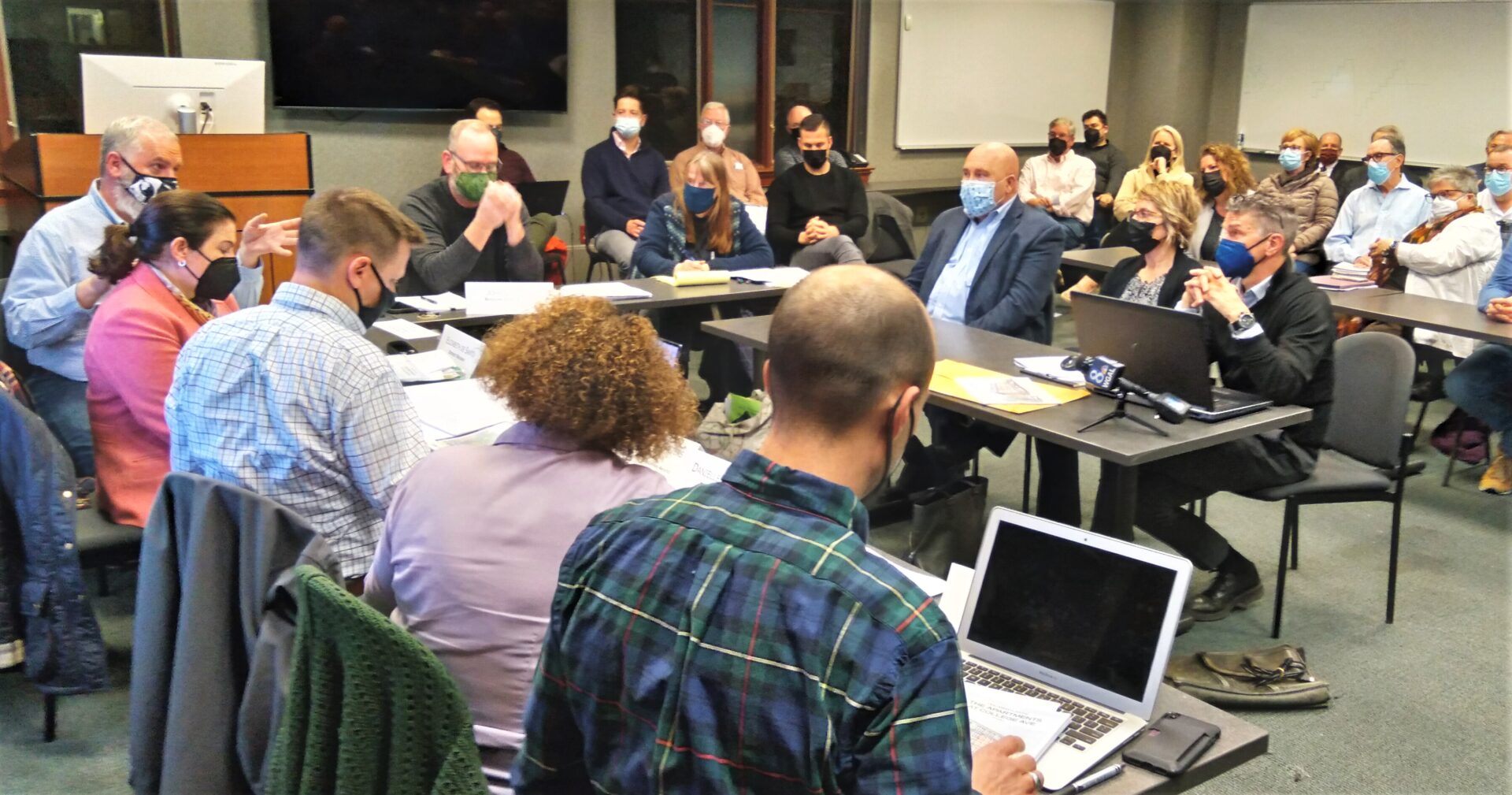 Commission member Steve Funk said its review is limited to how the building impacts streetscapes visible from public rights of way. From that standpoint, he said, "I don't see anything that is particularly problematic."
"We review what's visible from a public street," he said. In this case, that means the impacts on College Avenue and Elm Street can be considered, but not the backyards of the West Chestnut Street houses, he told One United Lancaster.
The project team's renderings indicate the building won't be visible from West Chestnut Street, architect Gary Weaver told the commission -- a point disputed by the audience, who contended it would at least be seen between the houses.
Weaver explained at length the project team's efforts to fit The Apartments at College Avenue into its surroundings by drawing on design, scale and material elements found in neighborhood buildings. The building fully complies with the height and use requirements in its zoning district, he said.
Decades ago, a warehouse sat next to townhouses on the block, he said, noting the juxtaposition is not uncommon in Lancaster.
Residents dismissed that point as irrelevant at best. Lagrassa said neighborhood members are appealing the zoning decision and will continue to seek legal remedies if they need to.