In many ways, Lancaster city and Lancaster County are national leaders in environmental preservation and sustainability.
But the work has to scale up and go faster, and there is much more that local organizations, governments and the public at large can do, panelists said Friday morning in United Way of Lancaster County's latest "Conversation About OUR Community."
The free monthly livestream series brings together community leaders to discuss current issues. July's forum on the environment follows recent discussions of LGBTQ+ issues, affordable housing and household financial security.
Environmental problems cross political boundaries and solving them involves building robust and creative collaborative partnerships, said Allyson Gibson, director of Strategic Partnerships and Programs for Clean Water Partners.
The consortium is devoted to making Lancaster's 1,400 miles of rivers and streams "Clean and Clear by 2040." Right now, a majority those waterways are "impaired," meaning they support less than 30% of the plant and animal life that would live there if they were fully healthy.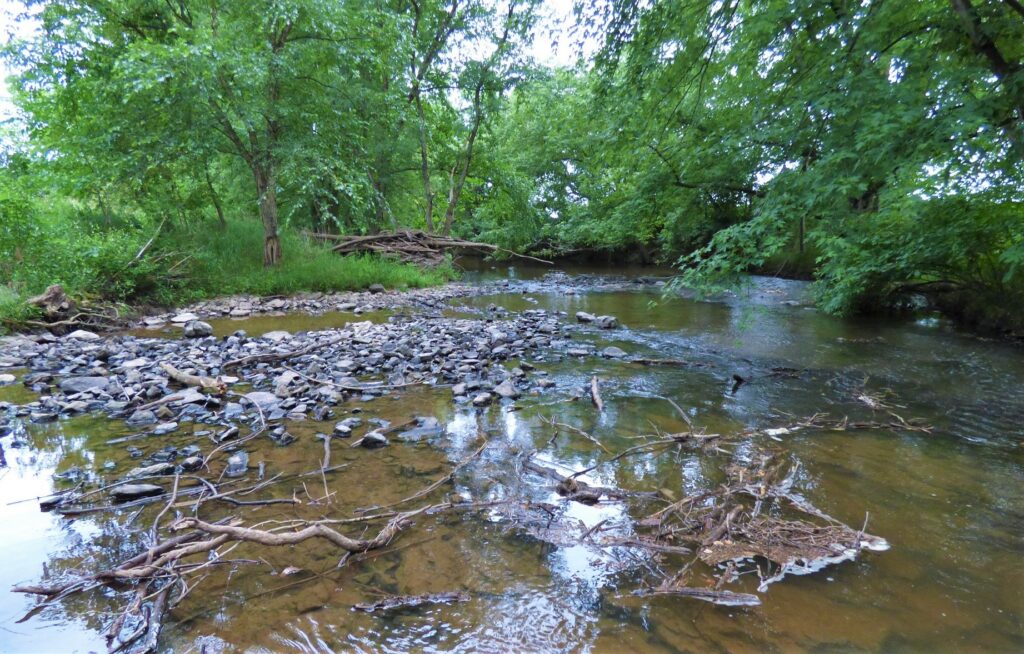 As a prime example of partnership, Gibson cited the Conewago Creek floodplain restoration, one of 11 projects Lancaster County is helping to fund with nearly $3.5 million from its American Rescue Plan Act allocation.
It involves municipalities in Lancaster and Dauphin counties, the Lancaster Conservancy, the Lancaster County Conservation District and a private landowner, as well as multiple nonprofits and companies. On the financial side, the county's $400,000 in ARPA funding is being matched with $3.4 million from other sources.
Reducing Lancaster County's water pollution helps restore the health of the Chesapeake Bay. Half the freshwater entering the bay comes from the Susquehanna, and 70% of the pollution that causes alglal blooms and deoxygenated dead zones in the bay consists of agricultural runoff, said Jenna Mitchell Beckett, Pennsylvania director of the Alliance for the Chesapeake Bay.
The alliance is a member of Clean Water Partners, as are the Lancaster Conservancy and the city of Lancaster, all represented on Friday's panel.
Beckett's organization recently relocated its office from Harrisburg to Lancaster, in large part to make it easier for staff to engage with Plain Sect farmers. Over the past several years, the alliance has been working with Plain farmers and their customers to develop and implement incentives to adopt environmentally friendly agricultural techniques.
The initiative began with Turkey Hill Dairy, thanks to conversations with John Cox, then its president and CEO, now its board chairman. It's been a great success, Beckett said: "Our Amish farmers just love it."
Indeed, everyone needs to start thinking about how their economic interactions percolate through the broader system, said Samantha Veide: Consumer decisions drive economic decisions, and those decisions drive environmental impact. Supply chains and product life cycles matter, she said, citing solar power as an example: It's a renewable, zero-carbon energy source, but solar panels only last so long and they contain toxic materials that aren't easily disposed of.
"How are we taking more than we need?" asked Veide, who is director of organizational design & development at Forum for the Future, an international nonprofit that assists businesses and governments to develop environmental sustainability strategies. That's a question that should be asked at every level and in every sense, she said: physical, economic, social.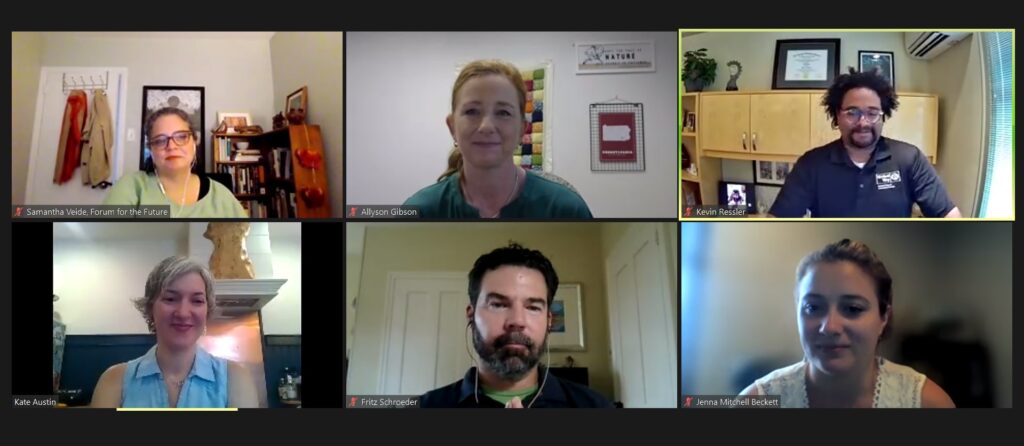 Fritz Schroeder, senior vice president of community impact at the Lancaster Conservancy, kicked off the forum with a presentation on the conservancy's activities. The nonprofit buys land to hold in perpetuity, restoring it and providing public access for recreation and education.
The conservancy takes "a very systematic approach" to its acquisitions, aiming to grow contiguous areas of wild land, Schroeder said: "That's where we get more carbon sequestration. That's where we get that sweet spot of more animals and insects."
Schroeder gave a shout-out to another organization, RegenAll, and its local Community Climate Fund, which allows people to fund local environmental work by buying carbon offsets.
Kate Austin is Lancaster city's green infrastructure asset coordinator. The city is under a federal consent decree to end its sewer overflows into the Susquehanna River during heavy rainstorms. Its green infrastructure — curbside rain gardens, permeable pavements, green roofs and more — are a key part of its strategy for doing so.
City residents can help, she said, by avoiding heavy water use during rainstorms, such as running washing machines or dishwashers. Indeed, all property owners can take steps to enhance their land's sustainability by planting native species, providing ways for stormwater to be absorbed on site and so on, she and Schroeder said.
Moderator Kevin Ressler, United Way of Lancaster County president and CEO, said people often wrap up forums by asking panelists what gives them hope. Instead, he asked them what they're worried about: "What gives you a little bit of fear?"
Schroeder said he's apprehensive about the collapse of pollinator populations. It's largely happening out of sight, he said, because modern life keeps people so insulated from the natural world. Beckett chimed in on the latter point, saying she's amazed by the amount of time she herself spends looking at her cell phone.
Veide said she wonders if businesses will be able to pivot quickly enough to sustainability, or if the inertia of existing social and economic paradigms will keep them locked into old practices.
Gibson and Austin cited apathy and politics. The public needs to stay engaged and encourage elected leaders to prioritize the environment, they said.
"Sometimes environmental issues get pushed down the list," Austin said. "But it really is, at the end of the day, the thing that is fundamentally affecting all of us the most deeply."