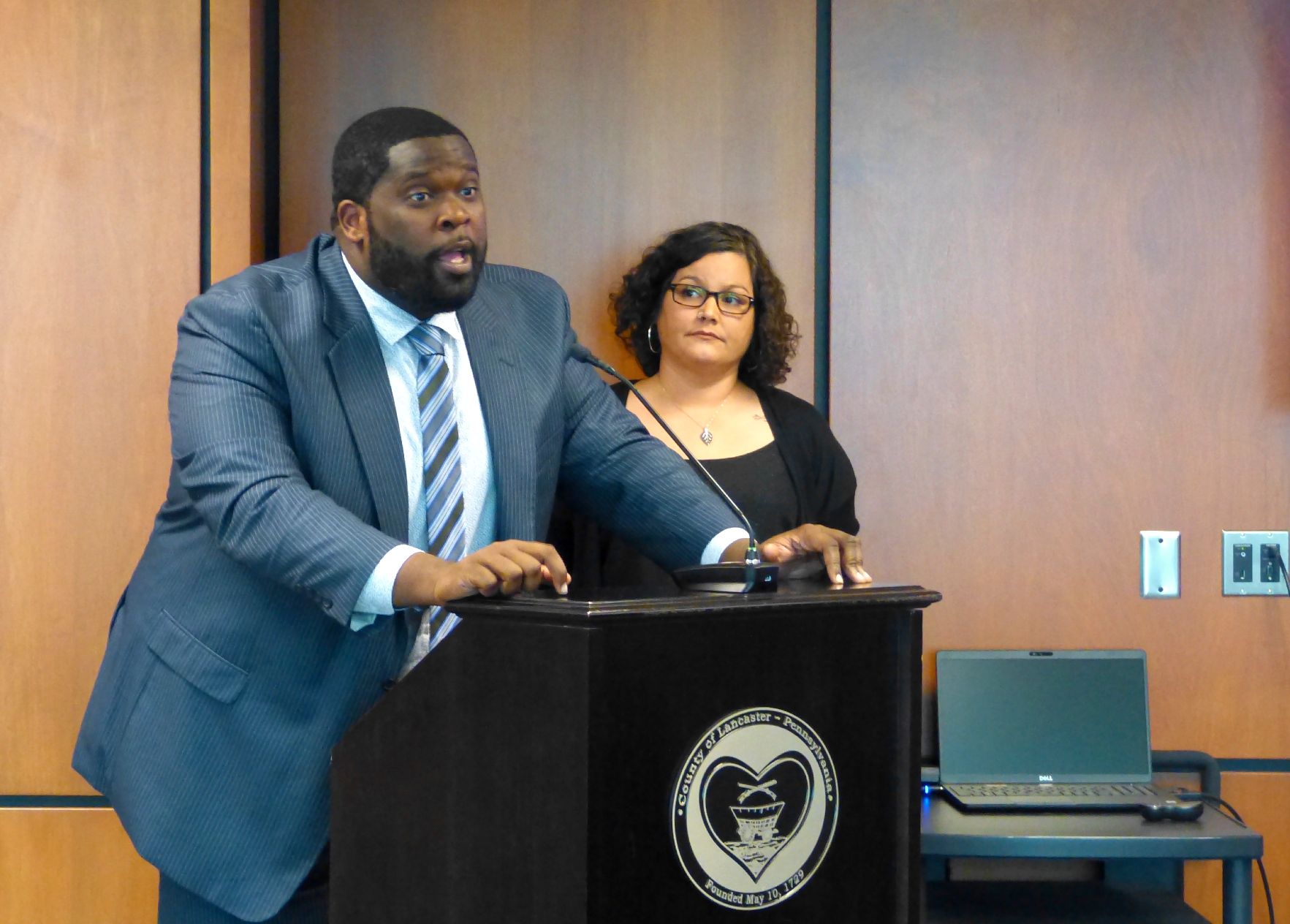 Besides being a portfolio analyst, budding realtor and father, John Maina is the CEO of the Central Pennsylvania Equity Project, a growing organization that strives to create "a community where individuals are prosperous and self-sufficient."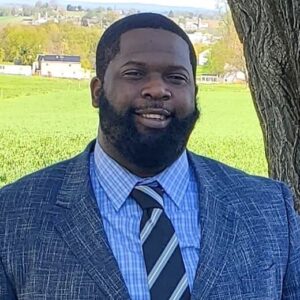 Maina and the two other members of his team have been making headlines with their work advocating for cash bail reform, speaking to the Lancaster County prison board and other officials over the past year.
Maina sat down with One United Lancaster recently to talk about the inequities of cash bail, how he stays accountable and his first job as a Target cashier.
This interview has been edited for brevity and clarity.
One United Lancaster: Give me the elevator speech. What is your name, title, age; quick facts like that.
John Maina: My name is John Maina. I'm a Lancastrian, born and raised and I currently live in Strasburg. I am a professional in the finance world and real estate world. In my spare time I do a lot of community advocacy, a lot of philanthropy and just really getting entrenched in a lot of cool initiatives like that.
I'm a father of two. I have a daughter named Elyse — she's eight — and I have a son named Devon and he is five. They're navigating their now second straight school year during COVID. My son has never had a normal year because he's in kindergarten and my daughter's last normal year was kindergarten.
I also just recently got engaged! My girlfriend of four years is now my fiancée; her name is Karena Spencer.
OUL: Congratulations! 
Maina: Karena and I met years ago and I love her to death. She's been an awesome step-mommy; I call her the "bonus mom" of my children. It's a really, really happy occasion for us and the whole family. We got engaged on vacation in Jamaica back in October.
Because of the important things that she takes care of in our lives, she allows me the opportunity to help change other people's lives.
OUL: Speaking of that, tell me more about your work with the Central Pennsylvania Equity Project.
Maina: The Central Pennsylvania Equity Project was my take on helping the community in a proactive way and then, on the back end, making sure that the equity forces in central Pennsylvania are actually equitable and represented properly.
Our end goal is to make sure we're pushing for initiatives, projects, legislation and stuff like that that's going to help people economically improve their output.
As far as equity is concerned, one of the most important conversations we have comes from an economic place. Can you generate wealth? Can you pay your bills?
When you look at America as a whole, without pontificating on it, there very much are wealth gaps amongst the genders and amongst the races. So, (reducing) the wealth gaps and economic prosperity (gaps) are the big initiatives.
OUL: So how does that translate to the cash bail work that you've done?
Maina: With cash bail, it kind of eats into what wealth you do or don't have. Looking at it from a holistic standpoint, it's nothing but wealth-based detention. If you can pay for it, you can be free. If you can't, you're incarcerated.
The Constitution is written that you are innocent until proven guilty. So why are we incarcerating anyone before sentencing?
Poverty taxes, like cash bail, and most fines that you see, are usually adversely harming the middle class and lower class.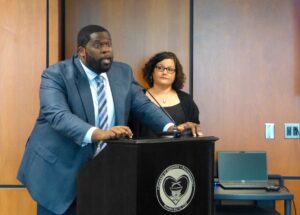 OUL: When you say poverty tax, does that mean taxes and fines that really only negatively affect you if you're poor?
Maina: Exactly. If we have someone who is impoverished, the reason why we call it the poverty tax is because you're taxing them for being poor. What that tax looks like is you being incarcerated, and that tax isn't just monetary, it's now systemic.
You now have time away from the workforce, time away from your family, time away from the community in general. And you're also literally a tax on society because our taxes pay for prisons. It hurts the family, it hurts you, and it's really difficult to overcome that.
So then how do we make institutional change? It's a part of [Central Pennsylvania Equity Project's] goals and mission to partner with and consult our community partners, stakeholders, government officials and larger corporations to help them with their equity.
So, there's the philanthropic community action portion, like cash bail, and then there's the business side of it; consulting and helping companies have equitable practices, strategic planning and training.
OUL: That makes sense. So how many staff members are on your team at the project?
Maina: There's only three of us at the moment. We're still very much building, but we have a couple of cool initiatives that we're working on.
At the moment, we're working with the Second Chance program. It's a big one. We're trying to help get the final six police precincts to be a part of the Second Chance program and try to help persuade them into helping our people with [addiction] and avoid incarceration and look into treatment first.
OUL: Changing the subject a little, but what do you like to do when you have free time?
Maina: I love Penn State football. I love spending time with my children. When the world was normal, I liked to go out every now and then.
OUL: What was your first job?
Maina: Target. In '06 or '07, I was a cashier at the one on Lincoln Highway near East Lampeter. It wasn't a good job, it wasn't a bad job. I was making $8 an hour, which was unheard of, and it was close to my house.
OUL: And now you're in financial services?
Maina: Yeah, so my nine to five during the day I work for Home365 Property Management in the real estate world. Then part time I'm a financial advisor. I help with life insurance, annuities, mutual funds; all stuff that I've gained over the years because I was in banking for about a decade.
I'm working on my real estate license right now, too, and then there's the Equity Project, which is like my business. The project was a merger of my first corporation, C.R.A.S.H., which stands for Collective Resistance Acting in Solidarity for Humanity.
I started [the project] back in 2020 in response to the volatility of the country and the question "What are we going to do after 'No justice, no peace'?" So, I started that organization with my partner Nicole Vasquez. Dr. Sherry Welsh is also over there with us.
We were trying to be this organization that bridged the community, the grassroots people and people in need through proactive things like addressing healthcare or economic disadvantages. But what ended up happening is we kept getting into a bunch of equity spaces.
I didn't want to be the criminal justice guy, even though I went to college for criminal justice and I briefly worked at the Lancaster County Prison back in 2012. But I've kind of become the de facto criminal justice guy either for cash bail stuff or because there's maybe two or three big nonprofit organizations that focus on criminal justice stuff. It's a scarce institution of change here in Lancaster.
OUL: Do you all have an office space or are you remote?
Maina: Right now, we're just being summoned to where we need to be, but we're not full time yet.
OUL: Tell me about some of your dreams, professionally or personally.
Maina: I would really love to see Central Pennsylvania be a leader in change when it comes to criminal justice and equity. I would love to see Lancaster — with me and my organization's help — tackle the homeless crisis and find a way to insert an actual housing-first model.
Closing the poverty gap, ending homelessness and ending cash bail; those are the three big goals I have.
OUL: What else should Lancaster know about you or your work?
Maina: Don't be afraid to challenge people who tell you that your wants or needs are too much. It doesn't matter if it's an institution, doesn't matter if it's a person, advocating for yourself or finding people to advocate for you is important. Embrace not being stagnant.
Also, don't be afraid to challenge the things that are not sexy or not trendy. If you want to advocate for Black people, advocate for LGBTQ, and you want to be intentional about it, do that offensively; there's nothing wrong with it. I think you've got to be your authentic self and continue to remind yourself of that.
OUL: What keeps you authentic?
Maina: I'm not 1,000% sure, but I do ask for a ton of feedback. It doesn't even have to be someone who's around me all the time. There's going to be a lot of people that want to give you advice. It's what you do with it, right?
I keep myself authentic by knowing what I want to do but taking advice, taking critiques, taking feedback and incorporating it into my wants and needs.