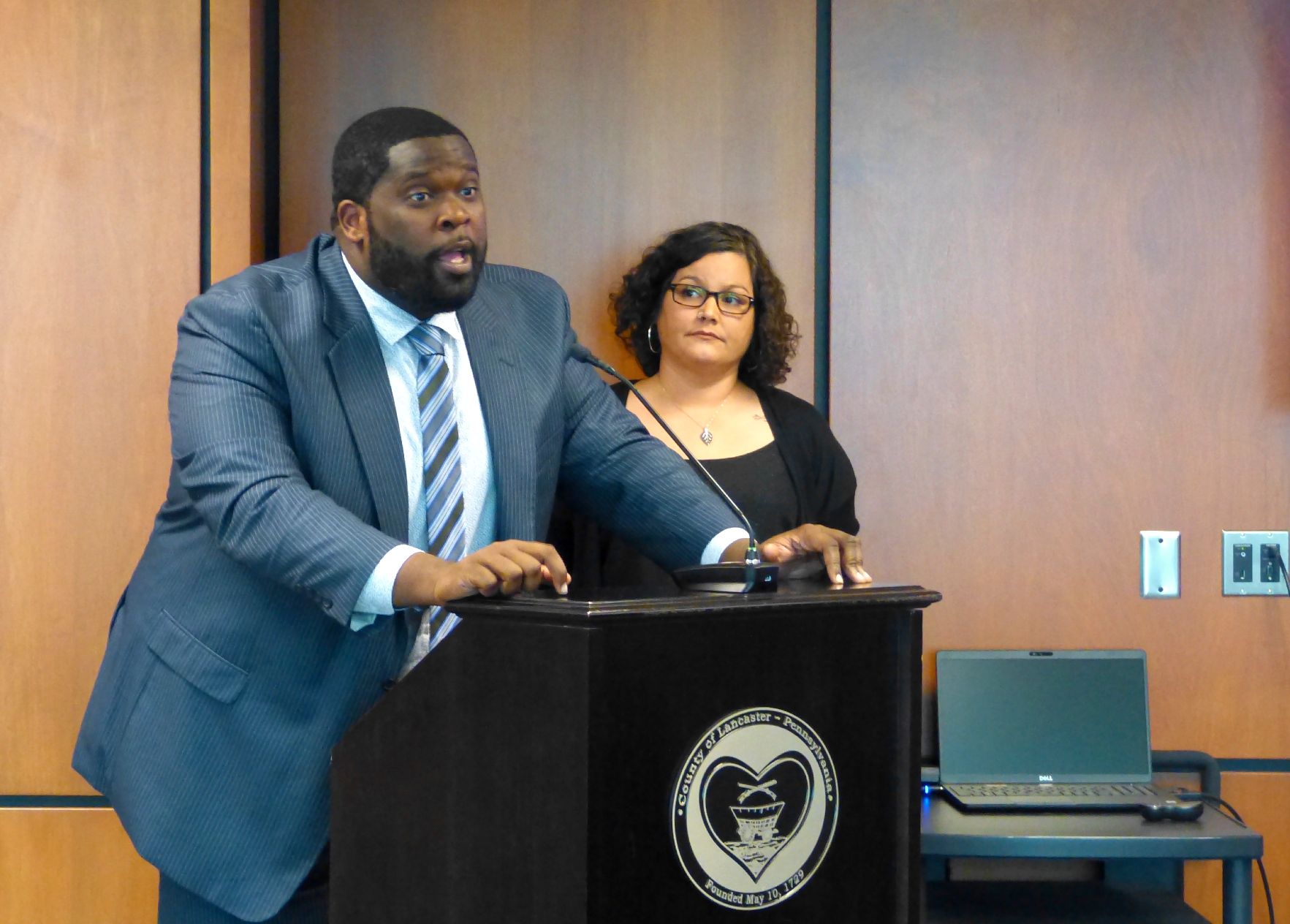 It's time to take a good hard look at the the cash bail system in Lancaster County, advocates for criminal justice reform told the county's Prison Board on Wednesday.
John Maina and Nicole Vasquez of the Central Pennsylvania Equity Project (formerly C.R.A.S.H.) said their research shows cash bail is applied inconsistently, and that it is disproportionately assessed against Black defendants.
Maina asked the board to consider three reforms:
A moratorium of 6 to 9 months on cash bail for non-felony charges;
Require that defendants have legal representation if cash bail is being assigned;
Require magisterial district justices to provide full documentation of the reasons for cash bail.
About Central Penn Equity Project's cash bail study
Central Penn Equity Project examined all Lancaster County 2020 cases in which a defendant was charged solely with simple assault (a 2nd-degree misdemeanor), or simple assault along with lesser offenses.
Of those 157 defendants who met those criteria:
68 of them (43%) were subject to cash bail;
Bail varied dramatically by magisterial district judge (MDJ): 2 MDJs imposed no cash bail; 1 MDJ required $5,000 bail from 9 of the 10 defendants who met the study criteria; 1 MDJ imposed cash bail on 7 defendants averaging $37,143;
Black defendants represented 24% of those required to post bail; Whites represented 57%. Blacks make up 5.2% of Lancaster County's general population; Whites make up 89%.
Maina said he's not convinced that imposing cash bail enhances public safety; on the contrary, he said, "All I see is an economic barrier."
As the county contemplates purchasing land for a new prison, cash bail reform presents an ideal opportunity for progressive action, potentially yielding "a permanent long-term solution" to keeping inmate numbers down at the new site, he said.
County Commissioner Craig Lehman said he agrees failure to post bail should not be the sole reason someone is incarcerated, provided there's no flight risk and defendants don't pose a risk to others or themselves.
President Judge Dennis Reinaker said the court system increase consistency among magisterial district justices regarding bail, and that numbers alone can't establish the equity or inequity of its application. In almost every instance, he said, if bail is imposed for a misdemeanor, there are good reasons: It may be that the defendant missed multiple court appearances, or committed additional offenses while at liberty awaiting trial.
That's why a public "audit trail" would help, Maina responded: "We don't have the documentation of that."
The majority of Lancaster County Prison inmates are awaiting court dates on charges for which they have not been convicted. As of Wednesday,  that was the case for 411 inmates out of 725, or 57%, Warden Cheryl Steberger said. The percentage is often higher. Bail policy thus plays a significant role in determining prison occupancy levels.
Maina said his organization would follow up with the county in a few days, once officials had a chance to review Central Penn Equity Project's data.