U.S. News has ranked Lancaster County No. 1 on its 2022-23 list of Best Places to Retire.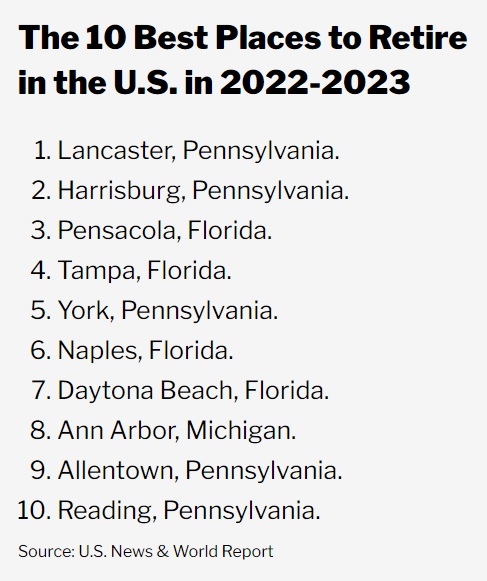 Lancaster, which also ranks No. 61 in U.S. News' "Best Places to Live" list, topped the retirement rankings based on its "high quality of life, a reasonable cost of living and proximity to health care options."
Related: Age-Friendly Lancaster announces 2022 virtual summit
Lancaster County is home to numerous retirement communities and is served by four health care systems. Last month, Penn State Health opened a 132-bed acute care hospital in the county, contributing to around $500 million in health care investment that has come online here in recent months.
Each year, U.S. News ranks metropolitan areas nationwide on a variety of metrics. For 2022-23, nine out of the top 10 "Best Places to Retire" finishers were in Pennsylvania or Florida.
Joining Lancaster were the metro areas of Harrisburg (at No. 2), York (5) Allentown (9) and Reading (10). Affordable housing helped drive their rankings, U.S. News said — a factor that may surprise some people locally, given Lancaster County's widely acknowledged affordable housing crisis.
Nevertheless, housing is indeed less expensive here than in metropolitan areas generally. The median house here costs $226,550, 28% less than the national average of $315,743.
Metropolitan areas can comprise one or more counties. The Lancaster metropolitan area is Lancaster County; the Harrisburg metropolitan area includes Cumberland, Dauphin and Perry counties.
U.S. News bases its ranking on the following factors:
Job Market (20%)
"Value Index" (Housing costs vs. median income) (25%)
Quality of Life (32.5%)
Desirability (Based on survey results) 17.5%
Net Migration (5%)