A recently launched extension of the partnership between the nonprofit Blueprints for Addiction Recovery and local police departments is showing results, Lancaster city officials said this week.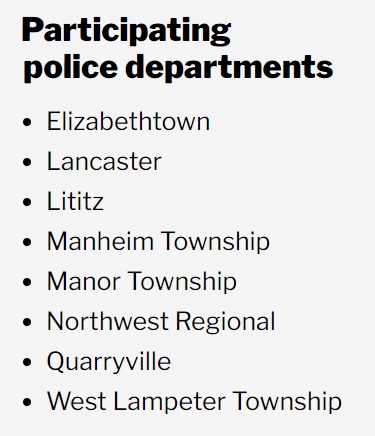 In September, certified recovery specialists and peer specialists from Blueprints began ride-alongs with on-duty officers to help during encounters with individuals who may be in need of treatment for addiction or a mental illness.
Eight of the county's municipal departments are on board, Blueprints founder and CEO Chris Dreisbach said. Following an initial rollout the first weekend in September, Blueprints developed a weekly schedule with city police; schedules with other departments will be worked out based on need and staff availability.
The ride-alongs build on Blueprints' Second Chance PA and Gateways programs, which allow law enforcement to call Blueprints staff to an incident scene or police station to make case assessments and referrals in connection with mental health calls and drug and alcohol cases. The intent is to avoid charging individuals with crimes when there is an opportunity to refer them for treatment instead.
Having counselors ride with police officers means they're available right away, increasing "the efficiency with which we meet the moment," Lititz Police Sgt. Jared Hahn said.
In Lancaster alone, the ride-alongs resulted in 13 referrals for treatment in the first month of operation, city police said.
The initiative "benefits those in need, and our officers, while creating a streamlined connection to treatment," Mayor Danene Sorace said.
Dreisbach said he'd like to extend the program to more departments. If his track record is a guide, that's likely: Second Chance PA launched in partnership with two county departments; today, only two don't participate.
"We are looking forward to continuing this ride-along program and partnership deep into the future," he said.