(Editor's Note: This article is part of One United Lancaster's series on United Way of Lancaster County's 2022 Level Up & Launch grant recipients.)
On Sunday, Aug. 14, an estimated 2,500 people at Long's Park applauded the talents of an exceptional group of children.
A cohort from the SWAN 4 Kids summer camp performed on stage with Terrance Simien and the Zydeco Experience, playing washboards and tambourines and jamming with the two-time Grammy Award winner. The crowd ate it up — and so did Simien.
"We def had some serious fun together!" he wrote afterward on the SWAN Facebook page.
The children in SWAN 4 Kids face challenges that no child should have to: They are the sons and daughters of people who have been or are currently incarcerated.

"They are the very best example of strength and resilience under very difficult circumstances," Simien wrote.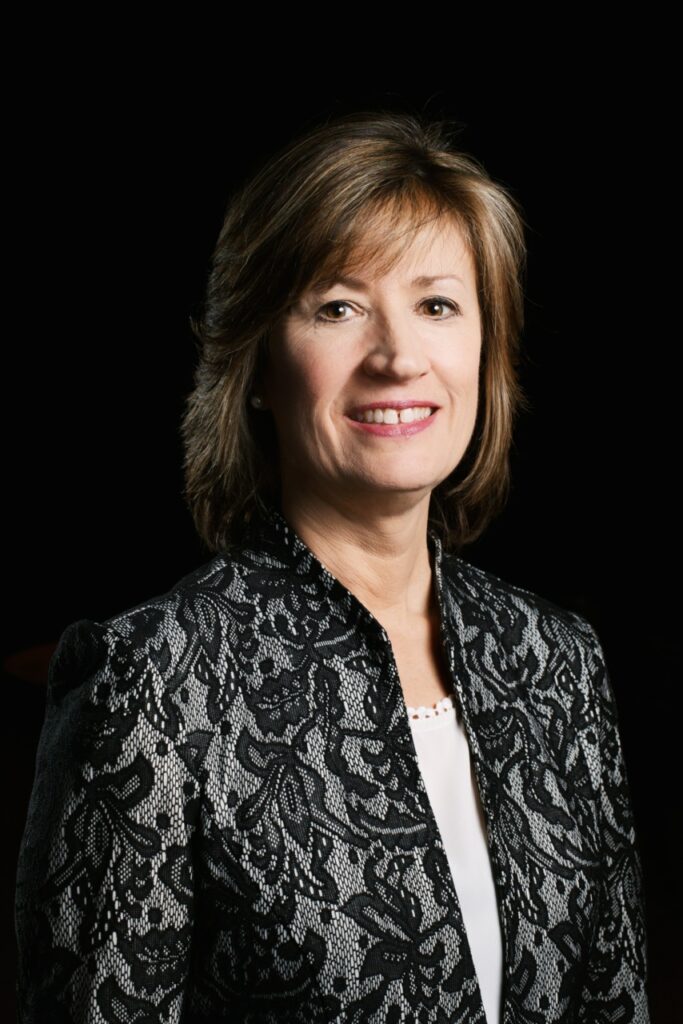 "SWAN" stands for "Scaling Walls A Note at a Time." It provides free music lessons, performance opportunities and related support to children aged 5 to 18.
As best SWAN's founder and executive director Diana Vuolo can determine, it's the only program of its kind in the United States.
SWAN operates in the School District of Lancaster, the Lancaster County Youth Intervention Center and in Red Lion Area School District in York County.
Children are generally referred to SWAN by teachers or counselors. "We've never turned a child down," Vuolo said.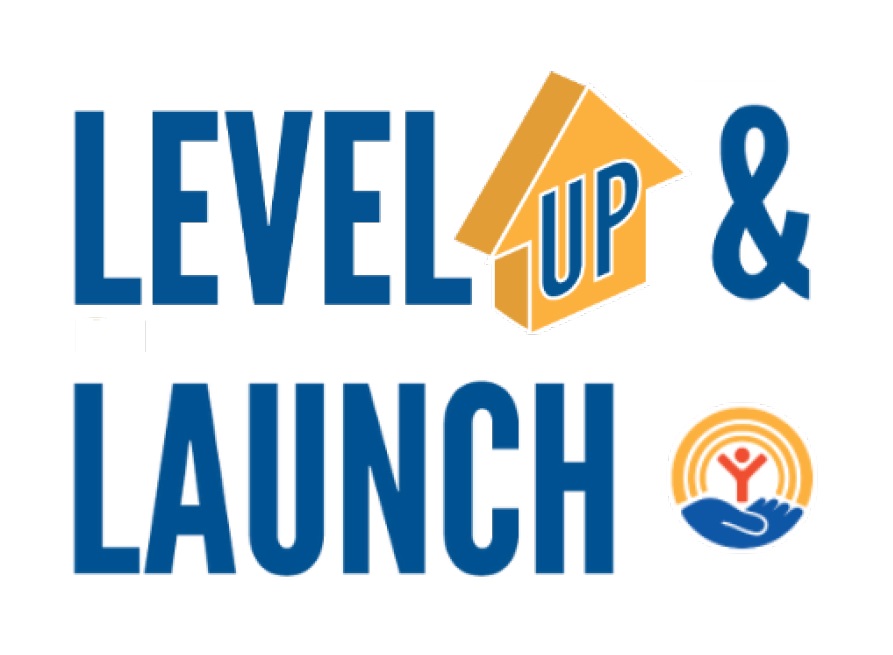 Vuolo is working to expand SWAN to other youth organizations and school districts. United Way of Lancaster County is supporting SWAN with a $40,000 Level Up & Launch grant.
The grant helped to support the summer camp, in which 30 children learned a musical performance program from start to finish. Long's Park was their ninth show to date, with another coming in September.
The repetition builds students' mastery and comfort level, Vuolo said, until "that stage becomes like home." That in turn builds their overall confidence and self-respect, which can be life-changing.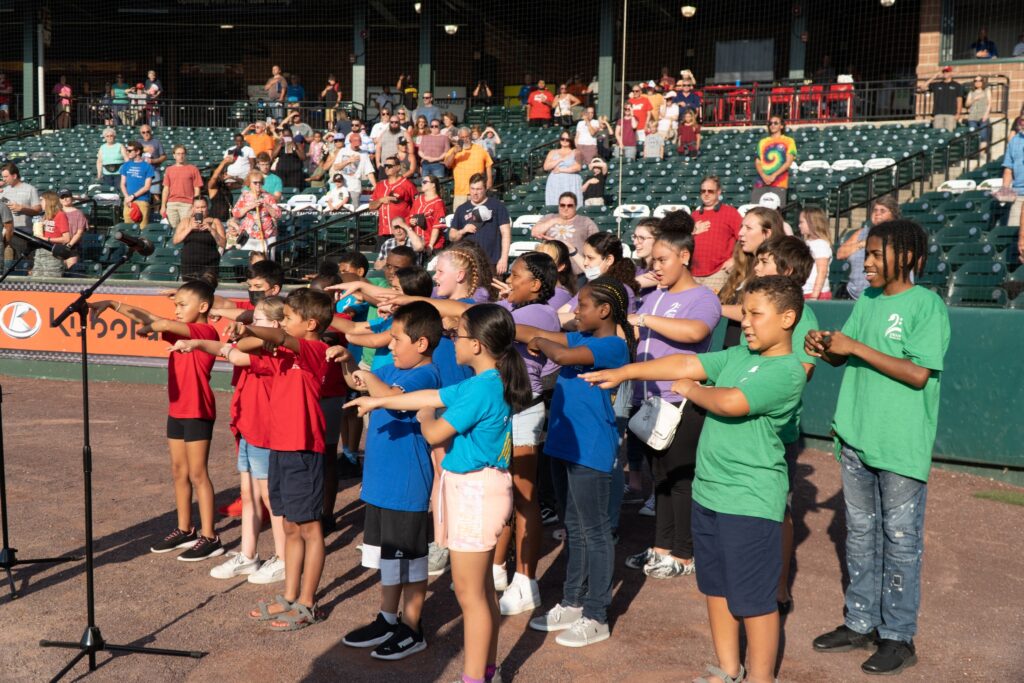 Children of incarcerated parents experience a range of potentially devastating traumas, beginning with family separation, poverty and increased risk of homelessness. Many have no adult relative to serve as a stable, caring role model. Many experience physical or sexual abuse. Many have vivid memories of police raiding their homes, or a parent overdosing.
Music can help them overcome all of that, Vuolo said: SWAN's slogan is "Give Music, Empower Dreams," and that's exactly what the program does.
Researchers know that music has a remarkable range of benefits for children as they develop socially and psychologically. It increases focus, reduces stress and calms the nerves. Singing or playing songs stimulates the brain, teaches discipline and self-control and provides a safe, constructive emotional outlet. Performing with others teaches communication and collaboration and builds social and emotional skills.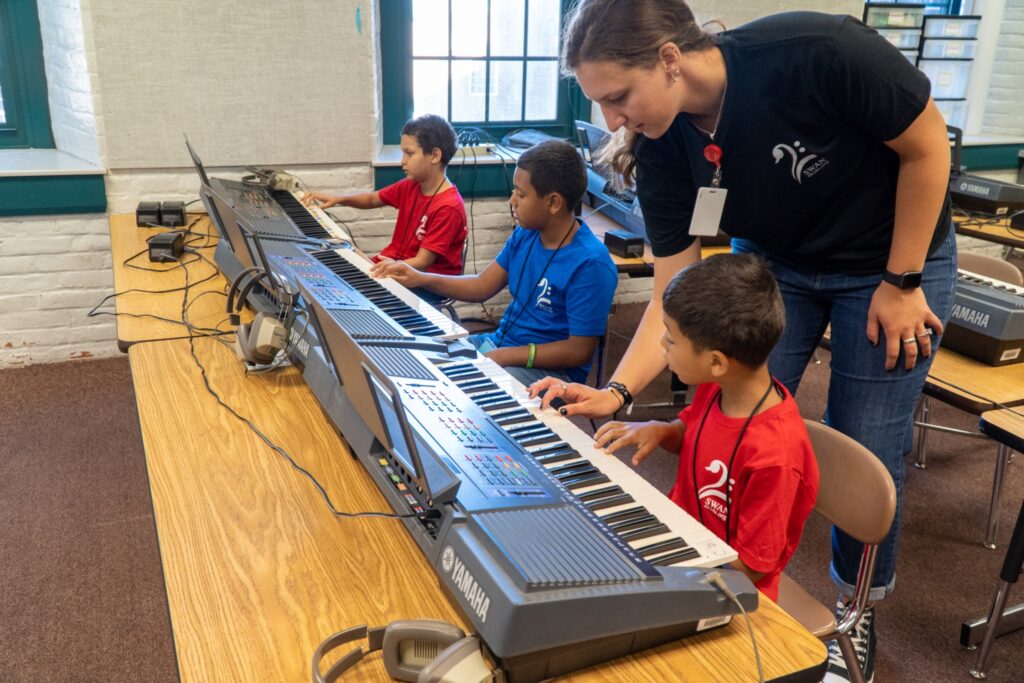 SWAN students learn singing and percussion. Individual students may take up the ukulele, violin, viola, piano or drumming on a full drum kit. They receive an individual or small-group instrument lesson once a week.
"We're taking traumatized children. We're giving them the joy of music," Vuolo said. "We're giving them skills to succeed."
One little girl in SWAN's summer camp was so overcome by stage fright at the group's first show that her mother had to sit with her, Vuolo said. Fast forward a few weeks, and she not only performed with gusto, but volunteered to be interviewed on TV afterward.
"She just sparkled," Vuolo said.
Pre-pandemic, SWAN's enrollment was around 200 students. Vuolo wants to increase that to 270, and to provide two lessons a week to 50 students and groups.
The program changes children's relationship to the community, she said. Children of drug-dealing parents live in a world of pervasive suspicion and distrust. When they're applauded for a performance they've worked hard to perfect, they begin to see themselves and other people in a new light.
SWAN provides hope for incarcerated parents, too. They feel good "that that somebody else is investing in such an extraordinary way in their children's lives," Vuolo said.
Trauma "smashes" who people are, she said. SWAN provides a way out.
"You start breathing into that soul, believing in them, finding their talents, investing in their talents," she said. "You're breathing life into them. … Now they know they can succeed."