Hilda Shirk has spent her career promoting public health.
She retired in 2019 as president and CEO of Lancaster Health Center, one of the two organizations that merged to form Union Community Care. Today, she serves as chair of the board of directors at WellSpan Health.
She is also a board member at Landis Communities, the senior housing nonprofit that recently opened Landis Place on King; and at the High Foundation.
One United Lancaster recently spoke with her about her career and the perspective it has given her on health policy. The following has been edited for length and clarity.
One United Lancaster: You have a lot of experience with the social services/nonprofit side of healthcare. You also have experience with large networks like WellSpan. How would you describe that journey in terms of seeing different aspects or facets of healthcare?
Hilda Shirk: The connection between my background, which started out in social services and social work, and the connection to health, is one of the parts of healthcare that I think is emerging, and it's a critical connection.
I feel like my journey started 'in the streets,' in terms of providing direct care to people … and moved into greater institutional care, through hospital systems, or formalized health systems, informed by that information. That understanding I have of where people live, and how people live, and how people consume health care, has been valuable.
So it was a journey of taking a skill set, and applying it to a new focus, building on the skill set rather than replacing it.
OUL: What do you see as gaps in the public health system?
Shirk: The public health system in Pennsylvania is not very effective, because it doesn't bring services to local areas in a coordinated way. So, what we've been trying to do over the past 15 years is to find a way to make it more effective at a local level.
The Public Health Act was written in 1951. In '51, the needs for public health were very different than what they are today. We've been trying to figure out how to right-size public health for today. And from what I can see, it's really difficult to do with the current legislation.
I would like to explore the opportunity to change what is written in the law at the state level. … For instance, through the pandemic, we really saw the impact of not being able to collect or use information at a county level, and needing to rely on the state to deliver that information.
That meant that while we were very effective, and Lancaster actually did well in some ways in responding to the pandemic, we did it in spite of not having the information that we needed.
A good public health department would collect that information, identify where there are gaps, where there are opportunities to coordinate better … (There would be) one spokesperson or spokes-organization that collaborates and pulls all of that together, and then speaks with one voice, so that there's clarity in the community.
Now, in all fairness, COVID was a very unusual situation, because nobody really knew what was going on. So we all had to kind of figure it out. A public health department would not have changed that. But it would have meant that we would have been pulling everything we know together in one place, and coordinating care.
Public health is not health delivery. It's not health care. And that's a critical part, I think, to clarify that. Public health is about prevention. It's about promotion, it's about protection. It's about making sure that we're doing what we can to keep people as healthy as possible.
It's not only physical health, it's also environmental health, making sure that water is clean, making sure that restaurants are safe, that food is safe. Figuring out trends, and where the needs are, is definitely a part of public health, and identifying opportunities for intervention.
OUL: When you talk about information and COVID, what kinds of data would you have been looking for?
Shirk: Wouldn't it have been helpful to know how many people were being hospitalized, and how many people were being tested? And if there were pockets in the community that had higher rates?
What about if there were diverse populations that were not getting the care that they needed? Or not getting the testing, or not getting the access?
Wouldn't it have been great to be able to say, 'Oh, my goodness, in this part of the county, they're just really not getting the message, or getting the information, or getting the treatment or getting the access to care?'… and being able to use the information effectively, to develop a strategy?
OUL: Landis Communities has a project called Landis Place on King … Could you talk about that?
Shirk: Landis Communities is a retirement organization that has addressed the needs of seniors for many, many years.
Not everybody wants to go to (a retirement community). So Landis Communities … renovated a building on Water Street and created Steeple View Lofts, and had apartments that people who were 55 years and older could live in — in their own apartments, but independently, and with a collaborative element from Landis Communities.
That building has been full, with a waiting list, for many years. And so we talked about, was there a way that we could have that same concept, but include some apartments that were affordable, instead of just middle-market rate? Could we do something that's affordable?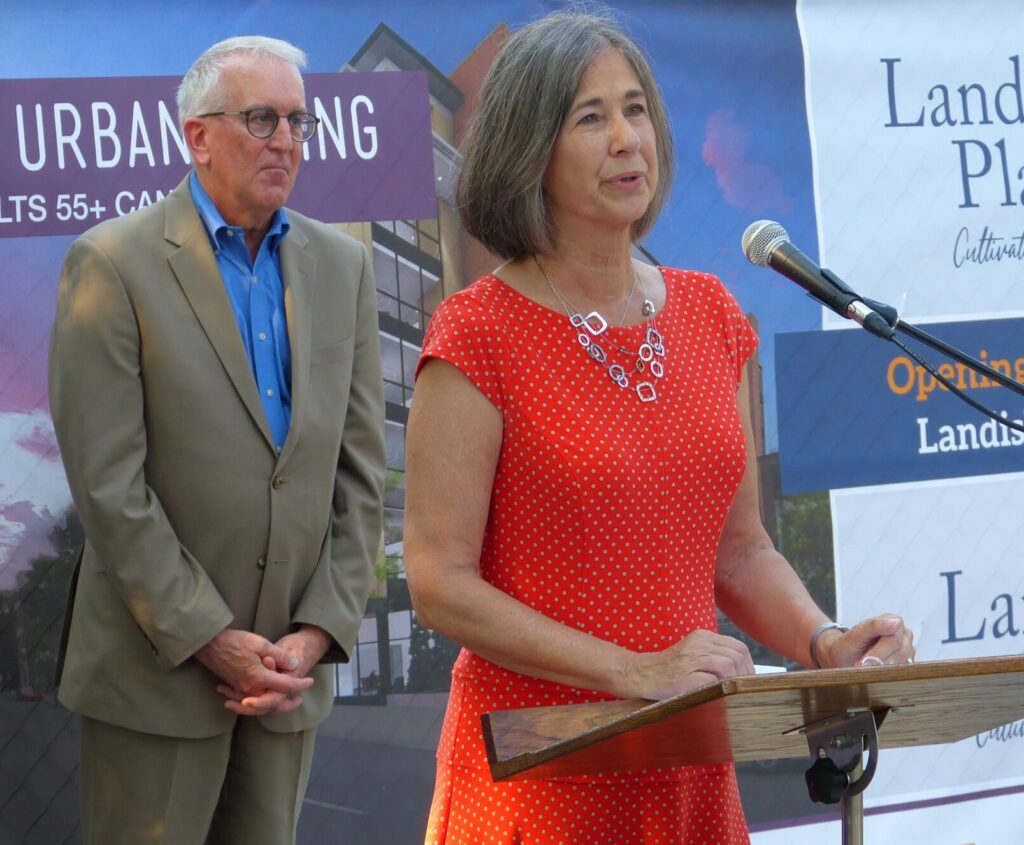 Landis Place on King is a high-rise with 79 apartments. We were committed to having at least 10% of them at an affordable rate. So we did a fundraising campaign to offset the cost of building out at least eight of those units, and raising money in the community.
We were successful and then some. With the help of some grants and a lot of wonderful donors, we have at least 10 units set aside for affordable rents. And they are integrated along with the rest of it. …
We wanted this to be a building that fit into the neighborhood, and that reflected the community of the city. It was a very intentional focus on reflecting the diversity of the city.
OUL: How can non-profits make senior living affordable and accessible?
Shirk: It takes a commitment. It takes financial support from the community, and from funders. We've had a lot of wonderful, wonderful funders for that.
OUL: You talked about a public health department, one of the central roles being collecting information. Is there anything else that you see a public health department being responsible for?
Shirk: I think (one goal would be) collaboration between health systems, government departments, community organizations, like hospitals and clinics and local business. I think that coordination piece is critical.
And then having the one centralized place to support initiatives and interventions, and to address the social determinants of health. In other words, not focusing on delivering the clinical care. …
We can collect the information. But the other piece is to be smart about funding. The state, and its current legislation, mandates that the state pays 50% of eligible expenses for a health department. And then there are some government grants that come into play, or other kinds of funding that come into play. And then there are some services that are delivered for which fees are charged. (The public health department) becomes a department of the county, so the county is responsible for making sure that there is funding available.
OUL: So for example, you might see a public health department report to the county commissioners with efficiencies on how to how to do things, right, or something like that?
Shirk: Well, the county commissioners would be responsible for oversight of the Public Health Department. It has kind of a bifurcated mandate — to respond to and deliver services on behalf of the state, but it is accountable to the county, to the board of the commissioners, who appoint a Board of Health.
The commissioners are ultimately in charge and have the final say, in collaboration with the state Department of Health. It's not dissimilar from other county services like the Agency on Aging and child welfare and other things.