If Lancaster becomes a home rule municipality, it will join 26 cities, seven counties and 56 other municipalities in Pennsylvania, Mayor Danene Sorace said in her State of the City address Thursday.
Home rule is an option under state law that gives jurisdictions much more autonomy than they have otherwise. Among other things, they are no longer subject to state caps on certain tax rates, such as the Earned Income Tax, or EIT.
Public policy experts and municipal advocates say the state's standard governance framework forces cities like Lancaster into an overreliance on property taxes, placing an undue burden on senior citizens on fixed incomes and low-income homeowners.
For the past two decades, Lancaster has raised property taxes roughly every other year. They were unchanged from 2019 through 2022, the longest stretch in since 2006, before being increased 8% for 2023.
While property taxes account for 46% of the 2023 budget, $33.4 million, that doesn't even cover the city's police and fire budgets, which together total $42.6 million.
Sorace said Thursday that raising the EIT would be a more sustainable and equitable approach than continuing under the current framework.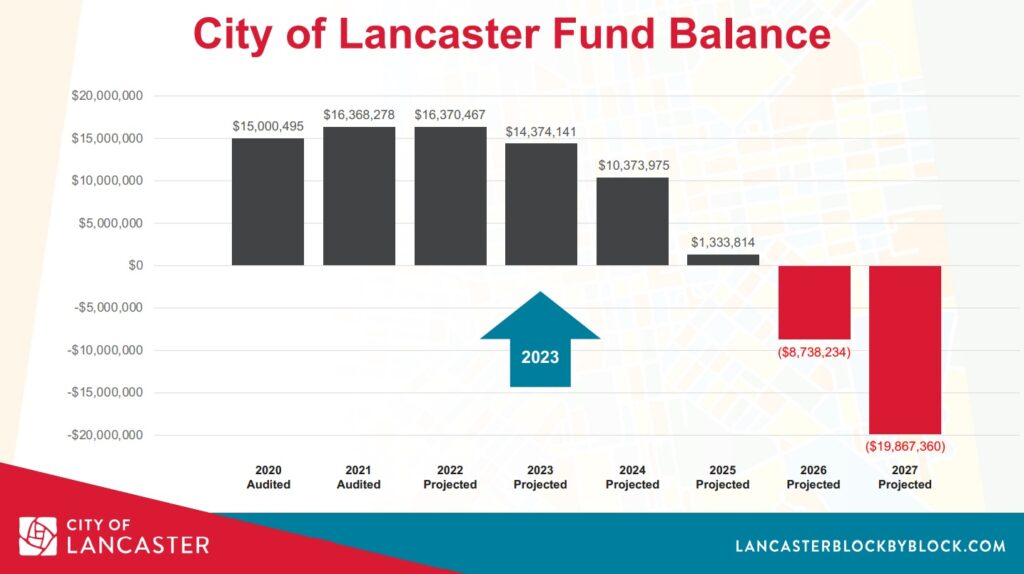 The case for home rule in three charts: Under status quo policy, Lancaster faces a looming fiscal cliff (Chart 1). Its property tax base is essentially flat (Chart 2), whereas earned income grows steadily (Chart 3), suggesting that a higher Earned Income Tax rate (EIT), possible only under home rule, could reduce the need for frequent property tax increases. Click images to enlarge. (Source: City of Lancaster)
About home rule
As characterized by public broadcaster WHYY in a 2014 explainer, home rule allows a municipality to opt out of the state's local governance framework in favor of a locally drafted charter, which WHYY calls "essentially a local constitution."
To adopt home rule, residents must first vote to adopt a study commission and elect its members. The commission then evaluates the existing government structure, determines whether a shift to home rule is warranted and if it is, drafts a charter. Residents then vote in a referendum on whether to adopt it.
For more information
Want to learn more about home rule? Pennsylvania's Center for Local Government Services has published a manual on the topic that runs to more than 100 pages. It is available for download here.
Lancaster County went through the process 15 years ago, putting a referendum on a home rule charter on the November 2008 ballot. It was resoundingly defeated, 63% to 37%.
In 2015, referendums on establishing home rule commissions were defeated in Conestoga and Martic townships. Advocates had proposed the idea as a strategy to fight the Atlantic Sunrise pipeline.
The autonomy granted by home rule is something of a double-edged sword. While it frees local jurisdictions from large swaths of state regulation, those strictures include limits on local tax hikes. Under home rule, elected officials have much more leeway over tax rates.
"While this is an advantage to governments that want to increase revenue, this may not be appealing to citizens who don't want to see their taxes go up," WHYY says.