Two Lancaster County nonprofits have received money from a round of state conservation and recreation grants funded by the federal American Rescue Plan Act.
Susquehanna Heritage
Susquehanna Heritage Corp., the nonprofit that oversees the Susquehanna National Heritage Area in Lancaster and York counties, has received $300,000 toward construction of a boathouse.
It will serve both as a shelter for the Chief Uncas, the historic motor yacht that the organization acquired in 2021, and as an educational center, where visitors can learn about the watercraft's heritage and the work involved in restoring and maintaining it, Susquehanna Heritage President Mark Platts said.
A property adjacent to Susquehanna Heritage's Zimmerman Center at Long Level is being considered as a possible site, and the project budget is estimated at up to $1 million. However, planning is still in a very preliminary stage, and all aspects are subject to change, Platts said.
The $300,000 grant will supplement $500,000 received previously from the Department of Community & Economic Development. Susquehanna Heritage is looking to private donors to help cover the remaining $200,000, with naming rights possible for a major gift, Platts said.
The hope is to complete construction in 2025. In the interim, a temporary winter shelter for the yacht has been erected at a site owned by Brookfield Energy.
Following renovation and the securing of Coast Guard certification, the Chief Uncas made its debut on the Susquehanna River last fall. This summer, Susquehanna Heritage plans to launch regular "River Discovery Tours."
Lancaster Conservancy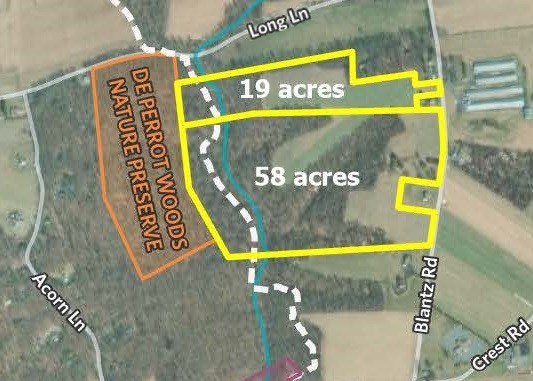 Meanwhile, the Lancaster Conservancy received $962,700 toward its $1.9 million acquisition of 77 acres to add to the de Perrot Nature Preserve.
The property lies along the Conestoga Trail and includes a tributary of Hammer Creek, which feeds into Speedwell Forge Lake.
Lancaster County awarded another $150,000 in ARPA toward the purchase in its 2023 budget.
Adamstown, Columbia park renovations funded
The state grants are among $19.4 million in ARPA funding provided to 68 conservation and recreation projects statewide by the Department of Conservation & Natural Resources.
Adamstown and Columbia boroughs also received funding. Adamstown received $476,500 toward renovation of its community park and the construction of pickleball courts, while Columbia received $478,300 toward the renovation of Makle Park, including the construction of a comfort station and pavilion and the installation of lights.
The funding comes through DCNR's Community Conservation Partnerships program. The application period for the next round of grants will open this coming Tuesday.