Update, 5 p.m. May 16: The work of opening, processing and counting the more than 16,000 mail-in ballots received at Lancaster County Elections Office continues to be "extremely fast," county Commissioner John Trescot said at a media update on the primary election.
"We'll be done this afternoon," Trescot, who chairs the county's Board of Elections, said at the 3 p.m. briefing.
For Lancaster County, pre-canvassing — the process of opening mail-in ballots and preparing them for scanning and tabulation — is "no longer a choke point," he said.
That's a big change from November, when the counting stretched into the early hours of the day after Election Day. The difference this time is much lower volume — county staff and volunteers processed more than 40,000 mail-in ballots in November — and the county's six new high-speed scanners, which replaced three slower ones.
Where are election results posted?
To see Lancaster County's Primary Election results, visit the county's results page or the Pennsylvania Department of State's page. State and federal race results are also posted on the Pennsylvania Department of State's results page.
Results will be posted after polls close at 8 p.m. Tuesday and votes are tabulated.
As for in-person polling, that continued to go smoothly, with no reports of major problems. Poll workers have been reporting light turnout, according to LNP.
Trescot predicted the results from today's election would be tabulated and posted between 10:30 and 11 tonight.
The caveat is that provisional, military and overseas ballots won't be tabulated and added to the mix until at least Friday, per state law. In most cases, that won't be enough to alter any outcomes, but some races may have narrow enough margins to be affected.
Even though the county can now complete its pre-canvassing on Election Day in a timely fashion, allowing it to start beforehand would still be helpful, Trescot said. For Lancaster County, it would make the logistics easier and allow any problems to be caught earlier; for Pennsylvania's largest counties, which deal with vastly more mail-in ballots, it could have a "huge impact," Trescot said.
Previously reported:
As of mid-morning Tuesday, Lancaster County's primary election was playing out about as normally and uneventfully as possible, officials said.
Polling opened on time at 7 a.m. throughout the county, with no major issues, Elections Chief Clerk Christa Miller said. Turnout has generally been light, as is typical for an off-year election, she said.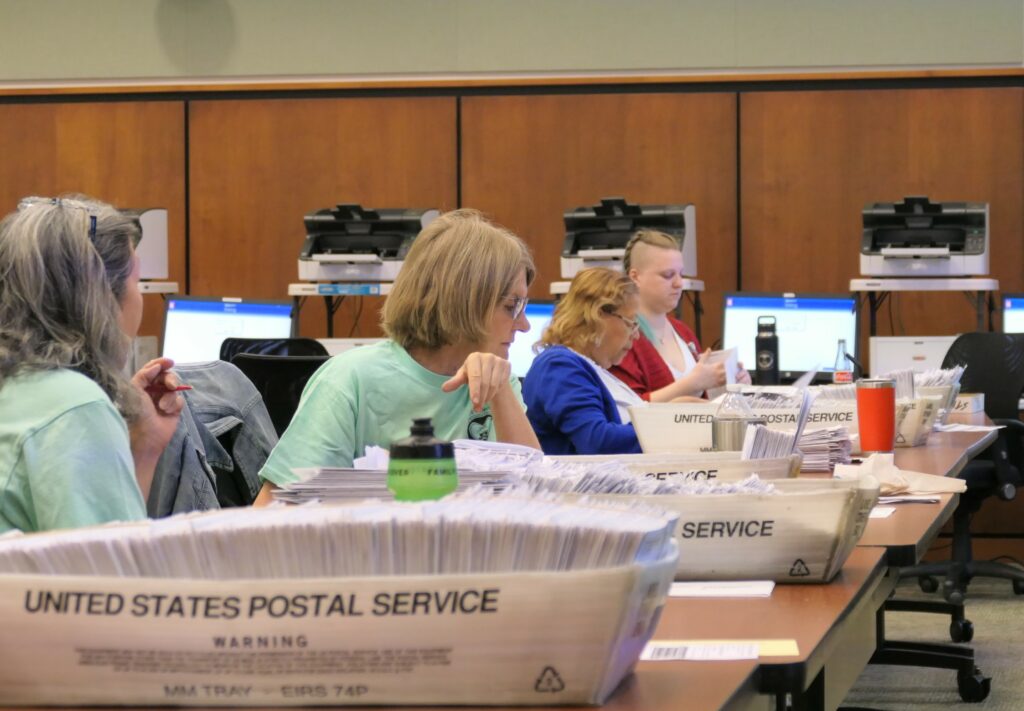 At a 10 a.m. media briefing at the County Government Center, Miller said volunteers were halfway through opening and sorting the roughly 15,800 mail-in ballots returned by voters. Tabulating those ballots was to begin around 10:30 a.m. and finish around early afternoon.
Tabulation of in-person votes begins after polls close at 8 p.m. Miller remained confident, as she was Monday, that the count would be finished by 11 p.m.
A few hundred ballots will remain to be counted after that: The deadline for military and overseas ballots is a couple of days after Election Day, and the county will have to reconcile provisional ballots cast on Tuesday against mail-in ballots to ensure no voter votes more than once.
If a given race is close enough, those extra few ballots might make a difference, but in the vast majority of cases, the outcomes as of Tuesday evening should be definitive, Miller said.
Tuesday's election will determine Republican and Democratic candidates for November's general election in races for municipal and school board seats and a range of judicial positions, including state Superior Court and Supreme Court seats.
In Lancaster city, voters will determine whether the city forms a home rule commission and, if it does, who will serve on it.