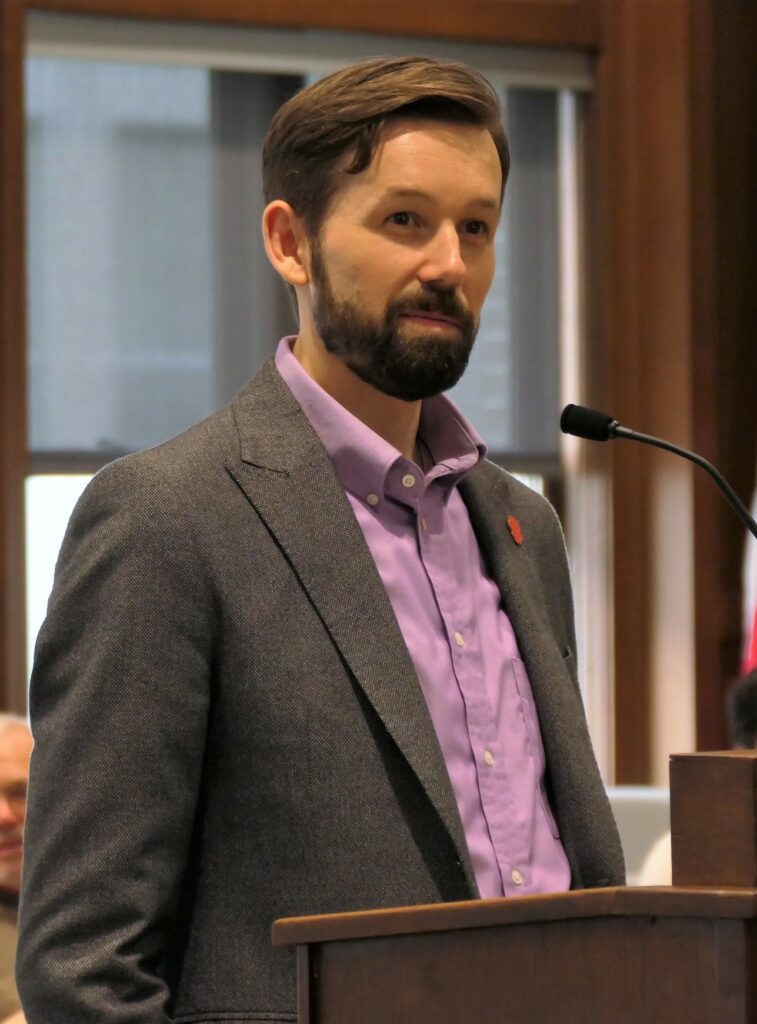 "This is fun," Chief Planner Douglas Smith told Lancaster's Planning Commission on Wednesday evening. "I've been waiting to nerd out on this comprehensive plan with you guys for a long time."
• Related: Former planner pushes for housing development on Sunnyside Peninsula
At that point, Smith and the commission were a third of the way through a roughly 90-minute review of the comprehensive plan that Lancaster city staff have been working on for the past two years.
Smith had introduced the plan to the commission on July 19. Wednesday's meeting will be followed by another review in two weeks, on Wednesday, Aug. 16, at which point the commission will be asked to vote on endorsing the plan.
If you go
What: Lancaster city comprehensive plan review and adoption
All meetings take place at City Hall, 120 N. Duke St., Lancaster.
Planning Commission
Wednesday, Aug. 16: Open House, 5 p.m., Meeting, 5:30 p.m. – review and vote on recommendation
City Council
Monday, Oct. 2, 6 p.m.: Introduce final plan
Tuesday, Oct. 24, 6:30 p.m.: Vote on plan adoption.
A work in progress
In May, at a presentation at the Ware Center, the city unveiled a 52-page draft of the plan's policies and maps. On Wednesday, Smith introduced the commission to the full draft plan, now expanded to six chapters and 112 pages.
The new document is available on the Our Future Lancaster website. It is not yet finalized, Smith cautioned: In particular, many of the images and graphs are labeled "FPO," signifying "for placement only," potentially subject to updating or replacement.
The policy text remains largely unchanged since May. It outlines a Lancaster that is committed to becoming denser, with a greater variety of housing at all price levels, served by a road network that's as safe for bicycles and pedestrians as it is for motor vehicles.
It envisions thriving neighborhood commercial hubs and corridors and more support for vocational training and economic development. It calls for a greener city that's more resilient to climate change.
Smith pointed out a few edits made since the release of the May draft. Among them:
Strengthening Neighborhoods & Housing (SNH) Policy 1.9 – Home Ownership: The original version called for expanding low- and middle-income home ownership opportunities. The new version adds "cooperative homeownership" as one of the models to pursue.
Action SNH-2.9A – Historic District Evaluation: This section now calls for not only reviewing and possibly expanding the city's historic districts, but reviewing the city's regulations for possible policy and procedural improvements.
Connecting People & Places (CPP) Policy 2.6 – Parking: This section now calls for reducing or eliminating parking requirements in "Urban Centers," not just "Downtown."
Growing Greener (GG) Policy 4.2 – Resilient Infrastructure: The city is to "existing and future models" for climate resilience, not just "existing ones."
Smith fielded a range of questions from commission members about parking, housing, historic districts, the plan's implications for developers and how the city intends to implement it.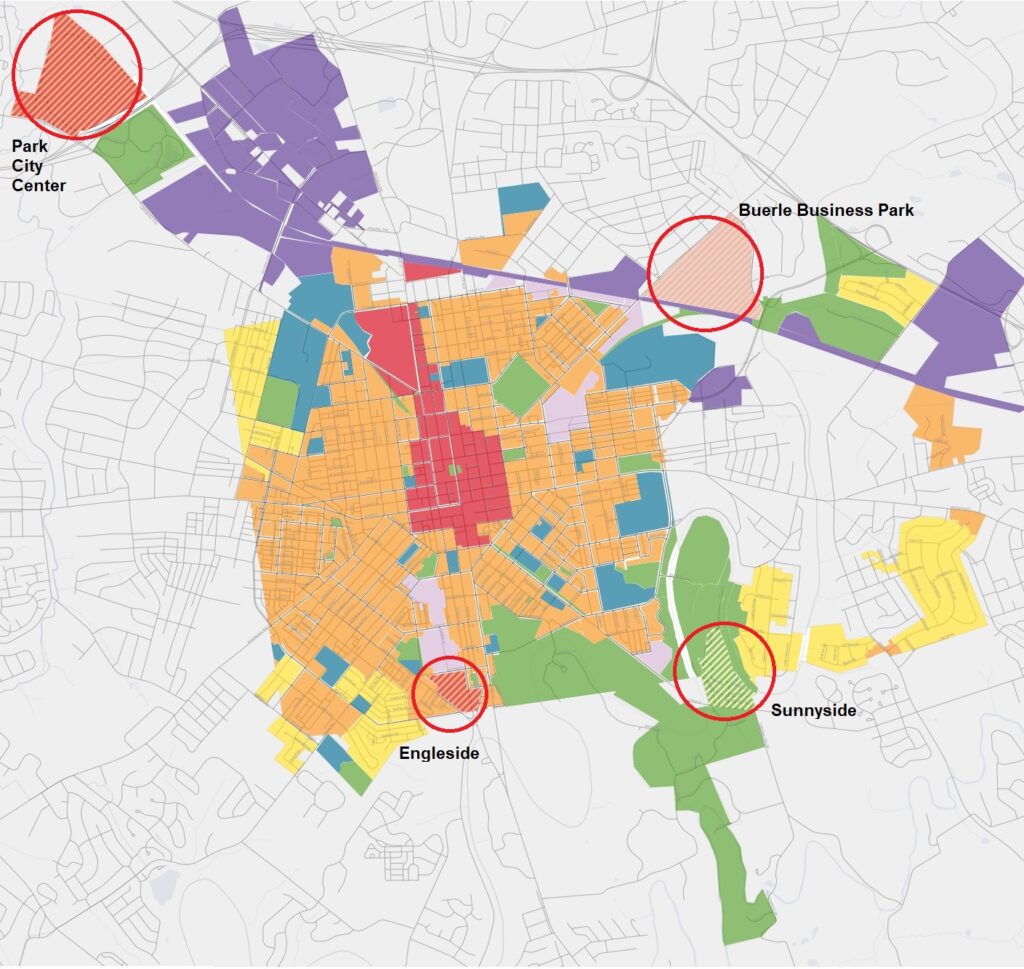 Asked about the hatched areas on the plan's future land use map, such as Park City Center and Engleside, Smith said those are areas that will require further study. For Park City Center, for example, the city would like to see the addition of residential options and renovations that make it walkable.
In the case of Buerle Business Park, there's potential to add residential development that harmonizes with the Grandview Heights neighborhood on the other side of New Holland Pike, Smith said.
Smith agreed the comp plan is ambitious and will stretch city staff as members work to implement it. Still, he said he thinks it has a good balance between existing work done by city staff that will continue, modest new initiatives (such as an inventory and study of city alleyways) and ambitious ones (such as piloting an on-demand micro-transit service).
He said the city hasn't included a ranking of policy priorities in the plan itself, but will think strategically about prioritization when it develops its implementation strategies each year.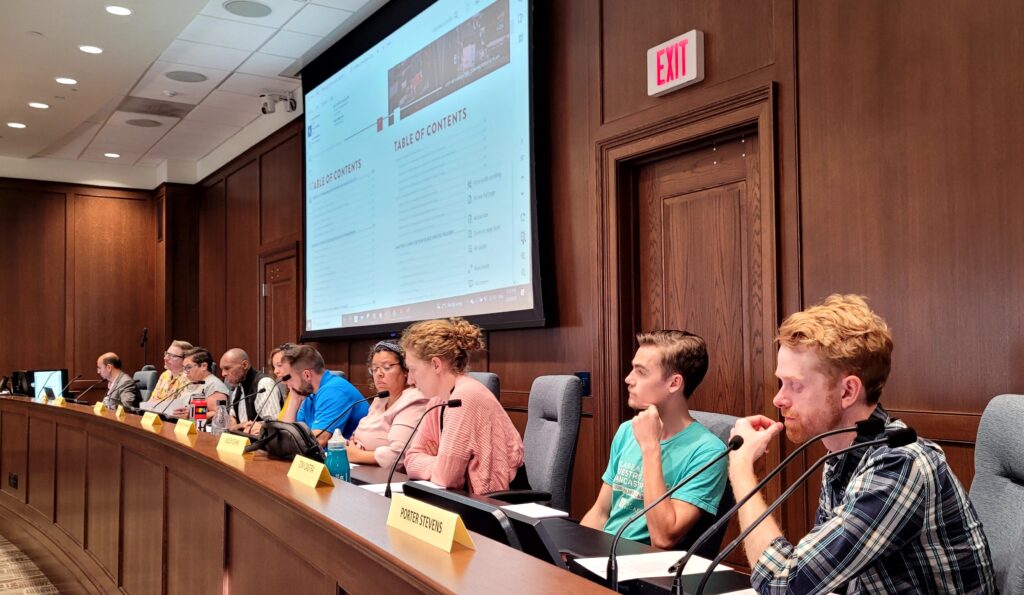 For city residents, businesses and developers, the plan should yield significant economic benefit, he said. Encouraging economic development and creating opportunity for local investors is "absolutely at the heart" of the document, he said.
Among other things, it calls for the city to streamline and expedite its permitting and land development processes and support the expansion of housing stock and homeownership. Unlocking development potential in commercial hubs and corridors and allowing buildings to be used in creative ways will help maintain Lancaster's office and retail markets — something many cities are struggling with in the wake of the pandemic.
Next steps
The city's timeline calls for publishing the final completed plan on Sept. 1. That starts the clock on a 45-day review period for comment by various public entities. They include the Lancaster County Planning Commission, the School District of Lancaster and neighboring municipalities and school districts, Smith said.
In October, the plan is scheduled to go before City Council, which has a vote to formally adopt it tentatively slated for Tuesday, Oct. 24.
The public is welcome at the Planning Commission's Aug. 16 meeting and at City Council, Smith noted.