East Lampeter Township officials say they are successfully accommodating the kind of housing growth that's needed across Lancaster County as a whole, while maintaining their municipality's ambience and quality of life.
John Blowers, chairman of the township board of supervisors, and Tara Hitchens, assistant township manager, outlined East Lampeter's approach at a "YIMBY Case Study" last week, hosted by the Hourglass Foundation.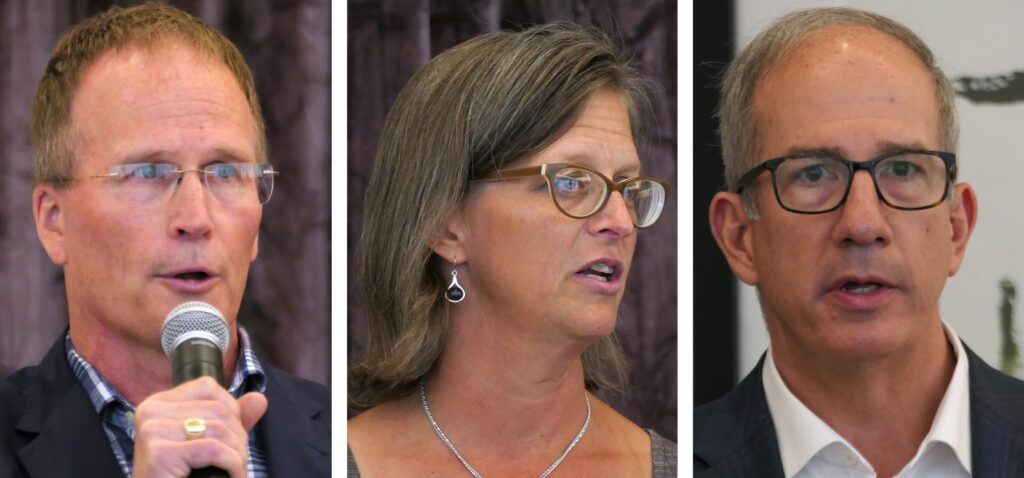 They were joined by Tony Seitz, vice president of development and government relations at High Associates. High manages Greenfield, a 600-acre campus that mixes corporate, higher education, residential and other uses.
The trio's presentation and discussion constituted the Hourglass Foundation's September First Friday Forum, postponed a week so as not to conflict with the Labor Day weekend.
Local planners want to see municipalities become more welcoming to higher-density development: Without it, they say, too much of Lancaster County's iconic farmland is at risk of being plowed over with suburban sprawl. "YIMBY" stands for "Yes In My Back Yard," in contrast to the NIMBY "Not In My Back Yard" mindset that often stymies development projects.
Places 2040, the county's comprehensive plan, calls for building at least 7.5 residential units per acre in the county's urban growth areas. In the period 2002-2015, developers used 70% more land than that on average, building just 4.4 units per acre.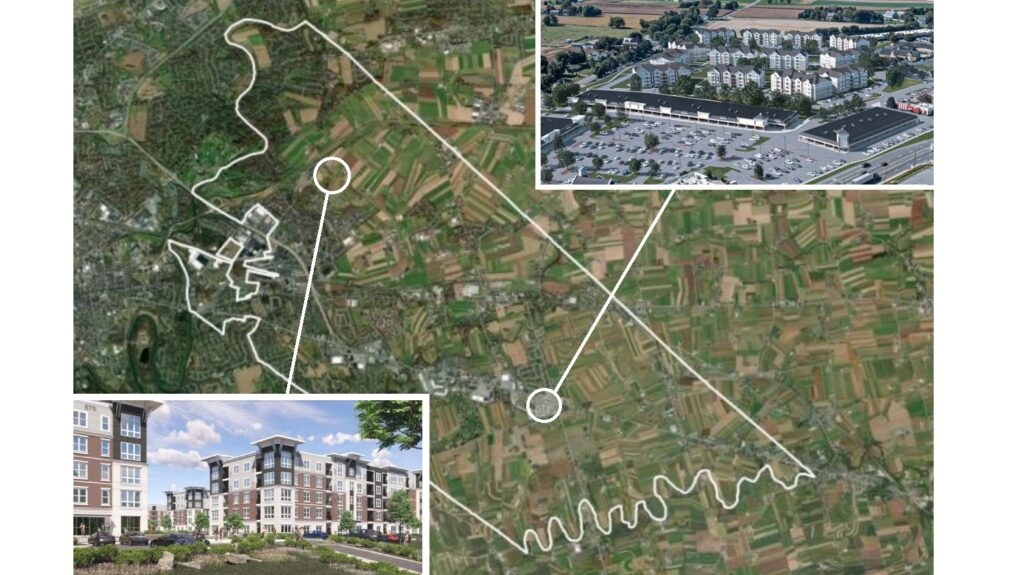 East Lampeter Township is home to some 17,800 residents, as of the 2020 census. As its website notes, it boasts a wide diversity of land uses, including the automobile-oriented commercial development along Lincoln Highway East; the Greenfield campus; High Steel Structures' industrial fabrication site nearby; school and college campuses; various suburban enclaves; and rolling farmland tilled by Plain Sect families.
"We are a unique township," Blowers said.
Well over 1,000 new housing units are currently in East Lampeter Township's development pipeline. Major projects include an expansion at Greenfield called Greenfield North (600 apartments and 28 townhouses) and residential redevelopment at Rockvale Outlets (534 apartments).
Blowers summarized East Lampeter Township's approach to development and land planning in the form of six "takeaways":
Elect and appoint the right people: individuals who reflect your community's vision and take their work seriously.
Nurture cooperative relationships among elected officials and municipal staff
Have a comprehensive growth plan.
Update it regularly.
Update your zoning ordinances to align with your growth plan.
Embrace regional collaboration.
The township's first zoning ordinance dates to 1970, Hitchens said. Key updates since then include a major 2016 overhaul that, among other things, reduced minimum residential lot sizes and allowed homeowners to add accessory dwelling units by right — backyard "granny flats," garages converted into apartments and the like.
Since then, the township has enacted further amendments to provide for the Rockvale and Greenfield developments — the former by enacting authorizing a commercial redevelopment overlay district in 2020; the latter via an amendment to the business park zoning in 2021 permitting more multi-family housing.
Besides housing, Seitz said the $150 million Greenfield North project includes two large industrial buildings, each a little over 200,000 square feet, separated from the housing component by a riparian buffer.
The complex will be served by the $22 million Walnut Street Extension, which is nearing completion. Built along part of the former "goat path," site of an expressway project that never came to fruition, it's a 1.2-mile two-lane boulevard extending from the east end of Walnut Street to a roundabout at Ben Franklin Boulevard.
Alongside it runs a paved trail for pedestrians and cyclists, a segment of the Greater Lancaster Heritage Pathway.
Site work and utility installation for Greenfield North is being funded with an $11 million state Redevelopment Assistance Capital Program grant.
"That's the power of collaboration" between public and private entities, Seitz said.
During a Q&A, Lancaster Mayor Danene Sorace asked if the township has seen many accessory dwelling units being built. Not really, Hitchens said, in part because the township didn't initially waive the requirement for ADUs to go through land development, a process that adds time and cost.
Since that requirement was lifted, a few more ADUs have been built. At this point, Hitchens said, "I think it's really an educational process," getting the word out that the option exists.
Asked about public pushback, Blowers said people have misconceptions about the traffic impact of apartment buildings: It's much less than comparable commercial and retail developments. Nor, contrary to general belief, do most households in apartments have children, so the increased demand on the school district is modest.
Blowers said he has worked hard to make the Conestoga Valley school board comfortable with the idea of growth.
"We want kids," he said. Without them, "we're a dying society."
With regard to the Rockvale, Blowers said the $120 million residential redevelopment has the potential to reduce traffic: Fewer tour buses will be arriving, and residents will be able to walk to shops and restaurants.
It reduces pressure on undeveloped land, too, Hitchens said. She quoted a Plain Sect farmer who said, "This is fine as long as it stays up there. Keep it out of our farmland."
Scott Standish, executive director of the Lancaster County Planning Department, said East Lampeter Township demonstrates that municipalities can promote more compact development and a variety of housing "and still have a beautiful, amazing community."
"Hats off to you," he said.