County officials say they will look into whether the County Prison can provide more information about inmate health care complaints.
The advocacy group Have a Heart is pressing for increased disclosure, in hopes it will offer insight into the quality of care offered by PrimeCare Medical, the prison's contracted healthcare provider.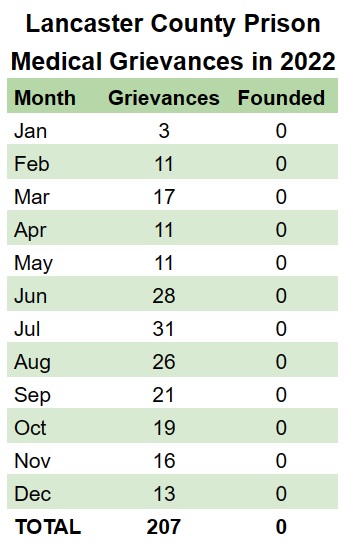 When inmates have an objection about the healthcare they receive, they can submit a written grievance. The monthly reports that the prison administration submits to the Prison Board include data from PrimeCare showing the number of grievances and the number determined to be "founded," but no further detail.
The reports show 207 grievances were filed in 2022. None were deemed founded.
Have a Heart members have expressed skepticism that all 207 could be groundless. Prison officials say that PrimeCare provides exemplary care, that the majority of grievances come from a handful of inmates and that every complaint is investigated thoroughly and impartially.
In early December, Have a Heart filed a Right to Know request, seeking information about the 156 grievances filed from February through September. On Wednesday, following a time extension, the county denied it in full, based on exemptions in Pennsylvania's Open Records law for personal information, medical records and records of noncriminal investigations.
Have a Heart wasn't seeking that level of detail, member Neil Ward told the Prison Board on Thursday. Rather, as stated in its request, it wanted "just enough data to perform statistical analysis." For example, Ward said, is a particular type of complaint especially frequent?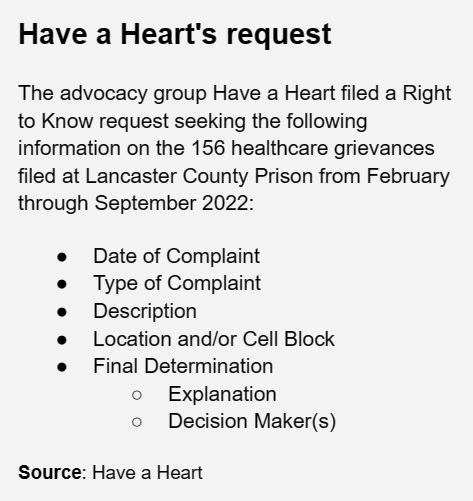 At present, the type of data that Have a Heart wants doesn't exist, county Solicitor Jackie Pfursich told Ward in a follow-up discussion after the meeting.
The grievances are individual paper records, filled out by inmates. Since they relate to specific medical conditions and circumstances, in many cases nothing on the individual grievances can be shared, Pfursich said: They would have to be redacted completely.
Administrators don't tabulate, categorize or otherwise compile data on the grievances, Pfursich said, and the Open Record Law does not require an agency to create a record if one doesn't exist. But if summary statistics would be of interest for Prison Board, "we can try to work on creating that," she said.
Warden Cheryl Steberger concurred, telling Ward she and her team would discuss the issue and get back to him.