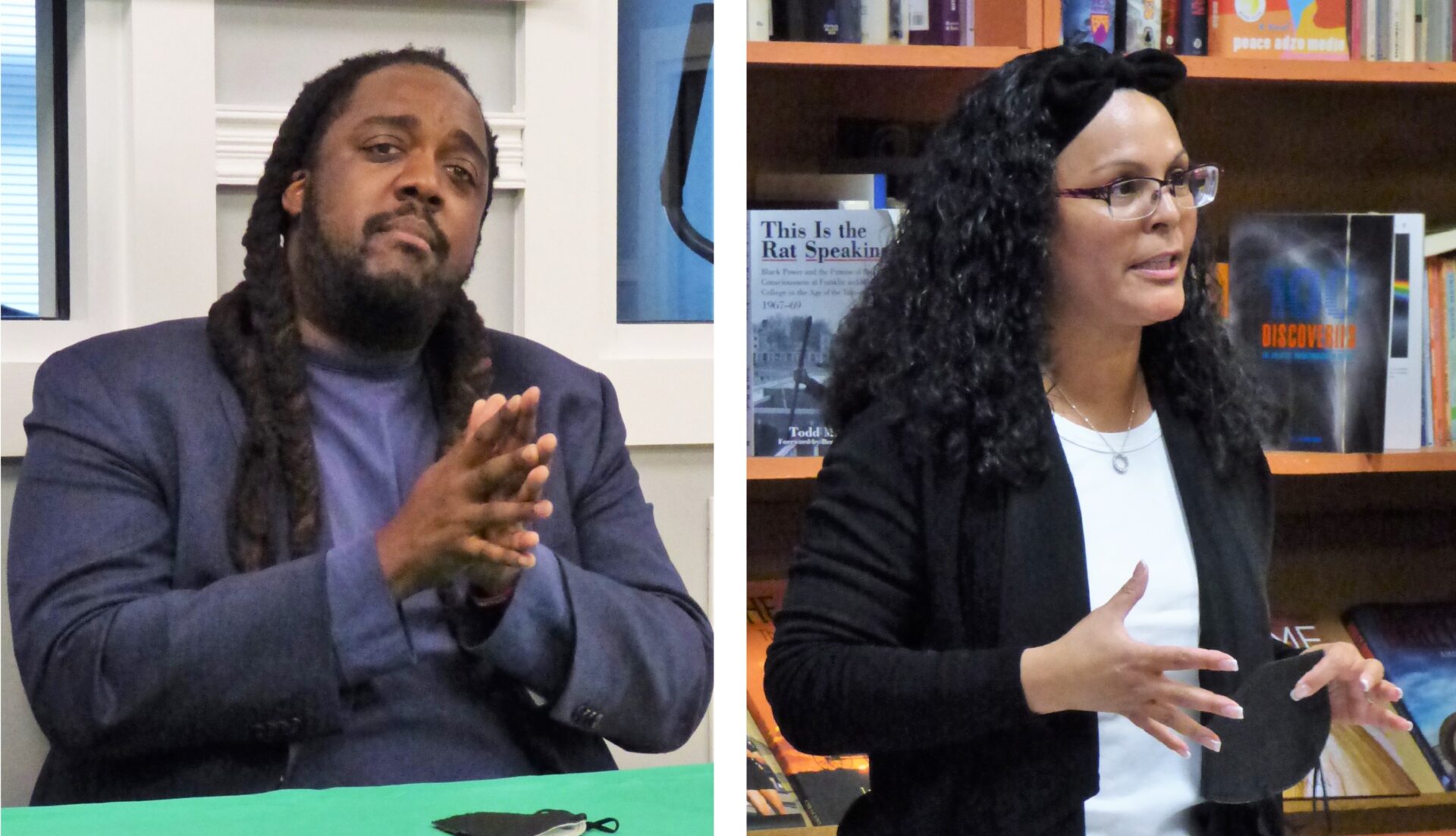 A political forum organized by National Action Network last week ended up featuring one candidate rather than two.
Due to a family medical situation, Lancaster City Councilwoman Janet Diaz was unable to attend NAN's event Thursday evening at Garden Court Apartments in southeast Lancaster, leaving City Council President Ismail Smith-Wade-El to field an hour of questions from moderator Art Brinson and the audience.
Smith-Wade-El and Diaz are vying in Tuesday's primary for the Democratic nomination for the 49th state House District, which covers southern Lancaster city and extends southwest to Millersville.
One United Lancaster subsequently followed up with Diaz to solicit her responses on the topics that were raised.
Ismail Smith-Wade-El
Smith-Wade-El stressed the themes he has highlighted throughout his campaign, calling for increased state spending on education — not just fair funding but "full funding," he said — and affordable housing.
Regarding school safety, he called for more teachers, counselors and after-school and extracurricular programs. He's skeptical of increasing police presence at schools; kids who misbehave need counselors, he said. Involving law enforcement, especially with minority children, he said, is often the beginning of the school-to-prison pipeline.
On housing, Smith-Wade-El reiterated his support for the Whole Home Repairs Act, which would fund local programs to help low-income property owners fix roofs, replace windows, weatherize their houses and so on. House flippers prey on families beset by repairs they can't afford, so the legislation would help thwart gentrification and preserve Black and Brown homeownership, he said.
Pennsylvania's pot of American Rescue Plan Act funds dwarfs the amounts given to the county and municipalities, he said, and is helping drive the state's projected $9 billion surplus. He endorsed the idea of allocating public funding to grassroots local nonprofits for community initiatives, including providing them one-time funding to acquire housing for vulnerable communities.
Asked about the city's accomplishments during his tenure as council president, he cited the lead abatement program and the ouster of Chief Jarrad Berkihiser after the 2020 protests outside the city police station. But those victories didn't come from him personally, Smith-Wade-El said: They came from the community speaking up.
"I would hope for your vote because I recognize that that victory came from you all," he said.
Janet Diaz
In a phone interview with One United Lancaster, Diaz said she would push for investing state ARPA funds in mental health, especially in supportive housing with "wraparound" social services. That and expanded drug treatment could help reduce homelessness, she said, as many chronically homeless individuals suffer from mental health problems, drug addiction or both.
To address homelessness, she called for state support for affordable housing co-ops. Like Smith-Wade-El, she called for grant funding to be made available to grassroots local nonprofits. The community needs transitional housing, she said, and money should be readily available for organizations interested in providing it.
She endorsed fair funding and substantially increased funding for education. On school safety, she called for more resources across the board: More teachers, counselors and extracurricular programs, and enough school resource officers to provide security and deter dangerous behavior.
To support increased spending, Diaz is calling for a true tax on fracking (the state currently imposes an "impact fee") and increased taxes on gun sales. She wants to promote hemp farming and create a statewide infrastructure bank to support revitalization.
She said she stays in close touch with her constituents and has been a reliable voice for them in government. She would do the same as House member, she said, "like I always have. ... I'm always open to the community."