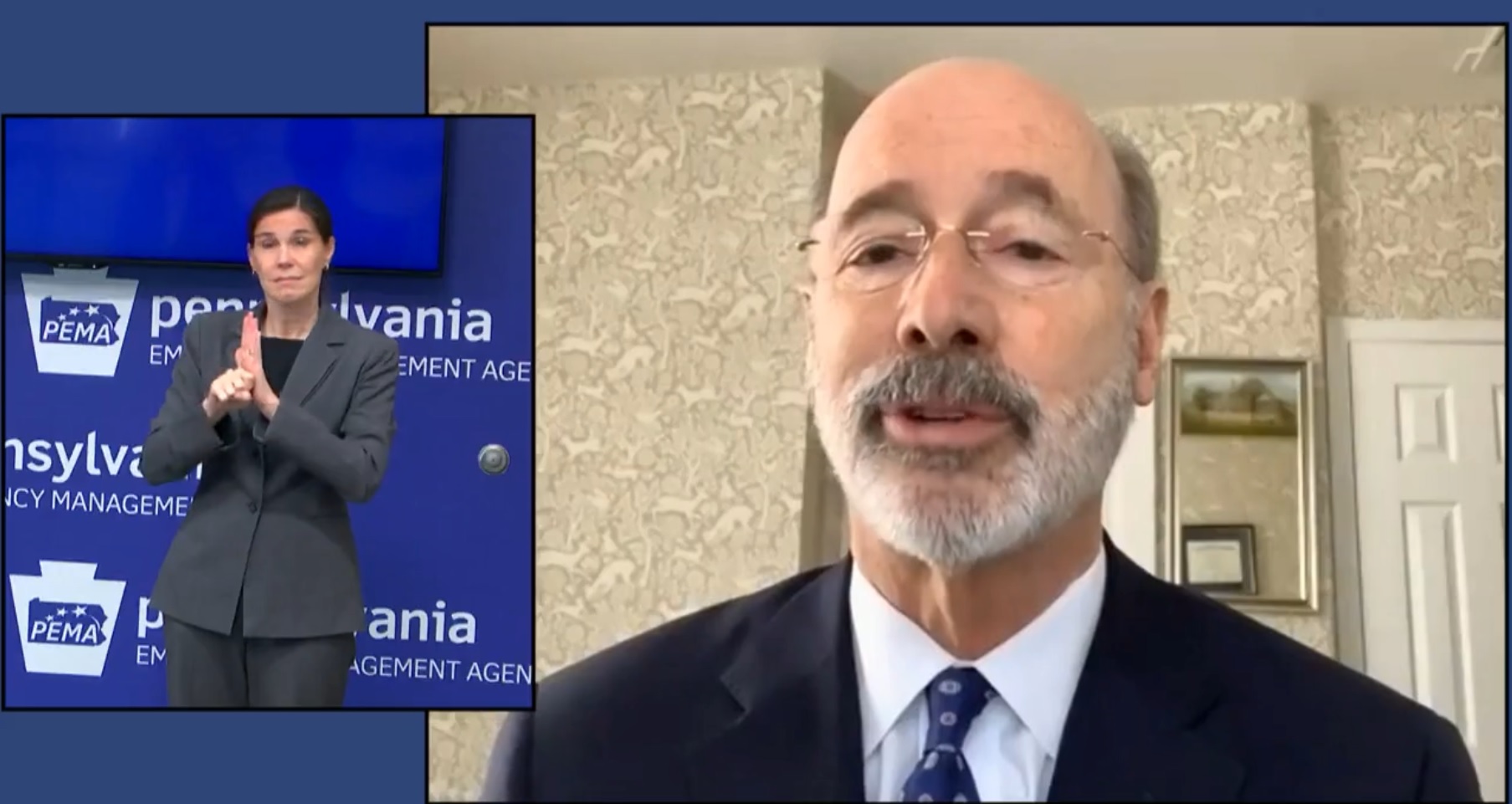 Gov. Tom Wolf said Wednesday that he will allow the Covid-19 mitigation measures he imposed on Pennsylvania in mid_December to expire as planned at 8 a.m. Jan. 4.
Making the announcement during an online news briefing, Wolf credited the measures — which included bans on indoor dining, school sports and extracurricular activities and tight limits on indoor and outdoor gatherings — with flattening the curve of coronavirus measures over the holidays.
However, "this does not mean that we're out of the woods," he said. All of the state's restrictions imposed prior to Dec. 12 remain in effect, he said, including limits on indoor dining, capacity limits for indoor and outdoor venues and a universal mask requirement.
It will take months before coronavirus vaccines now being given to medical personnel and nursing home patients will be available to the public, so "mitigation is more important than ever," the governor said.
Wolf did not directly answer a question about whether stricter measures might be imposed again, saying too much about the virus' future course is unknown for him to hazard a prediction.
"We're in uncharted waters," he said.
Vaccines for EMTs
Health Secretary Dr. Rachel Levine, meanwhile, signed an order Wednesday directing health organizations that receive vaccine shipments to reserve at least 10% for health care workers who aren't their employees or affiliates — in particular, the emergency medical personnel who staff ambulance services. The order takes effect Jan. 6.
Wolf and Levine acknowledged the vaccine rollout is going slower than hoped, but said the responsibility lies the federal government and its private partners in Operation Warp Speed.
Levine noted the rollout, still in its early stages, has faced a number of challenges, including the Christmas holiday and the winter storm the week before, and predicted it will "continue to improve."
Wolf acknowledged the hardship that bars, restaurants and small businesses have faced due to closures and capacity restrictions, but said the coronavirus is to blame, not his or his administration's efforts to contain it. Research has shown a link between bars and restaurants and Covid-19 transmission.
Wolf noted that the $900 billion federal relief package includes aid for small business (though critics say it's insufficient) and called on the Republican-dominated state legislature to act on additional aid.
State Republicans say Wolf, a Democrat, has "unfairly targeted" restaurants and small businesses.