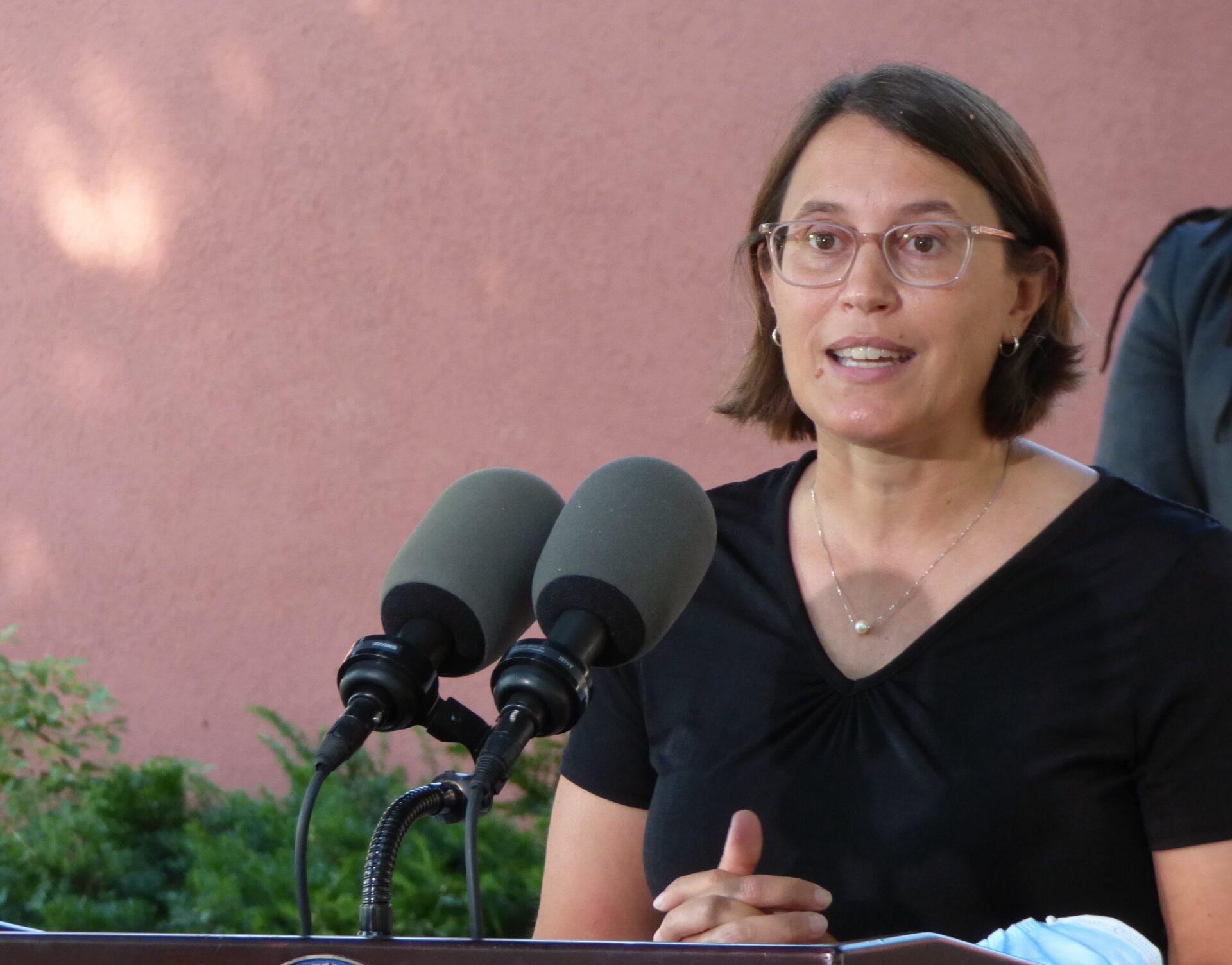 Dr. Anne-Marie Derrico said she's been experiencing "feelings that I can only describe as panic" in recent days as she deals with the resurgence of coronavirus, driven by the Delta variant.
Derrico, chief clinical officer at Union Community Care, is seeing numerous patients with Covid-19 symptoms. Some staff members have symptoms, too, and she is reviewing contingency plans in the event the pattern of previous surges repeats, and staffing drops as case loads rise.
The thing is, she said, "This surge is different. We now have an effective weapon to combat Covid" — namely, vaccination.
Derrico joined Gov. Tom Wolf and other officials outside Union Community Care's location at 304 N. Water St. on Thursday morning as the governor continued his push to raise vaccination rates.
"Vaccines save lives," the governor said.
Upcoming vaccine clinics
Covid-19 vaccines will be offered at two community events this week:
Day of Healing: Union Community Care will offer vaccines from 4 to 6 p.m. today (Thursday, Aug. 12) at Longs Park, prior to its Day of Healing event at the park, which runs from 6 to 9 p.m.
Back-to-School Event: Patients R Waiting will offer vaccines from 12 noon to 4 p.m. Saturday, Aug. 14, as part of Rep. Mike Sturla's Back-to-School Event at Clipper Magazine Stadium.
Pennsylvania is doing well compared to other states, with around 64% of its adults fully vaccinated. Still, it has to do better to keep the Delta variant at bay and protect vulnerable populations, Wolf and other speakers said.
Covid-19 vaccines aren't yet approved for children under 12, and vaccines don't fully protect immunocompromised individuals. Together, those groups make up about 17% of the total population, Derrico said.
"We all have a responsibility to be vaccinated," so that herd immunity can buffer the risk for those groups, Derrico said.
State Rep. Mike Sturla called the statistics demonstrating the vaccines' efficacy "overwhelming." Moreover, health providers are making access as easy and convenient as possible.
Union Community Care is a federally qualified health center with 10 locations in Lancaster and Lebanon counties. It sees vaccine equity "as core to our mission," said President and CEO Alisa Jones, and has administered more than 12,000 doses, vaccinating more than 6,000 individuals.
It plans to administer more this evening at Longs Park before the Day of Healing remembrance event.
Every time staff members administer a shot, "we feel a bit of a victory over this terrible virus," Derrico said.
Responding to reporters' questions, Wolf reiterated that his administration has no plans to impose mask mandates on schools. Districts want to keep students and staff safe, he said, and the Centers for Disease Control & Prevention is providing sufficient guidance: "I don't think there's any need for the state to step into this."
He disputed a suggestion by state Sen. Scott Martin, R-Lancaster, that school districts lack legal and constitutional authority to require masking.
Whether through masks, vaccines or other means, he said, "I think what we're all trying to do is keep people safe. ... I'm not sure how that violates any provision of any constitution."
Photo gallery