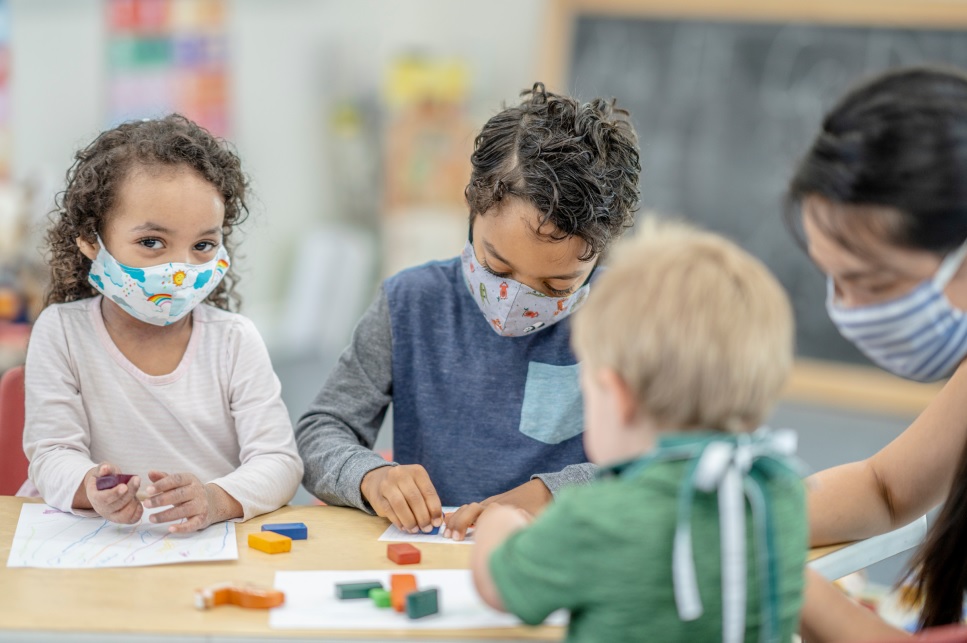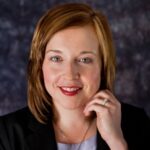 The United Way of Pennsylvania is highlighting two surveys as evidence that Pennsylvania needs to improve working parents' access to affordable child care.
"Lack of accessible, affordable and high-quality child care has inhibited Pennsylvania's economic recovery" from the depths of the coronavirus pandemic, said Kristen Rotz, the organization's executive director.
In one of the surveys, an online questionnaire sent to Pennsylvania employers in March and April, more than half of the 284 respondents (of which 11 were based in Lancaster County) said they lost employees during the pandemic because of child care concerns. Roughly the same percentage said the pandemic had a "significant impact" on their women employees.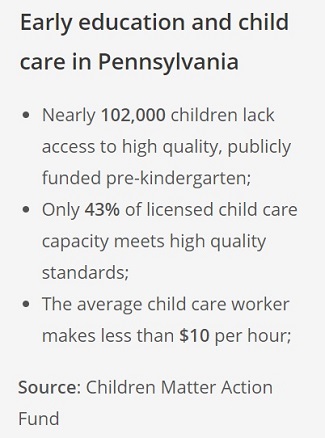 More than 70% of respondents said they offered employees flexible work schedules during the pandemic, the option to work remotely, or both. Smaller percentages offered paid leave (21%), unpaid leave (17%) a dependent care expense account (10%) or paid enough for employees to afford child care (12%). Some employers provided multiple supports; 21% provided none.
Just over 41% said they planned to leave those policies in place post-pandemic, while 24% said they would end and 35% were unsure. Majorities of employers of all sizes said they would be interested "in exploring additional ways to support working families and child care," with the percentage increasing the larger the organization.
The employer survey was a joint project of the Pennsylvania Chamber of Business & Industry, the Early Learning Investment Coalition, and the Center for Rural Pennsylvania.
Meanwhile, the United Way of Pennsylvania found an acute need for child care among "ALICE" workers in its follow-up Covid-19 impact survey, conducted this spring.
Related: United Way of PA's 2nd Covid-19 impact survey shows ongoing housing, mental health concerns
ALICE stands for "Asset Limited, Income Constrained, Employed," and refers to working-class households that are above the federal poverty line, but still struggle to afford basic needs.
A full 57% of ALICE households reported reducing their hours or quitting jobs due to a lack of child care, while 45% reported adjusting their work schedules due to child care needs.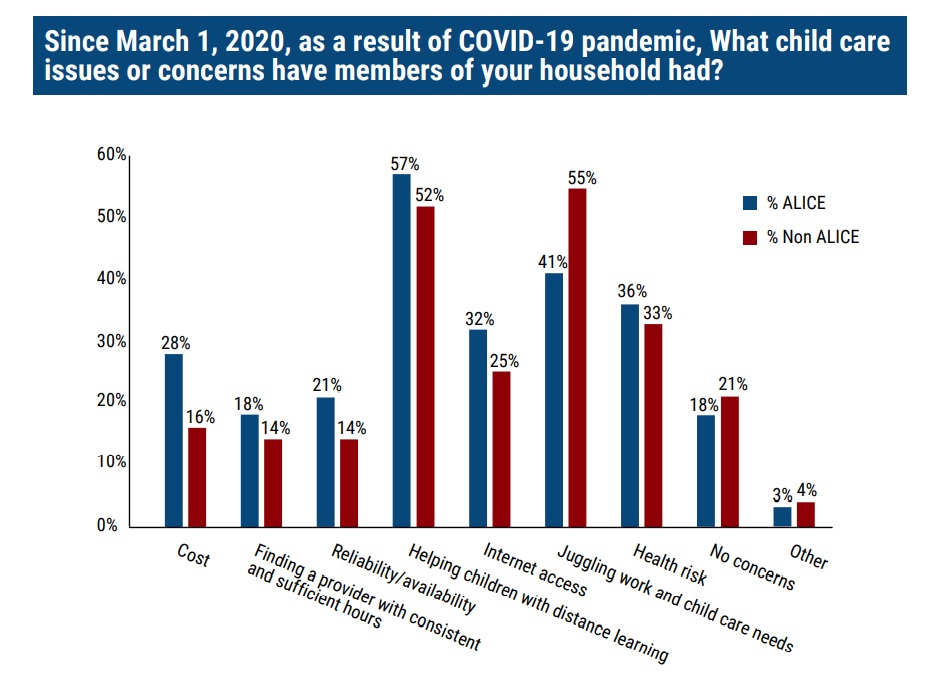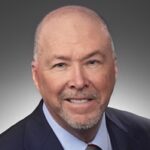 According to Child Care Aware of America, home-based child care for an infant in Pennsylvania costs $8,712 on average. It costs $11,560 at a child care center, enough to eat up 44% of the median income of a single parent, the organization said.
"The business community used to look at child care through an early learning lens but now sees it clearly as a workforce issue," the Pennsylvania Chamber's president, Gene Barr, said in a webinar this summer.
"We need to make it possible for everyone to work, including parents," Barr said.
Said Rotz: "Accessible and affordable high-quality child care is essential for working parents to secure employment, succeed in their job and advance in their careers. Businesses need child care to improve recruitment, retention and productivity of their employees. All of these things help propel Pennsylvania's pandemic recovery."