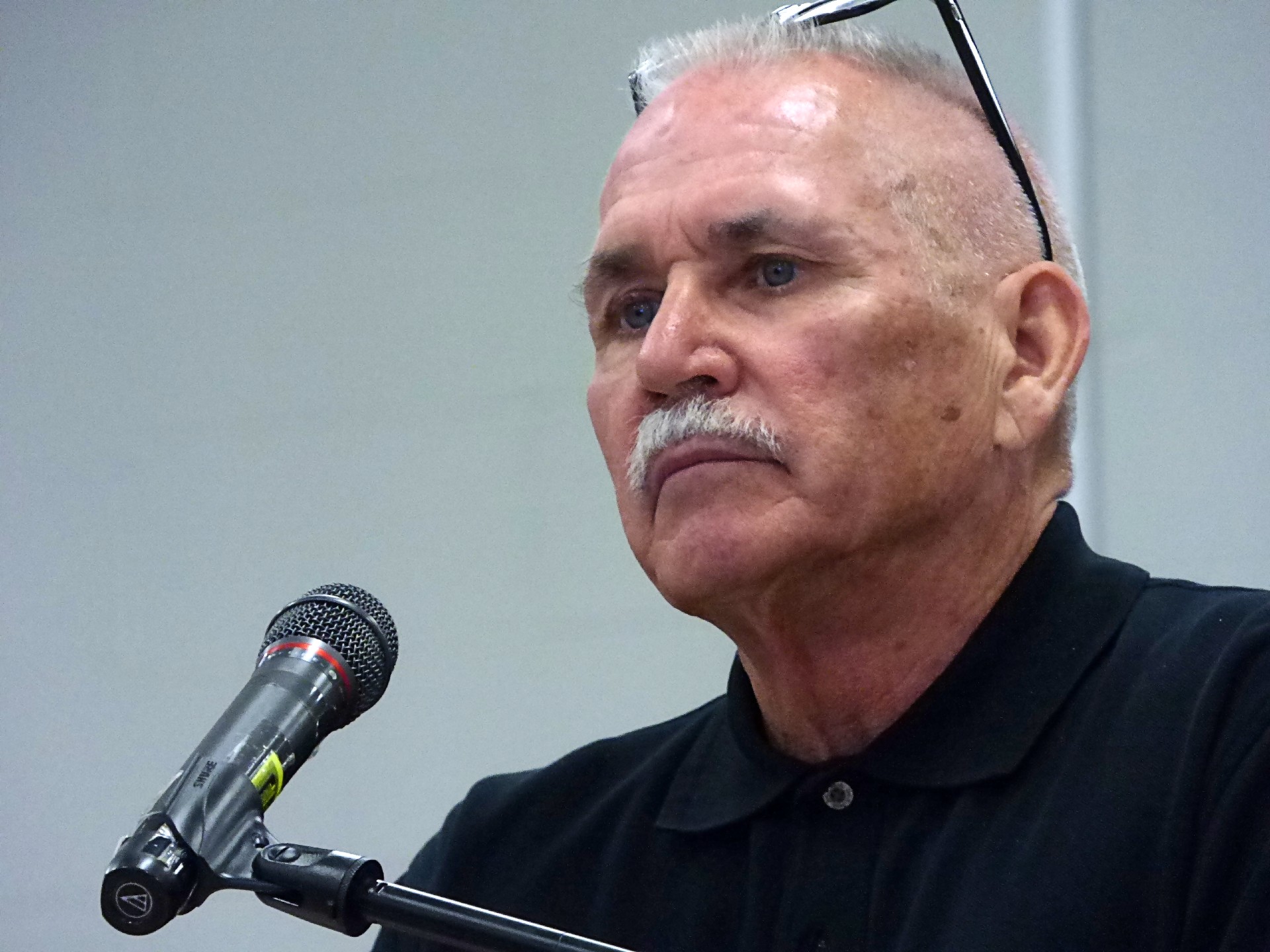 Just 102 minutes elapsed on Tuesday, Sept. 11, 2001, between the time the first jet airliner struck the North Tower of the World Trade Center in New York City and the time it collapsed, 29 minutes after its twin.
But that 102-minute period could be considered to have "ultimately shaped everything that we've done over the last 20 years," Greg Noll said Friday morning at the 9/11 Remembrance Service at the Lancaster County Public Safety Training Center.
Related: 20 years later, remembering 9/11
Noll spent nine days at Ground Zero as part of the Pennsylvania Urban Search & Rescue Task Force 1, one of 28 teams dispatched to conduct rescue and recovery operations. He was the featured speaker at the county's 20th anniversary remembrance.
Every Sept. 11, he said, he vows to do everything he can to make sure Americans remember the significance of 9/11. It was a day 3,000 Americans were murdered, and "they were murdered because they were Americans."
Following his remarks, the county commissioners read the names of the 52 Lancaster County first responders known to have died in the line of duty, and laid a wreath at the memorial at the training center's entrance.
A long career of service
In his remarks, Noll called his service at Ground Zero "the highlight of my professional career."
An Air Force veteran with more than five decades of emergency response experience, he is senior planning specialist with the South Central (PA) Regional Task Force and principal of GGN Technical Resources, an emergency response consulting firm. The author of nine books on emergency response and the recipient of numerous awards, he lives in Manor Township.
The 9/11 attacks were the generational equivalent of the Japanese attack on Pearl Harbor on Dec. 7, 1941, he said. Considered as "war deaths," he said, the nearly 3,000 casualties of 9/11 represent the U.S.' largest single-day loss since the Battle of Antietam in 1862.
Yet 20 years later, about one-third of Americans are too young to remember 9/11 first-hand. Others who are old enough to remember, "have simply forgotten," Noll said.
He urged his audience to remember how they felt that day as they watched the events unfold on television, what it was like to see people jump from the Twin Towers to certain death because the alternatives were worse.
Recovery, not rescue
At Ground Zero, he and his fellow Urban Search & Rescue team members realized quickly that there would be few survivors to pull from the rubble. It was going to be a recovery operation — a bleak fact made more poignant by the hundreds of hopeful "missing person" signs being posted all over lower Manhattan.
He recalled how Task Force 1 used a Stokes basket to transport a Search & Rescue dog named Riley to the summit of the rubble of the North Tower. The golden retriever was able to find the bodies of two firefighters and a civilian victim — a moment of success amid the suffering and carnage.
"It's interesting how the definition of a good day can change," he said. Just having a place to go to the bathroom was an achievement in a setting that lacked power, water or sewer utilities.
Amid the hard work, there were moments of levity, as well as moments of profound grief. To call it an emotional roller-coaster would be an understatement, he said.
When their work was done, some of the task force members wondered if they'd done enough. After all, they hadn't been able to save lives. But Noll cited the response of a colleague's wife, who noted that first responders often try CPR even when they're positive victims are already dead, simply because "it's the right thing to do." The 9/11 response, she said, was like giving CPR to the country.
'We are all Americans'
Commissioner Josh Parsons thanked Noll for a "truly inspirational and moving tribute."
"It's important for us to remember and be inspired by those who sacrifice," he said, asking the audience to keep in their prayers the families of the 13 service members killed in the Kabul Airport suicide bombing last month.
Ceremonies like Friday's are "an opportunity for all of us to remember that we are all Americans," Commissioner Craig Lehman said, expressing hope that that realization would create a "ripple effect" among those present.
Since 2001, many members of the recovery crews have suffered long-term health effects from the tons of toxic chemicals mixed in with the rubble. Noll was diagnosed with leukemia in 2017. It's at Stage 0 — no symptoms apart from elevated lymphocyte count — but he's aware that could change.
Two weeks ago, he and his family visited the 9/11 memorial and museum in New York City. They shared laughter and tears, and it was a time of introspection.
"Never forgetting," he said, "means never forgetting who attacked us. Never forgetting why they attacked us. Never forgetting who gave their lives that day, and never forgetting who continue to suffer each and every day."
Photo gallery