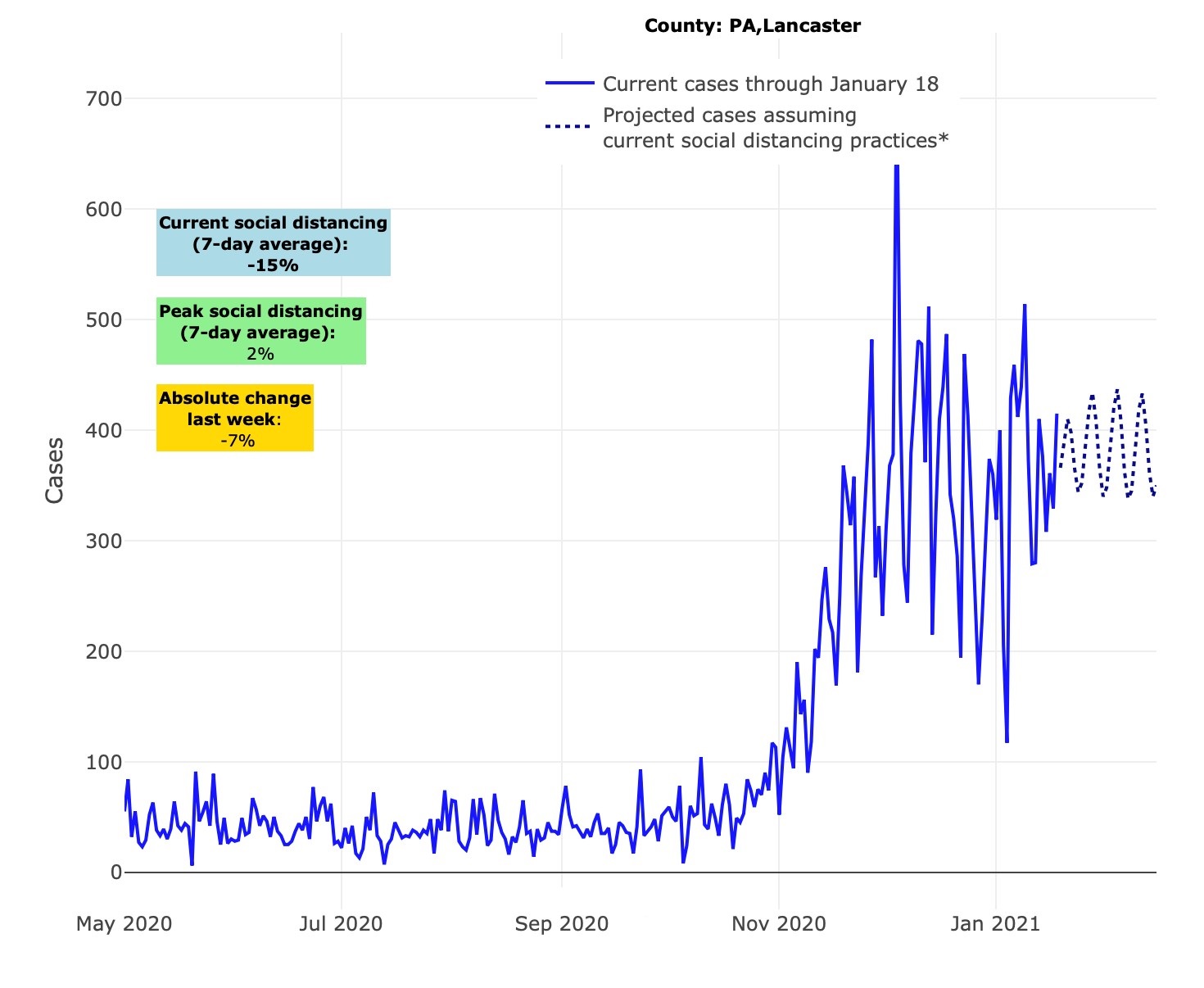 Two weeks of promising data suggest that the United States may be "rounding a corner" in the coronavirus pandemic, according to the PolicyLab research center at Children's Hospital of Philadelphia.
However, increased incidence in winter vacation sites and the potential danger from more highly transmissible variants warrant continued caution, PolicyLab said Wednesday in its weekly Covid-19 blog post.
CHOP has been tracking the coronavirus county-by-county for months and projecting case loads based on weather and social distancing. Its latest forecast for Lancaster County shows new case levels remaining high but stable through the end of January and into February.
Pennsylvania's Department of Health said Thursday that the state has passed a grim milestone: The 260 new deaths reported Thursday pushed state over the 20,000 Covid-19 deaths since the start of the pandemic. The total of 20,128 includes 860 Lancaster County residents, the state says. (The Lancaster County coroner does not include deaths of residents that occurred outside the county; the coroner's total is 810. More data can be found on One United Lancaster's Statistics page.)
Lancaster County reported 247 new Covid-19 cases on Thursday. As of Wednesday, Lancaster General Hospital and WellSpan Ephrata Hospital had a total of 93 inpatients, down from 106 on Tuesday and well below the 137 seen early last week. UPMC Pinnacle Lititz Hospital does not report its Covid-19 inpatients publicly.
The transition to the Biden administration gives the United States a fresh chance to overcome the pandemic, PolicyLab said.
The research center recommends a number of strategies, including dramatically stepped-up vaccination; clear and consistent public messaging on wearing masks, social distancing and vaccination; ramping up widespread "assurance testing," including asymptomatic individuals; developing plans for youth vaccination once the appropriate safety and efficacy studies are completed; and developing plans for a phased easing of pandemic restrictions.
PolicyLab also called for strengthening public health infrastructure to improve its response to future health emergencies.