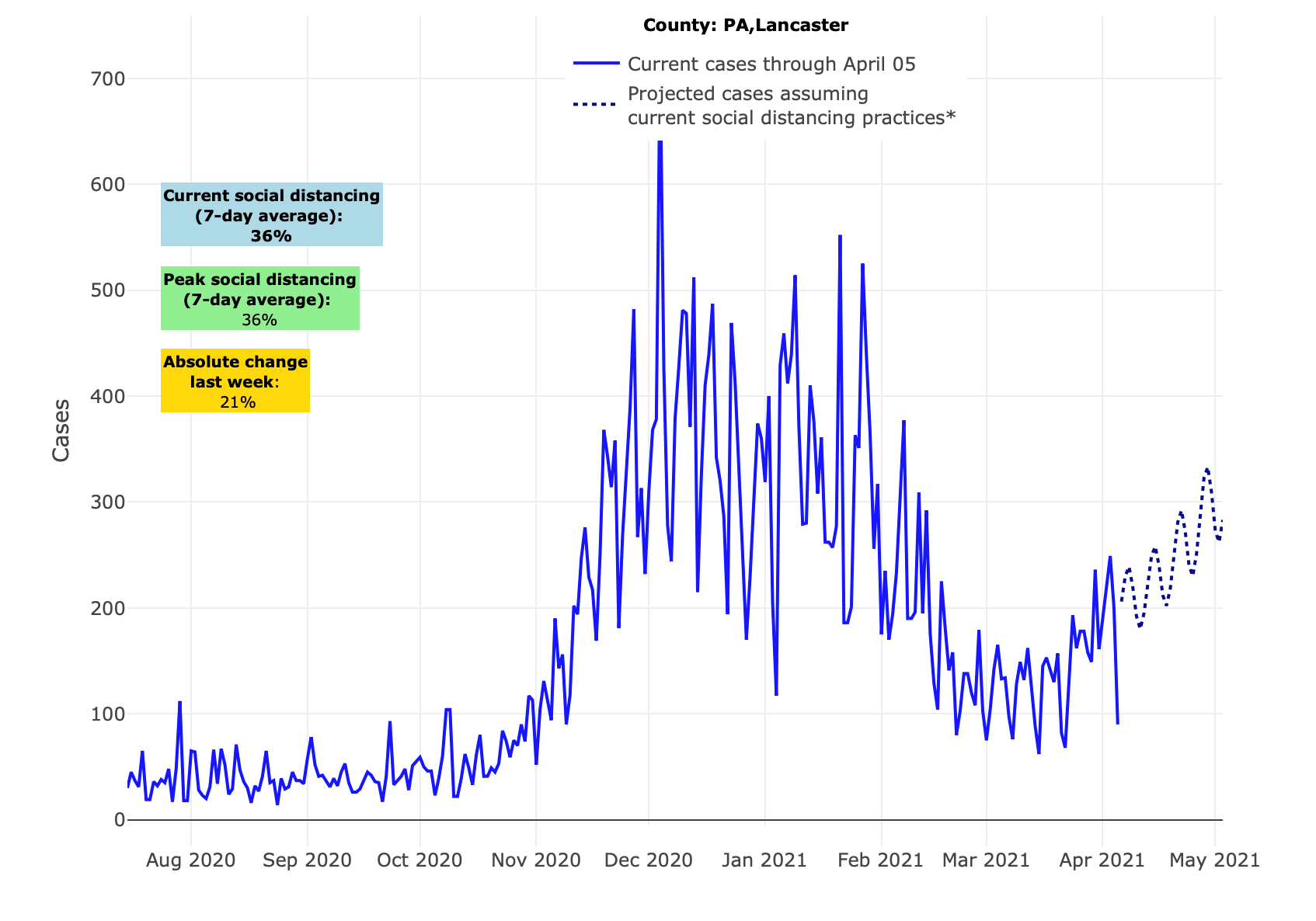 Americans need to recommit to wearing masks and practicing social distancing for just a little longer, say researchers tracking the Covid-19 pandemic at Children's Hospital of Philadelphia.
Recent increases in case loads are concerning, and are likely to worsen in the wake of the Easter holiday, due to widespread travel and family get-togethers, Dr. Jeffrey Gerber wrote in the most recent weekly blog post from PolicyLab, CHOP's in-house research center.
Related: Local Covid-19 case counts trend lower in March, but rise possible in April
And while Covid-19 variants may be playing some role, "We should not underestimate how much our collective abandonment of proven, simple mitigation strategies is contributing to the increases," Gerber wrote.
According to PolicyLab's data, nationwide test positivity rates increased from 5.8% to 6.2% over the seven days ending Wednesday. And while Covid-19 inpatient counts were flat overall, hospitals in several states reported sharp increases, including Pennsylvania, where the census jumped by 25%, to 2,500.
In Lancaster County, average case counts are up by about 40% compared with the lows achieved in early March. Hospitalizations are up as well, with inpatient counts at Lancaster General Hospital and WellSpan Ephrata Hospital more than doubling from 30 on March 24 to 65 as of Wednesday, according to data compiled by researcher Erica Runkles.
PolicyLab is "especially concerned" about individuals yet to be vaccinated, or who are waiting for their immune systems to react to their vaccination and build up antibodies, Gerber said in PolicyLab's blog post.
"We appreciate pandemic fatigue, but we urge patience among all of us to allow vaccinations to catch up," he wrote.
Here to stay
Distressingly, the post notes, the world has likely lost its chance to eradicate Covid-19. PolicyLab's researchers "now suspect that SARS-CoV-2 is likely to become an endemic virus that peaks with seasonal transmission in the winter," Gerber said, referring to the Covid-19 virus by its longer technical abbreviation.
Nevertheless, it will be appropriate to speak of "the end of the pandemic" when there is a sustained drop in Covid-19 hospitalizations, he said.
At that point, "we can justify reducing mask use and social distancing," he said. However, he added, if coronavirus, like the flu, settles into a pattern of seasonal ebbs and flows, public health officials may need to reimpose mask and distancing guidelines from time to time to keep cases from exceeding hospitals' capacity.