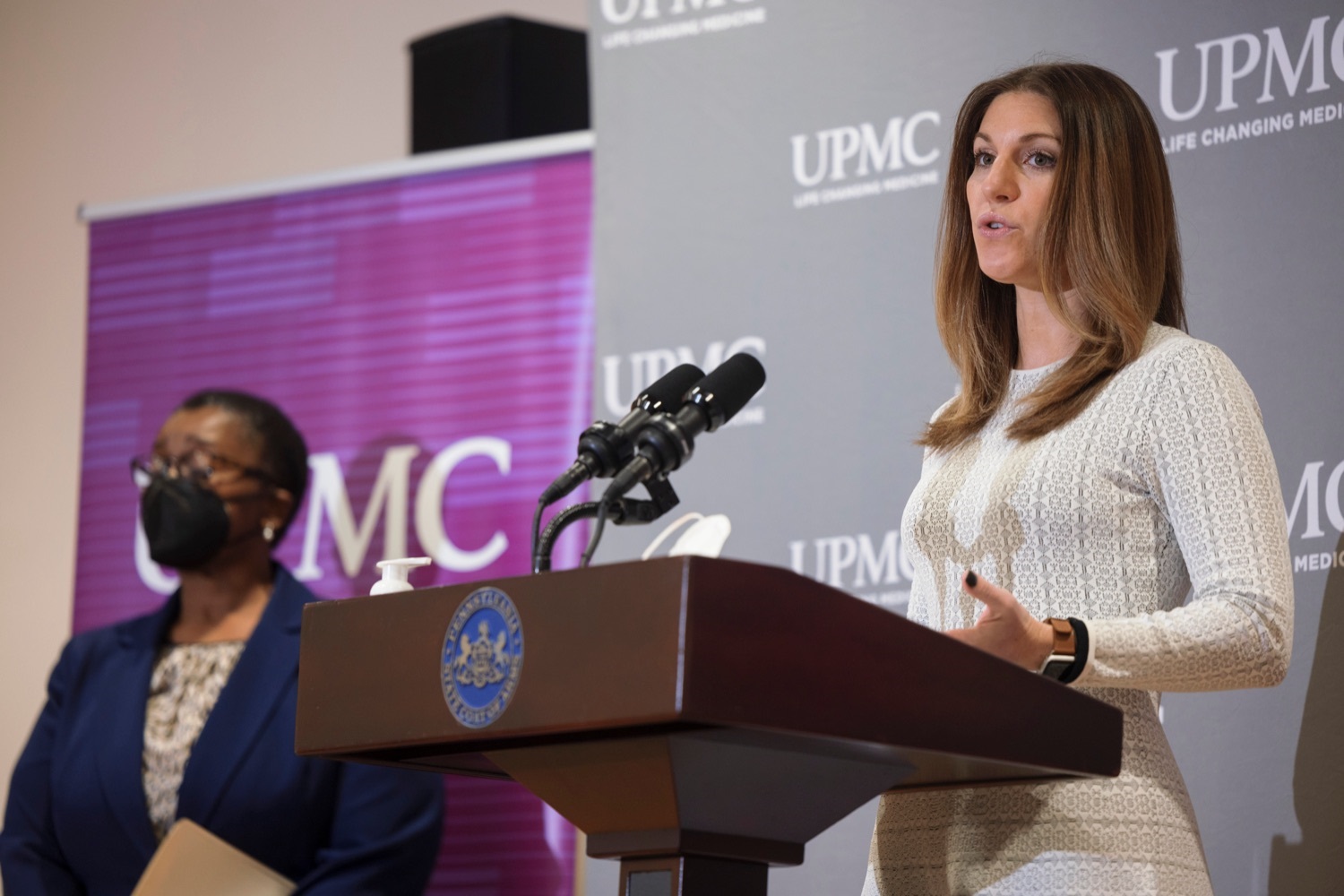 The Wolf administration is not considering shutdowns, mask mandates or other measures to slow the rapid spread of the omicron coronavirus variant, acting Health Secretary Keara Klinepeter said Tuesday.
"We believe Pennsylvanians will do the right thing," Klinepeter said: That is, get vaccinated and boosted, wear masks and test themselves before attending large indoor events such as the Pennsylvania Farm Show.
"We are not considering further mitigation at this time," Klinepeter said.
Related: Pa. planning for four regional sites to help hospitals
A few minutes later, she noted that most Pennsylvanians have yet to heed medical recommendations for Covid-19 boosters. Only one-third of eligible Pennsylvanians have received the follow-up shots.
The Heath Department isn't satisfied with that low number, Klinepeter said: A Covid-19 booster "is the best thing you can do to protect yourself and your loved ones against the highly transmissible omicron variant," she said.
The Wolf administration's aversion to mitigation orders marks a sharp contrast with the early days of the coronavirus pandemic, when it ordered a statewide shutdown and imposed a mask mandate.
Those actions, which predated the development of Covid-19 vaccines, drew an intense backlash from Republicans, culminating in lawsuits and a successful drive to restrict the governor's emergency powers via two constitutional amendments.
Asked if that background is playing into the administration's policy, Klinepeter said the administration recognizes the desire to have Covid-19 decisions made at the local level.
Accordingly, the Health Department sees its role as providing accurate information and is "leaning on" local authorities to use it, she said.
In general, omicron causes less severe illness than earlier coronavirus variants. However, some cases are severe, and omicron is spreading so quickly that those cases add up to a lot of people, Physician General Dr. Denise Johnson said.
Tuesday's press conference was intended to encourage pregnant women and those considering pregnancy to get vaccinated.
Klinepeter said she herself is pregnant and had her booster shot after learning she was expecting.
"I want my story to help other women across Pennsylvania make an informed decision," she said, saying she's confident she made the right decision.
The Centers for Disease Control & Prevention say the data shows Covid-19 vaccines are safe and effective before and during pregnancy and while breastfeeding. Conversely, pregnant women are at higher risk than nonpregnant women for serious illness and death if they contract the disease.